Support NRA Shooting Illustrated
DONATE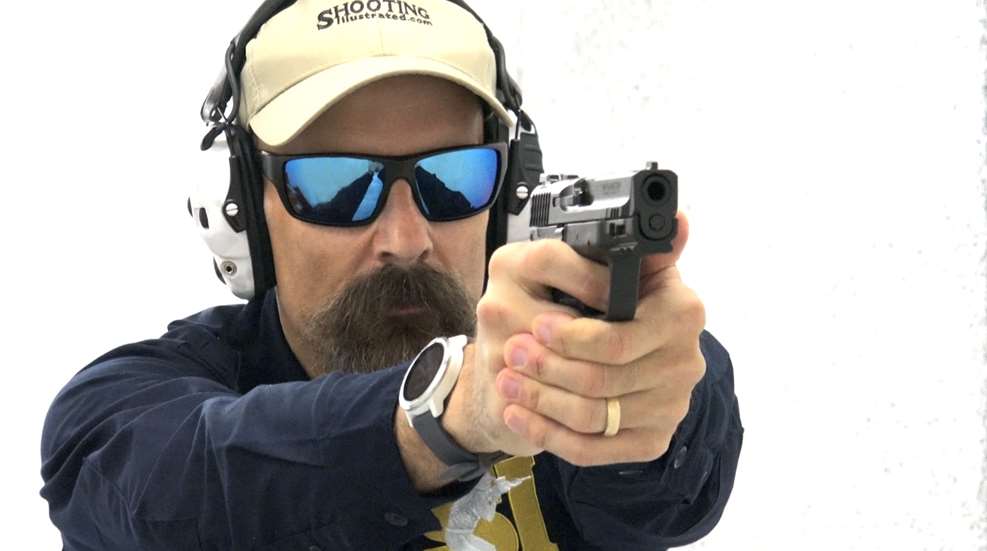 Welcome to another episode of "I Carry," Shooting Illustrated's weekly video series covering the guns and gear needed to put together a potential everyday-carry kit. Today, we're featuring a Smith & Wesson M&P M2.0 Subcompact carried inside a PHLster holster. We also have Magpul sunglasses, a Pelican smartphone case and a SOG knife.

Smith & Wesson M&P M2.0 Subcompact (MSRP: $569)

While Smith & Wesson offered the original M&P semi-automatic pistol in full-size and sub-compact frames, the M2.0 upgrade introduced a mid-size version called the Compact. Rounding out the M2.0 series of M&P pistols, a subcompact version is now available. Whether you're looking for an added edge over a single stack or just find the Compact model to be a bit too large to conceal all the time, Smith & Wesson's new M2.0 subcompact might be just the thing.

Dimensionally, the M2.0 subcompact is half an inch longer, 6.7 ounces heavier and a third of an inch wider than the Shield M2.0. This puts the subcompact pretty well out of "pocket carry" territory, but even the Shield's a little too large for that outside of "tactical" pants. By and large, both the Shield and the subcompact are going to ride in inside-the-waistband or appendix holsters, and the difference in size in either of those methods just isn't going to matter all that much.

All of the M2.0 upgrades are carried over into the Subcompact; it has the improved trigger, more-aggressive texturing and forward cocking serrations that are the hallmarks of the 2.0 version. The extra width over the Shield allows an accessory rail at the end of the dustcover, and capacity is 12 rounds with a flush-fitting magazine. Another advantage to the Subcompact is that you can carry a flush-fit magazine in the gun for optimum concealment while having a 17-round full-size magazine as your backup for additional capacity.

Lastly, something we've advocated for a while here at Shooting Illustrated is compatibility: If you carry a full-size or Compact M&P M2.0 when the weather allows proper concealment, having the Subcompact for warmer months when concealment is limited just makes sense. It's the same trigger feel, same grip, same everything from the little gun to the big gun, so your manual of arms doesn't change all that much. It's just a good idea.

PHLster Classic AIWB (MSRP: $79.99)

I'm a big fan of appendix carry in general, and PHLster holster specifically, so the choice of the company's "Classic" holster for the Smith & Wesson M&P M2.0 Subcompact was a natural. Minimalist construction keeps weight to 3.4 ounces, while a single pull-the-dot loop allows a multitude of carry options. Single-sheet construction and precision molding give a fantastic fit, while a sweat guard keeps the pistol away from your body. The astute eye will note that this holster is designed for the Compact model, and it's been chosen specifically: Carrying in the appendix position, having a little extra holster below the belt line helps keep the rig from tilting forward and placing the muzzle, well, in places the muzzle shouldn't face.

Magpul Terrain Sunglasses (MSRP: $159)

For those that practice on outdoor ranges, having a pair of ballistically rated eye protection is a welcome addition to any EDC kit. Magpul expanded its Terrain line of ballistic-rated frame-and-lens glasses with numerous frame, lens and mirror combinations in 2019, including this tortoise-shell frame pair with blue-tint bronze lens. Lenses are coated to minimize reflection and are also treated to resist chemical degradation. The low-profile temples are designed to be comfortable under helmets or, more commonly for the average shooter, ball caps.

SOG Aegis FLK (MSRP: $29.95)

There is a certain beauty in simplicity, and the SOG Aegis FLK is a great example. Stainless steel construction, a 3.4-inch, 8Cr13MOV steel, clip-point blade and simple flipper opening make this a solid EDC choice. It's strong, tough, and at under $30 won't break the bank if you need to replace it for any reason. A frame lock holds the blade open, while a single-position clip carries the Aegis tip-up on the pocket. Weight is 5.2 ounces, and it's 4.6 inches closed.

Pelican Shield Smartphone Case (MSRP: $24.95)

Most of us carry some form of smartphones these days, and they are quite-pricey investments. Protect your phone with one of Pelican's Shield smartphone cases, offering Kevlar fiber construction, milspec drop resistance and a lifetime guarantee. Yes, that's the same Pelican that makes the nigh-invulnerable cases we depend on to transport our firearms to and from the range, and the same level of protection goes into what we wrap around our communication devices. It pops on quickly and easily and is compatible with most screen protectors.