by
Shooting Illustrated Staff
posted on August 15, 2011
Support NRA Shooting Illustrated
DONATE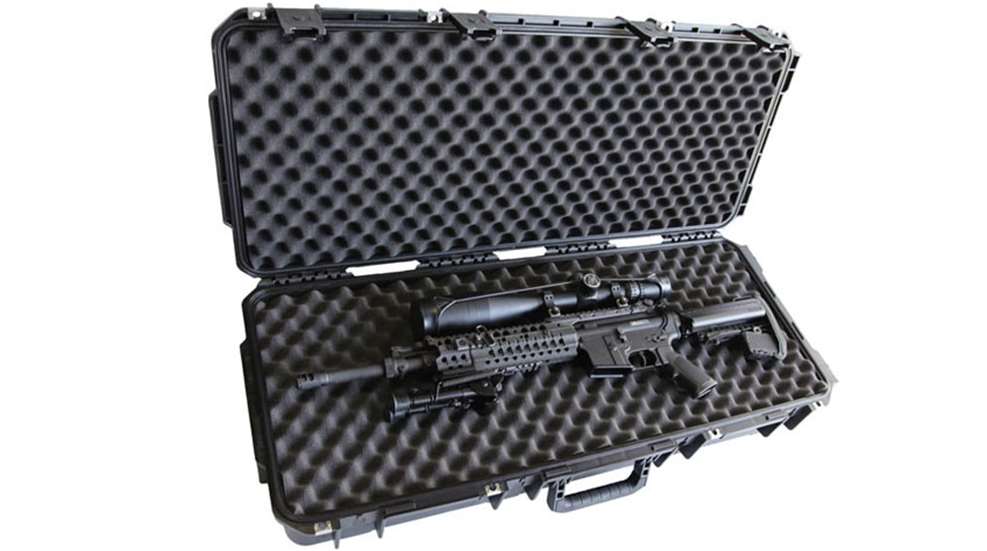 Civilian rifle club members who cross state lines with firearms may not realize they are often the target of police. Guard against expensive interstate motor vehicle violations with the new CaseCruzer KR-10 Gun Case — another tough, economical security solution by America's leading carrying case manufacturer. The GunCruzer KR-10 reusable case protects target and "social" shooters who transport auto-loading, bolt-action rifles and shotguns across state lines. The case also accommodates law enforcement personnel who must haul weaponry such as M4 SOPMODs, carbines, sub-machine guns between neighboring states. Suitable for firearms — with scopes and mounts — that does not exceed 36" in length, including many sporterized rifles.
The single-gun KR-10 is available in several interior configurations: without foam, solid foam, interlocking convoluted foam and with customized foam interiors. All carrying case models are airtight, watertight, dust proof and submersible (MIL-C-4150J); and they guard against UV rays, solvents, corrosion, fungus, and damage from sudden impact (MIL-STD-810F). The case is designed with an o-ring seal and automatic pressure release valve (MIL-STD-648C). The tough exterior is molded of ultra high-strength polypropylene copolymer resin.
The GunCruzer carrying case is a boon for rifle and shotgun competitors who enjoy sporting clays and may be unaware of the laws that affect interstate transport of weaponry. For starters, all firearms transported in a motor vehicle must be unloaded; firing chambers, cylinders and built-in magazines must be empty. And detachable clips containing ammunition must be separate from firearms.
Also, some state gun laws are more restrictive than others. The "safe passage" provision in the Firearms Owners' Protection Act (FOPA) will apply in many cases. But CaseCruzer advises civilian rifle and shotgun users to research interstate law, especially when considering a route through Washington, D.C. Special laws may also apply at airports.
To keep motorists legal, the KR-10 carrying case is fitted with four stainless steel padlock protector clips that comply with military security anti-theft regulations — even though the case was primarily designed for the US armed forces — it conforms with the rules of the Transportation Security Administration (TSA). Easy-to-use trigger latches make access to rifles fast when the gun case is unlocked.
A molded-in hinge adds protection and strength: the KR-10 is 2.5 times more durable than comparable gun cases, yet at 15 lbs without foam padding it is also lighter. For convenience, the heavy-duty lid does not tilt back when fully opened, but maintains a vertical 90 degree angle. A snap-down rubber over-molded cushion grip handle gives civilians and law enforcement full command of the case when lifting.
Transport from car to shooting range or through airports is a breeze thanks to embedded wheels and a pull handle (KR-10 is not a carry-on). Exterior dimensions are a sleek 39.04" L x 16.81" W x 6.84" H. A lifetime guarantee is standard issue with all CaseCruzer carrying cases.
For civilian rifle and shotgun enthusiasts, as well as law enforcement personnel, the GunCruzer KR-10 sets standards for safety and endurance.
CaseCruzer is a world leader in reusable carrying case solutions serving Aeronautics, Communications, Computers, Electronics, Industrial, Medical, Photography, Transportation, and other markets.