Our May issue this year is our largest ever, and it includes our largest-ever new gun guide. We found 102 guns introduced at the 2014 SHOT Show and present them to readers with key features, specs, MSRP, contact info and a picture. The most commonly asked questions we get are: "Why did you not include (insert gun here)?" and "Why did you include (insert gun here)? It's just a color change for an old product?" To answer those questions, I'll step back a bit to explain the process we follow when selecting guns for the guide.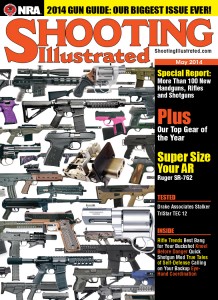 After we get back from SHOT Show, the staff convenes with lists of guns each of us thinks should go in the guide. Our criteria are simple: Will it interest our readers? Is it cool? Is it innovative? Is it from a company that has loyal fans? Provided it meets one or more of those categories, a gun then enters our master list.
As we begin to work on the issue containing the gun guide, we are given what is known as a "page cast," which shows us how many pages we will have and how many we can dedicate to the gun guide. We can then figure out how many total guns we need to include.
Here's where it gets more difficult. We can only fit so many guns on a page. In the past, we put five on a page, but for 2014, we upped it to six per page. Why? Six per page allows us to include more guns in fewer pages, but more importantly, it provides greater flexibility. Rather than needing to find multiples of five, we can find multiples of three. This is especially important because we break the new guns into categories—handguns, rifles and shotguns—and we strive to have each category completely separate from the others. In other words, we needed to find multiples of three for handguns, rifles and shotguns.
After we know exactly how many of each we will need, we go back to our list and begin the weeding process. The number one requirement for a gun to be included is a good, full-length image. If we don't have one or cannot obtain one, the gun in question cannot be in the guide. You'd be surprised by the number of manufacturers who either don't have such an image or don't want to provide one. After the image, we need all the necessary specs and contact information. Again, if we're missing a bunch of specs, the gun gets the boot.
The list has now been narrowed, but how do we explain including some guns that are really just minor changes to existing products? For the most part, we exclude color changes, but sometimes the gun in question is extremely popular and a color change will, in fact, be interesting to consumers. Same thing with line extensions like additional chambering or revamped furniture.
Ultimately, our goal is to provide as many new guns as we can fit and for those guns to be interesting to our readers. Will everyone want every gun in the guide? Of course not. While it would be nice to buy 102 guns this year, it would also be nice to eat, sleep indoors and remain married. For most of us, 102 new guns in the safe would exclude all of those other things.
Pick up the May issue and let us know what you think. Are there any guns in the guide you want us to cover in a more in-depth fashion?