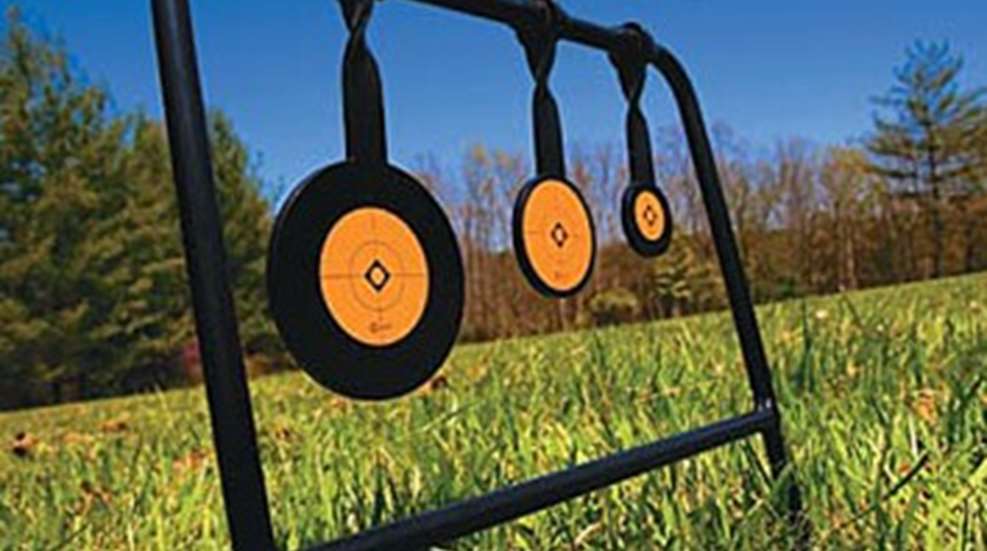 Sometimes we take shooting too seriously. Yeah, I know safety always comes first and the motivation for most firearm purchases is personal protection or hunting, but let's not forget the fun part. Fun is what plinking is all about.  Buy lots of ammo, be safe, shoot it all up and buy more! It's that simple.
There are no firearm restrictions or classes or power factors to worry about when plinking. Just about any rimfire can be fun, especially when shooting at dynamic targets and engaging in informal competition. When I was growing up, plinking was mostly oriented around precision shooting at small targets. Today, with the proliferation of reliable semi-automatic rimfire rifles and pistols with high-capacity magazines, the trend seems to be moving toward high-volume shooting at reactive targets. I like both and especially enjoy coming up with games that incorporate speed and require pinpoint accuracy.
After 40 years of shooting, I still enjoy every trigger pull. I'll proudly stand up in any crowd and say, "My name is Richard, and I'm a shootaholic." If that's a disease, hide the antidote and keep the 12-step recovery program to yourself!
So grab a rimfire, some fun targets and a washtub full of ammunition. This guide will point you in the right direction. Summertime is trigger time!
Rifles and Optics
German Sport Guns GSG-5
Want a gun that will mow down soda cans with a serious tactical attitude? The German Sport Guns GSG-5, brought to U.S. plinkers by American Tactical Imports, is the one for you. This is a .22 LR, blowback-operated, semi-automatic clone of the vaunted Heckler & Koch MP5 submachine gun omnipresent in special operations forces missions and Hollywood depictions thereof. With cosmetics virtually identical to the MP5SD, thanks to its false-suppressor barrel shroud, the GSG-5 faithfully recreates the look and feel of the original at a fraction of the cost of a legally transferable submachine gun. MSRP: $549; (800) 290-0065, http://www.americantactical.us/.
New Ultra Light Arms Model 20 RF and Leupold VX-I Rimfire
Not all plinking is rapid fire. Shooting itty-bitty groups or knocking empty .22 cases off a fence rail can be plinking, too. For that you need a superaccurate, well-balanced rifle with a good trigger. The Model 20 RF is my personal, precision plinker and get-serious squirrel rifle. It will shoot 10-shot groups you can cover with an M&M. The gun utilizes a premium Douglas barrel, Timney trigger and a tough synthetic stock UFC Champion Brock Lesnar couldn't break. Single-shot, repeating and benchrest models in right- or left-hand versions are all available. MSRP: $1,300; (304) 292-0600
Leupold's VX-1 Rimfire is particularly well suited for shooting targets of varied sizes at different ranges. Use the scope's 2X setting to pop a line of balloons at 20 yards, then crank it up to 7X to crush aspirins at 50. It's available with a gloss or matte-black finish, comes with a neoprene scope cover and is covered by Leupold's Full Lifetime Guarantee. MSRP: $219.99; (800) 538-7653, www.leupold.com.
Remington 597 TVP and Aimpoint Micro T-1
TVP stands for Target-Varmint-Plinker, and that sums this rifle up. You'll think it's either the sexiest or the ugliest rifle you've ever seen. I haven't made up my mind, but there's no question it's fun and comfortable to shoot. The test rifle had a 4.5-pound, but crisp, trigger and was nickel-splitting accurate. It was the least expensive of the rifles I tested. With an MSRP of $552, it's Buck Rogers cool and the best buy of the bunch. Shooter's Ridge makes a must-have 25-round magazine for the 597 that retails for $18.49. (800) 243-9700; www.remington.com.
Suitable for use on all firearms that have Weaver bases or Picatinny rails, the Aimpoint Micro T1 is a wild-hog-rugged, red-dot sight that weighs less than a box of .22 ammo. It's a great quick-action sight for high-volume, fast plinking at close range. MSRP: $629.99; (877) 246-7646, www.aimpoint.com.
Thompson/Center R-55 and Nitrex TR1
T/C offers four versions of the R-55 with different stocks, finishes and barrel contours. I tested the walnut-stocked model aptly named the Classic. The trigger broke at a consistent 4 pounds with a slight bit of creep, and the magazine was easy to remove. The gun comes with open sights, scope bases and rings, and one, five-round magazine. Like my shooting buddy says, "It'll shoot like a house-a-fire!" I'm still not exactly sure what that means, but the R-55 is plinking friendly, especially when you slide in the 10-round magazine available from T/C. MSRP: $604; (603) 332-2333, www.tcarms.com.
Though it was designed for centerfire rifles, the Nitrex TR1 1.5-5x32 mm scope is right at home on a .22 rimfire. Plinkers will appreciate the repeatable adjustments, fully multi-coated optics and fast-focus eyepiece. It is well worth noting that Nitrex offers the only over-the-counter exchange warranty available in the business. MSRP: $293.99; (800) 635-7656; www.nitrexoptics.com.
Plink with Class
The Remington Custom Shop's classy Model 547 Custom is a rimfire taken to another level. Its high-grade walnut stock has the lines of the Model 700 CDL, complete with contrasting fore-end tip, and the highly polished, blued finish of the barrel and receiver is spectacular. The bolt handle also mimics the design of the Model 700, making the Model 547 Custom feel a lot like its big brother. Oh yes, it's accurate too, thanks to the hand-lapped, button-rifled Shilen barrel with match-grade chamber. The rifle's $2,430 price tag may be a steep hill to climb, but rest assured that you will have reached the pinnacle of rimfires if you make the trip. (800) 243-9700; www.remington.com.
Handguns 
Ruger New Model Super Single Six
The Single Six brings old-west flare to those backyard plink-outs. Ten variations are available with barrel lengths ranging from 45⁄8 inches to a whopping 91⁄2 inches, and all .22 LR models are convertible to .22 WMR. If fun is your prime consideration, go with the short barrel. For maximum accuracy, you should order the big iron. MSRP: $506 or $519, depending on barrel length; (603) 865-2442, www.ruger.com.
SIG Sauer P229 Classic 22
Built on the same frame as the respected SIG P229, the Classic 22 lets you enjoy hours of plinking or serious training for a fraction of what it would cost with a 9 mm. The best part: With the SIG Sauer X-Change Kit, you can change out the slide assembly, barrel, recoil system and magazine to any of the standard-production, centerfire pistol calibers from SIG. Fun to shoot and a great value for savvy shooters who crave a carry gun that's convertible to .22 LR. MSRP: $608; (603) 772-2302, www.sigsauer.com.
Smith & Wesson Model 63
"Go ahead. Make my day!" Well, it's hard to act like Dirty Harry with a .22 LR, but Smith & Wesson's J-frame Model 63 will get you close. This rugged, stainless-steel, double-action revolver with adjustable sights holds eight rounds. I'd be happy to carry it small-game hunting or just knocking around along the river. The single-action trigger was exceptional and felt as if it was gunsmith tuned. MSRP: $845; (800) 331-0852,www.smith-wesson.com.
Kimber Rimfire Conversion Kit
If you already own a 1911, the Kimber Rimfire Conversion Kit is a no-brainer. It will allow you to train with your carry or competition gun on the cheap and is bet-the-bank reliable. The kit is easy to install and works just fine on all three of my 1911s. Complete rimfire pistols built on 1911 frames are also available from Kimber. MSRP: $330; (914) 964-0771, www.kimberamerica.com.
Stuff To Shoot
You can come up with all sorts of safe and inexpensive targets like animal crackers, balloons, eggs and vegetables, but it never hurts to spend a few dollars for reactive targets that are not one-hit wonders. Two great sources are Caldwell and Champion Targets.
You'll never have to leave the bench with Caldwell's five-plate resetting target system. Shoot the bottom four steel plates, then drill the top one to drop them back down. It sells for less than $40, and I don't think that you can wear it out! (573) 445-9200, www.battenfeldtechnologies.com.
The Visi-Chalk Target Wheel from Champion holds nine chalk disks that vaporize in a cloud of color when hit. The wheel rotates as the targets are picked off to make things more challenging. MSRP: $27.49 for the wheel, $10.95 for a box of 48 chalk targets.
Champion's DuraSeal targets eliminate lead-splatter concerns. They're made from a rubbery substance that stands up to thousands of shots and come shaped like crows, gophers, circles and diamonds in black or orange. All are equipped with either a wire stand you can poke into the ground or one that can be hang over a target frame. MSRP: $17.95 to $38.49; (800) 635-7656, www.championtarget.com.
Though not generally as much fun as soda cans, shotgun hulls and lollipops, paper targets help you get sighted in and can be a good training tool. Thompson Target offers a seemingly endless selection of bullseye targets, animal targets and even a target to help you diagnose your pistol shooting problems. The company's neon-bright, self-adhesive Stick'Um Up bullseyes come in a plastic container that easily fits in a hip pocket. MSRP: $4.99 to $5.79 for a pack of 10 sheets, $4.79 for 50 Stick'Um Up bullseyes; (330) 484-6480, www.thompsontarget.com.
Combine Sure Site's versatile Double Post Holder target stand with a piece of cardboard and the company's clay-target hangers, and you can set up a shooting range almost anywhere. With an extension kit, the frame will hold as many as 20 clay targets. MSRP: $39 for the stand, $5 for 10 hangers; (208) 365-6944, www.suresiteinc.com.