American Tactical and German Sport Guns (GSG) are known for their quality .22LR firearms, and now they have another model to add to their list: The GSG FireFly.
The GSG FireFly features a wear-resistant alloy frame outfitted with an integrated accessory rail. The FireFly's slide is manufactured with adjustable sights, it is constructed with a rugged blowback system, features a fixed barrel and offers users an ergonomic grip. Additionally, the FireFly has an ambidextrous safety and is available in double or single action. It's an excellent gun for a day of target practice or to familiarize yourself, or a new shooter, with centerfire pistols.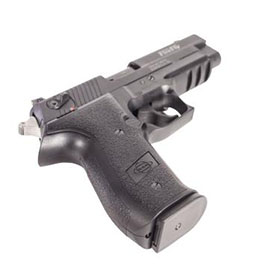 The FireFly is lightweight due to its polymer finish and available in black, green and tan. Its 5.3 inches in height, 1.5 inches wide, has a 4-inch threaded or non-threaded steel barrel. Its overall length is 7.2 inches.
MSRP $269.95