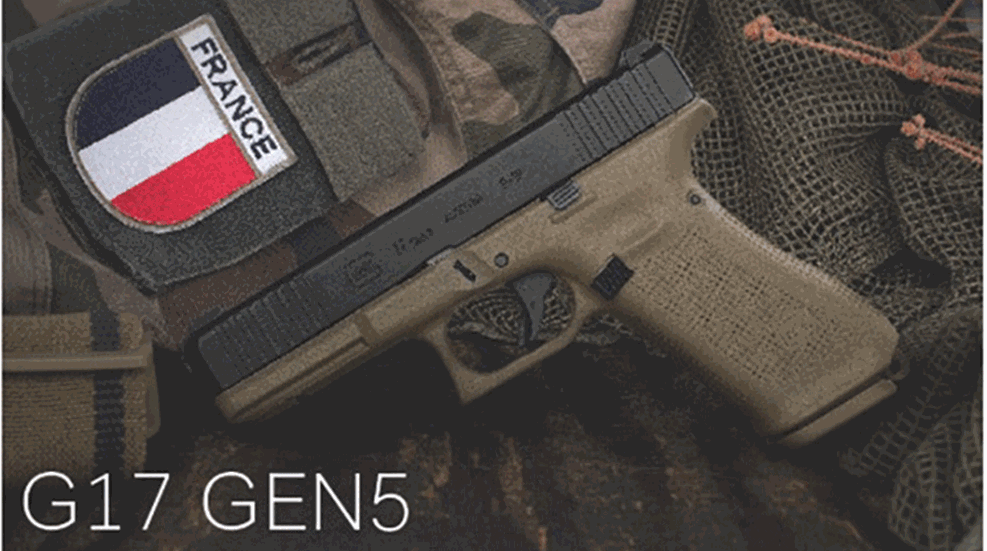 The French Armament General Directorate recently announced a three-year contract for Glock G17 Gen5s to re-equip the entire French Army. The new sidearm will replace an aging fleet of PAMAS G1 S—a version of the Beretta 92 retiring from the U.S. military—and PA MAC pistols. The latter is a French-produced handgun the country's Army originally fielded in the 1950s.
First delivery of the Glocks will take place early this year. The pistol features a black slide with front serrations, coyote frame and extended slide lock. Luminescent front sights improve low-light operation.
The contract is for 75,000 handguns, along with holsters, magazine pouches, suppressors, several types of ammunition and protective cases. France's Section Technique de l'Armée de Terre conducted extensive testing to identify a replacement that met the military reliability, accuracy and user-friendly requirements. Specifications included a mandatory minimum firearm life expectancy of 26,350 rounds. An undisclosed number of companies submitted handguns for the contract, which opened for submissions in March 2019.
"This award follows several Armies in Europe and throughout the world," said Richard Flür, international sales director at Glock. "The importance of the program is underlined by the fact that it will equip all French troops, both regular but also special operations, with Glock pistols. We are very proud and honored to deliver our high-quality Safe Action pistols, as well as excellent and reliable accessories to the French military."
The Portuguese Army purchased the same handgun to outfit its Army in October 2019. A custom coyote finish, and other slight modifications, visibly sets this military sidearm apart from those being manufactured for France.
There was no official word on volume of the contract with Portugal, although it's undoubtedly less. The country has only 35,000 uniformed members serving in its Army, while France has more than 100,000.