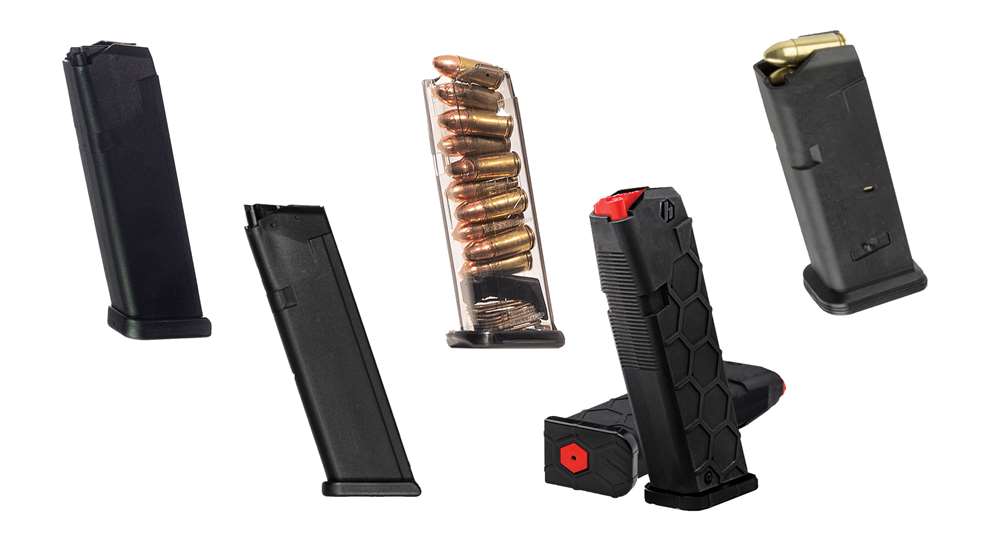 One of the biggest reasons Glock owners are Glock owners is not just Glock's well-earned reputation as a reliable gun, but also because the industry is crammed full of outstanding aftermarket parts and pieces, such as magazines. While we haven't done a comprehensive study to see if Glock is truly the most-supported gun in the aftermarket world, anecdotally, it sure seems that way. Since there is no way we could list all the Glock-compatible magazines on the market, we offer these five as excellent alternatives to Glock's factory ammo holders.
Magpul Polymer
No doubt you already expected Magpul to be on the list. As a specialist in aftermarket mags, Magpul offers Glock-compatible magazines for pretty much all Glock 9mm models, including the original G17 and G19. Capacities start at 15 rounds and work up to 27 rounds. Magpul's prices typically start as low as $12.99 and move up to nearly $20 per magazine for higher capacity at online retailers.
Hexmag Carbon Fiber
With its signature hexagonal grip texture, it's hard not to immediately know you're holding a Hexmag magazine. The Hexmag Carbon Fiber Glock 17 magazine is a departure from typically Glock-style magazines in that it's not made from polymer but rather, you guessed it, carbon fiber. And yet it doesn't cost an arm and a leg, at only $14.99 from several online sources. You know the famous Glock Dots witness holes on the back of the manufacturer magazines? Hexmag replicates those in a hexagonal pattern rather than round dots. It's almost like a branding theme going on here. The hexagonal pattern carries over to the baseplate, with a single red hex on the bottom.
Elite Tactical Systems (ETS)
ETS's clear difference is that their mags are, well, clear. You can see through them and know exactly how many rounds you have left. Available in various colors and smokiness, ETS makes a host of Glock magazines for the normal 9mm line such as the G17, G19, and others and even makes a 40-rounder for the ever-elusive full-auto Glock 18. Satisfy your inner patriot with a 3-pack of red, white (clear), and blue in 9mm, .380 ACP, .40 S&W, and .45ACP. All ETS magazines are made in the USA and have a lifetime warranty against pretty much anything, including cracking from being dropped. Prices vary between $16 and $26.99 depending on capacity.
KCI USA
Started in South Korea in 1984, KCI makes its magazines in both its home country and Las Vegas. KCI magazines have developed a reputation over the past almost 40 years of being a workhorse product that stands up under abuse that might do in other magazines. KCI makes a smorgasbord of Glock-compatible straight-line magazines in 9mm, .40 S&W, and .45ACP, starting around $15.99 for the standard 17-rounders and going up to $19.99 for a 33-rounder. But here is where KCI's offering wins extra moxie points: they offer a 50-round drum in 9mm and .40 for $79.99 and $139.99, respectively. While it may be challenging to conceal carry, the drum is sure fun to shoot.
ProMag
ProMag's claim to fame in the magazine world is their "anti-fatigue chrome silicon" springs that they claim are designed to be loaded and stored for up to six years and still perform flawlessly. That should be music to the ears of Glock owners who bought the gun for its reliability. Now you can have aftermarket mags that claim to work just as well. ProMag offers a full line of Glock-compatibles in various capacities and calibers, including 50-round drums in 9mm and .45ACP. One Glock magazine that appears to be a ProMag exclusive is a Glock 44-compatible 18-rounder in .22LR. Glock's standard G44 magazine is 10 rounds, so this upgrade almost doubles its capacity. ProMag magazines start around $13.99 for a 15-round G19 and go up from there.
A Word on Extenders
Do your homework first if you plan to add an extended baseplate to your aftermarket Glock magazines. Not all non-factory Glock magazines are compatible with extenders designed for Glock-brand magazines. The baseplates are cut just differently enough to prevent seamless connection points. Check with the aftermarket company before purchasing to be sure you can use the extender.