Anti-gunners pounced on the erroneous supposition that this "plastic gun" was impervious to X-ray machines. Even pro-gun people said things like, "Hey, what's with that crazy trigger?"
Today, the Glock has proven to be one of the safest, most popular, versatile, reliable and effective semi-automatics ever to hit the shooting scene. And yes, it can be detected by X-ray machines. It is also accurate. Small wonder it's now used by 65 percent of law enforcement agencies in the United States as well as by some military units, in addition to other armed forces and police agencies throughout the world. That's quite a list of accomplishments for Glock Ges.m.b.H.—a company that, prior to 1982, had never built a firearm.
Gaston Glock, an engineer, founded his namesake company in 1963 in Deutsch-Wagram, Austria, as a manufacturer of ultra-durable polymer products. In 1982 he learned, via a firearms firm inquiring about polymer-pistol frames, that the Austrian Ministry of Defense was looking for a 9 mm replacement for its aging Walther P38 handguns. Not knowing any better, Glock reasoned if it were possible to make a pistol frame out of polymer, then why not apply that technology to other parts as well?
He assembled a team of firearm professionals and engineers to work on the project. In three months, after many prototypes, their 17th effort was a success. Thus, the pistol was dubbed the Glock 17. Coincidently, its double-stack magazine held 17 rounds.
It was the first of a long line of short-recoil, double-action-only, locked-breech, semi-automatics that would forever change the way we think about handguns.
The polymer used for the Glock 17 frame was not only corrosion resistant, it was stronger than steel and almost twice as hard. Moreover, the steel barrel and slide were treated with Tenifer, a patented process the company now calls Tuffride, a ferric nitrocarburizing technique somewhat similar to casehardening that dramatically increases steel's durability. With its 4.5-inch barrel and weighing a scant 22.4 ounces, the Glock 17 was comfortable to carry. Finally, compared to traditional firearms, it was more economical to produce.
Contrary to the initial perception of no safeties on the gun, there are actually three. The first is deactivated when the first stage of the two-stage trigger is depressed. The second safety, an internal physical lock on the striker, prevents the gun from firing should it be accidentally dropped. The third is the trigger mechanism housing itself, which requires a full pull of the trigger to hit the connector and release the striker, thus firing the gun. Releasing the trigger after the shot reactivates all three safeties.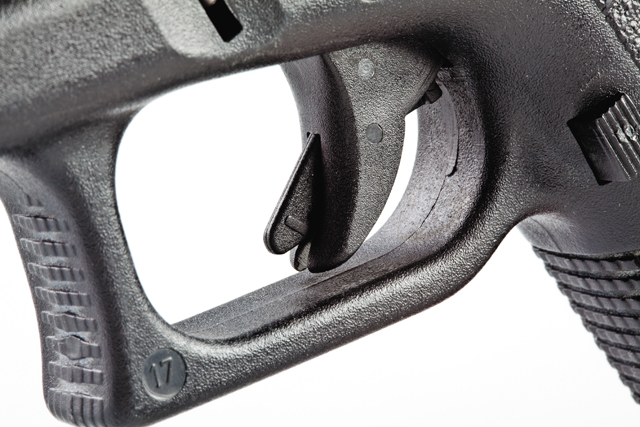 Glock submitted its "SafeAction" pistol for Austrian army trials in 1982, pitting it against such stalwarts as Austria's own Steyr, plus Heckler & Koch (which had produced a polymer-framed pistol—the VP 70—12 years earlier), SIG Sauer, FN Herstal and Beretta. The Glock 17 won and the company was officially in the firearms business.
Word quickly spread about Austria's new wündergewehr, and orders for the Glock 17, which exceeded NATO requirements, were soon placed by Norway and Sweden. Other countries followed. Glock was eventually invited by the Department of Defense to participate in U.S. XM9 Personal Defense Pistol Trials to replace the Government 1911, but it could not augment production to meet DOD requirements. If it had, one can't help but wonder if the outcome of these trials might have been different. Nonetheless, the Glock 17 and its many variants were eventually recruited for parts of America's military.
"I've always called the Glock a revolver with a magazine," says David R. Street, a factory-trained Glock armorer popularly known as "The Glock Doc." His table at Southern California gun shows is routinely surrounded by enthusiastic Glock owners seeking his expertise, which comes not only from his Glock armorer training, but also from practical field use during 30 years with the Riverside County Sheriff's Department.
"The polymer frame flexes slightly upon firing and helps absorb recoil. Also, the top of the grip is closer to the bore line, so there is less muzzle blast and felt recoil," he said. "And even when parts break—which will happen—the Glock keeps on working. I once ran 12,000 rounds through a single Glock 21 used in various competitions. It was only after I got off the firing line one day that I discovered the trigger pin, part of the extractor and the locking block had been broken."
There are currently 38 different versions of the Glock. Depending on model, the guns are produced in seven chamberings, including 10 mm and .45 GAP. Collectors refer to Glock improvements as generations, with the latest Gen4 encompassing refinements including interchangeable backstrap panels and a dual recoil spring assembly.
More than 40 countries have adopted the Glock for military and LE use. In the U.S., so many government and municipal agencies are using Glocks, listing them would fill this page. To be sure, not everyone likes the Glock. But with more than 2.5 million pistols sold to date, I've got a feeling the Glock saga is far from over.