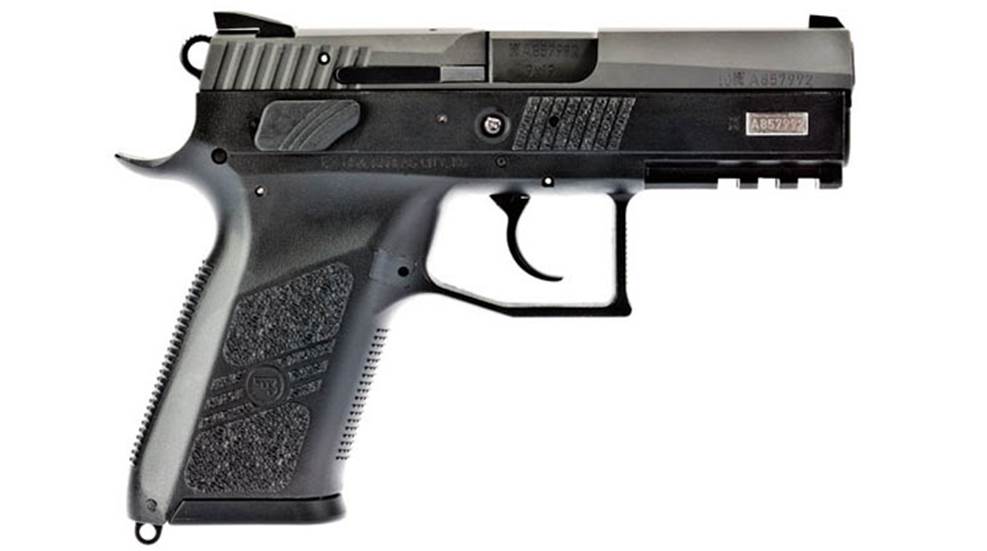 The P-07 Duty's polymer and matte-black finish has just the right contrast between the slide and frame, and once you handle the handgun you'll understand what I mean when I say it has a confidence-building feel. Designed to emulate the ergonomics of the popular CZ 75, it's solid in your hands and follow-up shots are fast, nearly intuitive. (For a gallery of photos of the CZ-USA P-07 Duty, go here.)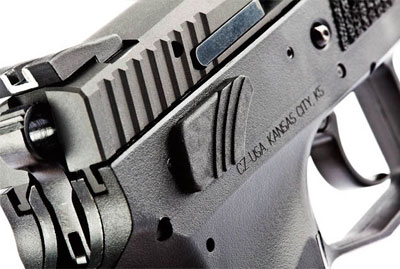 Texturing in the grip, coupled with grooves in the frontstrap and backstrap, provide a solid purchase. The front of the trigger guard is treated similarly to help those who like to rest a finger there.
All are great touches, but eight textured patches on the polymer frame in front of the slide-stop lever seem more like a cosmetic touch than functional addition. With a proper shooting grip I wasn't making contact with them, and they weren't any help during press checks. That said, they do look pretty cool.
The P-07 Duty employs the company's Omega trigger system, which uses fewer parts and reduces the pressure required to touch one off. With double-action/single-action operation, the trigger was smooth and didn't stack at all during testing. That's a pretty rare commodity in a production handgun. The gun also has a double-strike capability.
Unfortunately, the one complaint I have about the handgun also centers on the trigger. During my last training session, the instructor worked with me at length to hone my ability to shoot from a trigger's reset. For the first 10 rounds with the CZ P-07 Duty, it was hard to feel that comforting click. I surmise it was just breaking in, because I could eventually find it with regularity. Travel to the reset was long and seemed just about as lengthy as the wait for a tax-refund check. There's not much of an advantage in shooting from reset if you're nearly taking your finger off the trigger to get there.
Ambidextrous safety/decocker levers found on the gun, coupled with the reversible magazine release, make it fully suitable for lefties. In regard to magazines, the CZ P-07 Duty ships with two, 16-round versions for the 9 mm. They dropped effortlessly when the release was depressed during testing.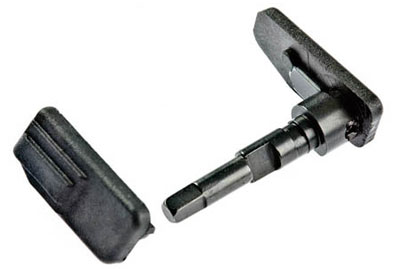 A CZ P-07 Duty ships with a safety bar, but with a decocker mechanism installed. It's important to note it does not operate with both systems simultaneously, you have to decide which you prefer and, if necessary, install the other part. The change out procedure is simple and there's a video on the company's website to prove it, but there's this tiny spring involved. Springs and I don't get along, so if I took this handgun home I'd install the safety, deliberately ditch the decocker lever and call it good, forever.
An accessory rail on the front dustcover allows installation of lights and lasers. A lanyard loop at the rear of the magazine well is a little annoying for carry, but modifying my magazine hold prevented undue bruises as I reloaded the gun.
With a low bore axis, the gun points quickly and recoil was surprisingly mild, even with +P loads. During testing I delivered dedicated pairs quickly and efficiently to the vitals of a target at 10 yards.
In more than 100 rounds, the gun suffered no stoppages, failures to feed or malfunctions of any sort. The best five, five-round group average was turned in by Hornady's 115-grain Critical Defense FTX—2 7⁄8 inches at 25 yards. That's plenty good for a self-defense gun.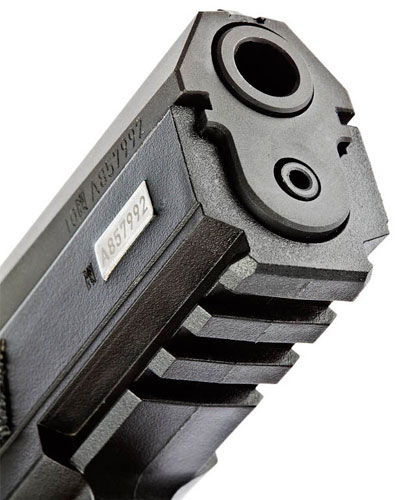 A U-shaped white outline on the rear sight made it easy to pick up during my dedicated-pair practice. The sight is windage adjustable and when aligned with the front sight, there's still a little daylight showing on both sides—a good thing for older shooters.
The front sight is a single white dot that aligns quickly with the target. Both the front and rear sights are low profile and beveled to improve speed of presentation and reduce the chances of hanging up during the draw or when holstering. Their predominantly black coloration made shooting in bright sunlight easy.
The test gun printed 3-inches low and another 3 inches to the left at 25 yards. For accuracy testing it didn't make much of a difference, obviously, but because the front sight is dovetailed into the slide from the front, were this my gun it might be something of a challenge to find a load that matches point of aim. The windage adjustment would be easy, the elevation, not so much.
After 100 rounds I began to eye that front-sight mounting system with suspicion, too. No, it didn't shift or move, but a front-facing dovetail leads me to wonder if it might back out or loosen down the line. I did an Internet search to see if anyone had complaints about the sights loosening and found none. Maybe I worry about things too much, but with the slide cycling back and forth at a high rate of speed, it's worth watching.
The CZ P-07 Duty is amazingly soft shooting and feels every bit as good as it looks. It's not a barbecue gun, by any stretch of the imagination, but it does have an appealing businesslike look.
I may prefer a safety to a decocker, but the ability to change between the two adds to this handgun's versatility. It arrives with a pair of magazines, doesn't seem finicky in its fodder and is self-defense accurate. In short, I wouldn't have a problem with adding the CZ P-07 Duty to my carry complement, or being seen with it.

Manufacturer: Ceska Zbrojovka Uhersky Brod
Importer: CZ-USA; (800) 955-4486, www.cz-usa.com
Action Type: Recoil-operated, semi-automatic
Caliber: 9 mm
Capacity: 16+1
Frame: Polymer
Slide: 6 3⁄8 inches, matte-black steel
Barrel: 3.8 inches, cold-hammer forged
Rifling: 6 grooves; 1:9.84-inch RH twist
Sights: Fixed front sight, windage adjustable U-notch rear
Trigger Pull Weight: 9 pounds, 12 ounces double action; 6 pounds, 6 ounces single action
Length: 7.23 inches
Width: 1.5 inches
Height: 5.1 inches
Weight: 1.7 pounds
Accessories: Hard case, manual, spare 16-round magazine, safety assembly
MSRP: $487
Don't miss a moment of the action. Subscribe to Shooting Illustrated today!