Support NRA Shooting Illustrated
DONATE
As we approach the 10-year anniversary of its release, the FNX-45 Tactical still keeps up with modern designs due to its forward-thinking engineering. Bilateral controls, suppressor-height night sights and an optics-capable slide put this pistol ahead of its time when designed in 2007. It also leads the class of tactical .45 ACP pistols in capacity with its 15 round magazines. We'll get in deeper with the specs further on, but for now let's look at this "offensive handguns" somewhat controversial past.
First showcased in 2007 for the U.S. Military's Joint Combat Pistol Program, the FN-X was originally known as the FN-P. It was introduced in .45 ACP as an upgrade to the Beretta M9 the military was fielding at the time. The FN-P didn't necessarily fail the pistol trials, the pistol trials just didn't yield enough convincing data to warrant a full replacement of the military's current sidearm. The FN-P was also an expensive handgun and would require a complete and costly overhaul of the pistol and parts inventory. The heavier and more expensive .45 ACP round would need to be reintroduced en masse as well, and there simply was not enough ballistic evidence to support replacing the 9mm round. So, the FN-P went back to FN America for a few years of upgrades and improvements and was released to the consumer market in October, 2012, as the FNX-45 Tactical.
There are also FNX-45 handguns which do not bear the "tactical" designation. The main differences being the threaded and suppressor-ready barrel, along with Trijicon suppressor-height night sights. Today, however, we will only be discussing the tactical version.
FNX-45 Tactical Specifications
The FNX-45 Tactical is a polymer-frame, double-action/single-action, recoil-operated handgun. It uses the tried-and-true Browning tilting barrel design. With an overall length of 8.6 inches and a height of 6.5 inches, this is truly a full-sized handgun. The weight without a magazine is 30 ounces, with an empty 15-round magazine 33.3 ounces, and with a fully loaded 15-round magazine 44 ounces. This pistol was designed from top to bottom as a large, powerful, and durable duty handgun.
A manual safety/de-cocking lever is located on both sides of the pistol to accommodate left-handed shooters. With my Lyman trigger gauge, I was able to get very consistent SA pulls between 4 pounds, 6 ounces. and 4 pounds, 8 ounces. Double action is a little more than double at an average of 10 pounds, 1 ounce. The trigger shoe itself is also made of polymer but feels plenty strong, robust, and comfortable with no trigger shoe safety.
Moving past the trigger, we have a polymer frame in FN's Flat Dark Earth (FDE). Two sizes of backstraps come included with the pistol, with both having a unique grip pattern. The profile of the grip is slender and uniform at 1.6 inches wide even with the enormous 15 round capacity. The takedown lever is large, and easy to actuate. The bilateral magazine release buttons are extended, easy to reach, and intuitive to use.  The frame also includes the standard Picatinny accessory rail for all your mounting desires. The pistol points well, feels ergonomic, and is easy to shoot.
The slide is completely stainless steel, solid and heavy, has an extremely durable finish and includes front and rear serrations. These serrations, combined with the overall texture of the steel and/or coating, make the slide very easy to grip. The slide is cut for the RMR footprint and comes with 2 steel mounting plates and hardware. Bilateral slide stop/release levers make this weapon a great option for both left and right-handed shooters. The slide is topped off with steel suppressor-height night sights by Trijicon with two yellow lamps in the rear and one green lamp up front. I really like the contrast of colors and, coincidentally, is the same exact night sight set up as my Glock pistol.
The barrel is 5.3 inches long, cold hammer forged and all stainless-steel construction. The chamber end contains a highly polished feed ramp for reliable feeding. The muzzle end is threaded .578x28 and comes with a steel thread protector. The 6-groove barrel has a 1:16 right-hand twist, which is standard for .45 ACP. It appears to be nitride or treated with a similar QPQ finish. FN is known worldwide for its accurate and strong CHF barrels, and the FNX-45 Tactical barrel is no exception. 
Velocity & Accuracy
I took my FNX-45 Tactical out to the range to do some velocity measurements and some bench rested accuracy tests. Even with the sandbag rest, I am certain one could achieve greater accuracy than I have with this one test. I shot from a standing position with a sandbag rest from 25 feet.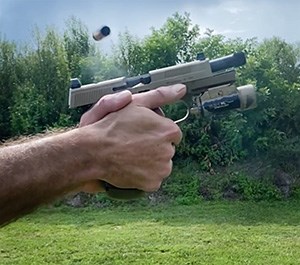 Fiocchi 230-grain FMJ RN: 2.56 inch group
Sellier & Bellot 230-grain FMJ RN: 2.5 inch group
SIG Sauer V-Crown 230-grain JHP: 1.8 inch group
A lot of my shots were printing slightly right of my point of aim but with the SIG Sauer V-Crown, it was much more pronounced. The V-Crown did however produce the best groups of all three ammunition types. The Fiocchi and S&B were almost identical in accuracy performance, and I had zero malfunctions of any kind with any of the three loads tested.
Velocities were measured using a Pro-Chrono chronograph and the ambient temperature was around 90 degrees Fahrenheit during the testing. I was 10 feet from the chrono and 25 feet from the targets. The velocity of these loads are as follows:
Fiocchi 230-grain FMJ RN: 851.2 fps
Sellier & Bellot 230-grain FMJ RN: 813.6 fps
SIG Sauer V-Crown 230-grain JHP: 846.8 fps
All loads had consistent velocity, but the SIG V-Crown was the most consistent. The Fiocchi ran hottest of all three, while the S&B came in last. As far as accuracy and velocity are concerned, the SIG V-Crown took the win in both categories. The SIG V-Crown had very tight groups, albeit a little right of the point of aim and extremely consistent powder loads and velocity. At almost $2/round compared to $.60/round, I don't know if the edge in performance is worth the extra coin. If you do insist on carrying hollow points in your FNX-45 Tactical though, the V-Crown would be a great choice.
A Classic That Stands The Test Of Time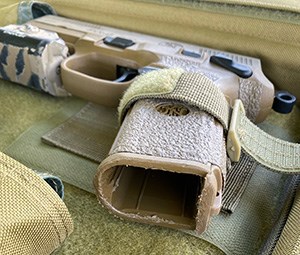 The FNX-45 Tactical is one of my absolute favorite handguns because it seemingly sits in a class by itself: A high-capacity DA/SA polymer framed handgun that holds 15+1 rounds of .45 ACP. It looks stunning, shoots spectacularly well and has been very reliable. This all comes at a price though. The MSRP for the FNX-45 Tactical is $1,379 at the time of writing this article. There also aren't many upgrades one could do to this pistol. There are currently no aftermarket triggers available for the FNX-45 Tactical, and replacement parts are typically available but can be expensive or frequently out of stock. The weapon comes with two 15 round magazines and you can expect to pay about $50 for an extra one. Another downside to the FNX 45 Tactical is the strength of the polymer. As you can see in my photos, the bottom of the mag well becomes pretty chewed up from reloads. It does not affect the functionality of the weapon, but it does leave questions about longevity for a weapon in this price category.
The FNX 45 has been designed and sold exactly the way it is for 10 years. It is meant to be used and carried exactly how it comes with perhaps the addition of a light and red-dot sight. As you can see in the photos, I fitted mine with Talon Grips because I like the rubber texture. I also run mine with a Streamlight TLR-1 HL. It serves me mostly as a fun range toy and a perfect bed or nightstand weapon. It is large and easy to locate, with controls that are the same. The .45 ACP round has plenty of power but will also prevent too much over penetration. I am very curious to see if FN will release a new and improved version of this handgun as they seem to be doing with many of their models such as the iconic Hi Power. If that were to happen, I will be the first one trying to get my hands on it for a review. Stronger polymer and possibly a 17-round capacity magazine? Your move, FN.