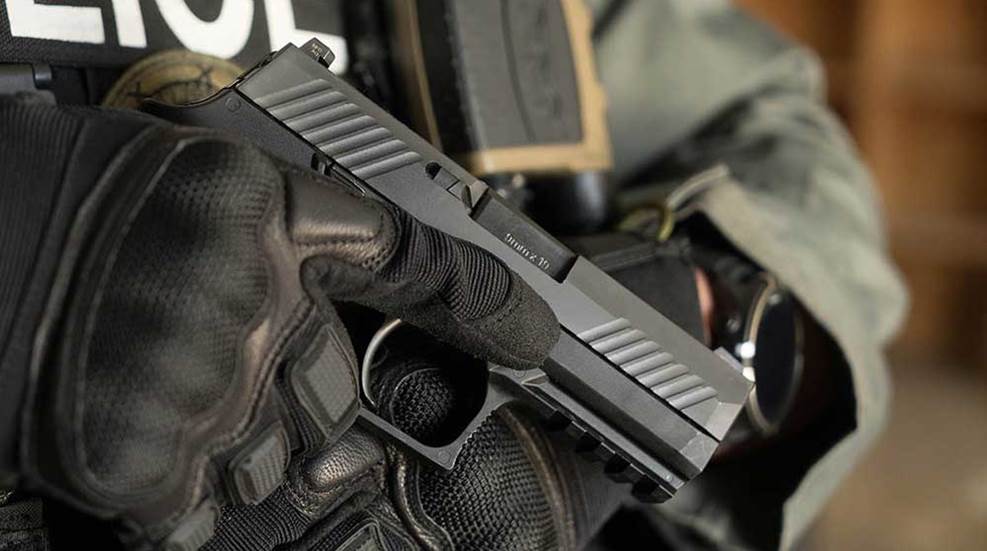 The Tampa, FL, Police Department—with more than 1,000 sworn officers covering three districts that encompass the entire municipality—has transitioned to the SIG Sauer P320. In Arkansas, the Jacksonville Police Department, much smaller at 59 officers, recently made the same choice.
"SIG Sauer is honored to earn the trust of the men and women of the Tampa Police Department through their selection of the P320 pistol as their official duty pistol," said Tom Jankiewicz, executive vice president or Law Enforcement Sales at SIG Sauer. "The modularity of the P320, with its ability to select grip size, combined with the proven reliability, accuracy, and safety of the firearm made it the right choice for this diverse group of officers."
Although the Arkansas agency's order dwarfs by comparison to the 1,375 purchased for law enforcement use in Florida, its decision is just as much of an honor, according to Jankiewicz. "SIG Sauer's commitment to the entire law enforcement community is to provide them with superior firearms to protect and serve their communities," he said, "and the superiority of the P320 exemplifies this commitment." Nearly 30,000 citizens live in the Jacksonville, AR-area patrolled by the department's officers.
Lt. Brett Hibbs, from the Support Services Division of the Jacksonville Police Department, has already noted a performance difference with the new sidearm. "All of our officers have completed the training and instruction process with the new pistol and we've found, overwhelmingly, that the P320 has made them more proficient shooters due to the ability for the officers to choose their preferred grip size, the smooth trigger and ambidextrous controls," he explained.
The SIG Sauer P320 is a modular, striker-fired pistol available in full-size, carry, compact and subcompact sizing. The serialized trigger group makes it adaptable to multiple caliber, size and grip options and it's available in 9 mm, .357 SIG, 40 S&W and .45 ACP.
Since the U.S. Army has adopted a
military version of the P320
for its official sidearm, the handgun has been gained favor with a variety of law enforcement agencies across the nation. The Chicago Police Department announced
it was allowing duty officers to carry the P320
earlier this month.