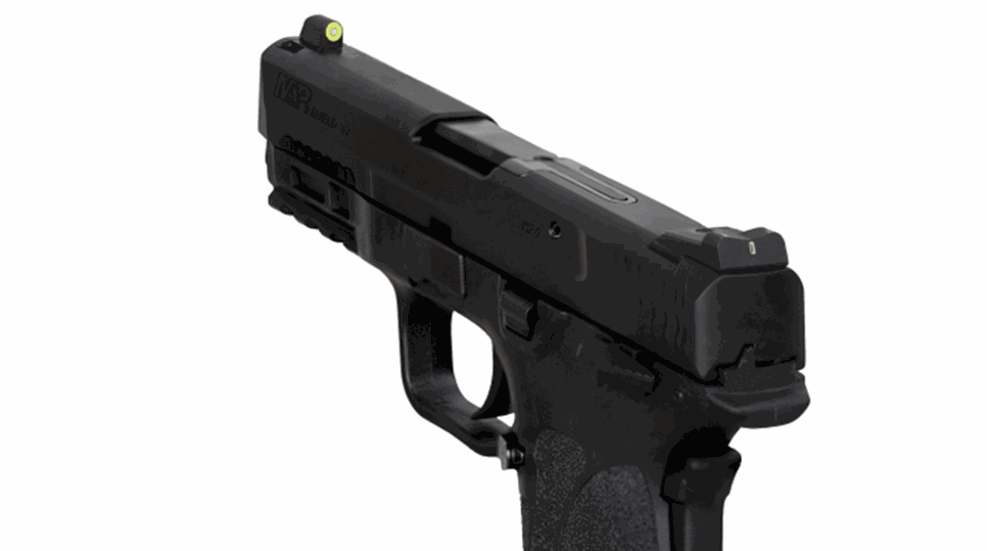 XS Sights is now offering its popular DXT2 Big Dot night sights for the Smith & Wesson M&P9 Shield EZ pistol, along with the Heckler & Koch P7 M8, P7 M13 and P7 PSP pistols.
XS Sights are known for their exceptional front sight visibility in all lighting conditions, and the new second-generation Big Dot Night Sights are even more noticeable now that they are available in Optic Yellow and Optic Orange. By using a large, high-contrast front and a V-notch rear sight for an unobstructed view of the front sight, the bright colors and large size of the DXT2 Big Dot sights drive focus to the front sight and what's downrange.
The Big Dot front sight uses a patent-pending colored Ember glow dot which absorbs light, causing the sight to glow before it's light levels have dropped enough to see the tritium center. The glow dot also stores light energy, enabling it to glow brightly for many hours. The V-notch rear sight features a vertical white stripe with a tritium vial at the center, creating a dot-the-"i" sight picture for fast and accurate target acquisition in high-stress situations.
The Optic Yellow front sight is the most visible color in low light, while the Optic Orange is the best choice for bright light settings, such as shooting outside in daylight. The Optic Orange sight also offers a high-glow intensity which maintains visibility in decreasing light levels.
MSRP for the DXT2 Big Dot night sights for the Smith & Wesson M&P9 Shield EZ and select HK pistols is $132. For more information on the sights and the other XS Sights products, please visit xssights.com.