by
Shooting Illustrated Staff
posted on August 13, 2020
Support NRA Shooting Illustrated
DONATE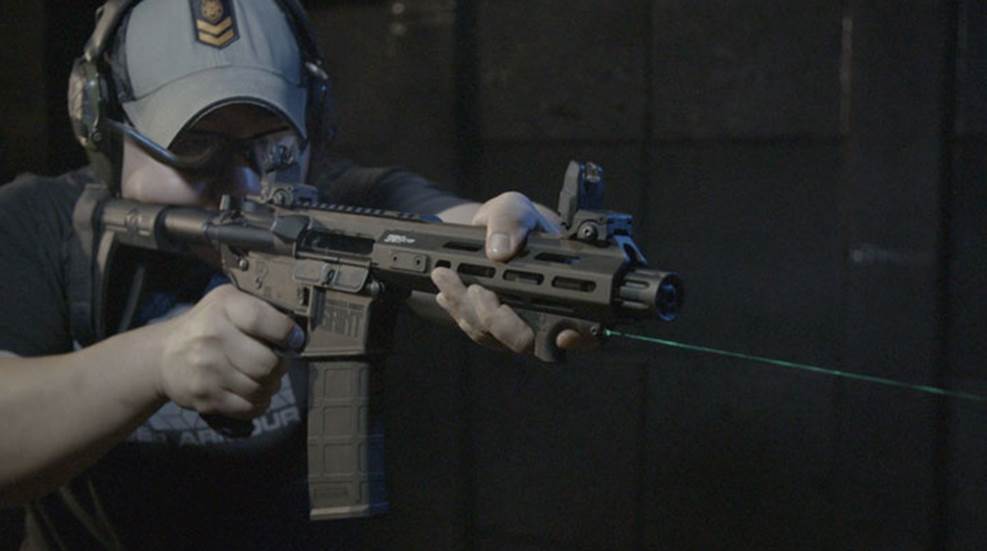 The AR-15-type rifle continues to sell in record numbers and is easily and quickly adapted to serve a variety of roles for the American gun owner. The popularity of the AR is due to a number of factors. Its modular construction makes changing features on the gun fast and easy, and its light weight makes it easy to quickly get your rifle on target when it matters the most. Now the AR is poised to be even faster and easier to control thanks to the new HS1 from Viridian Weapon Technologies' HS1, the first hand stop with an integrated laser sighting device.
"The HS1 combines the functionality of an AR hand stop with the rapid target acquisition provided by a Viridian green laser," said Brian Hedeen, President and CEO at Viridian. "The combination makes for a much more ergonomic rifle and cuts down on the attachments that add bulk to a gun's foregrip."
Viridian's new hand stop offers increased control and faster target acquisition with a highly visible green laser that's intuitively activated by the grip of the shooter's support hand.
The HS1 uses M-Lok mounts for easier installation, and the laser is adjustable for windage and elevation. The pressure pad on the HS1 activates the laser in a variety of support-hand grip positions, adding more control and speeding up target acquisition time.  
Viridian HS1 Laser Hand Stop Features
Activation: Dual pressure-pad activation buttons
Adjustable: Windage/Elevation
Battery. Life (constant): 1.5 Hours
Battery Type: 1/3 n
Optics: Laser Only
Laser Color: Green
Mounting: Picatinny Rail
Range: Up to 100 yards daylight / 2 miles nighttime
Operating Temperature Range: 14 to 140 degrees Fahrenheit
MSRP for the HS1 AR laser hand stop is $179.99, and more information about it and other products from Viridian can be found at viridianweapontech.com.