by
Shooting Illustrated Staff
posted on March 9, 2021
Support NRA Shooting Illustrated
DONATE
Taurus
recently introduced the G3 and G3C TORO, a striker-fired, polymer-framed handgun with optics-ready capability in full-size and compact (G3C) versions. The new handguns are an extension of the popular G3 series now in full-size and compact variants with optics readiness.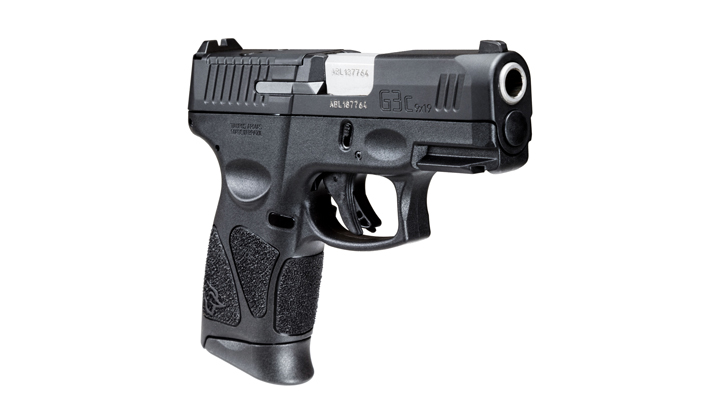 The current trend is for compact carry guns with the capability of adding a micro red dot, something the G3C capitalizes on with the new TORO (Taurus Optic Ready Option) slide configuration. The TORO system accommodates a variety of red dots thanks to the inclusion of multiple interchangeable mounting plates. Likewise, the full-size G3 has been around for awhile, but is now available with the TORO adapter plates. 
The G3C TORO ships with four different plates, which can be attached with four different screw sets and an L-key. The plate system works with Trijicon RMR, Noblex-Docter, Vortex Venom, Burris FastFire, Sightmark Mini, Leupold Delta Point, C-More STS2, Bushnell RXS-250, and more. The handgun ships with a slide cover plate attached.  

G3C TORO Features:  
Caliber: 9 mm 
Capacity: 10 or 12 rounds
Finish: Matte black/matte stainless 
Grip/frame: Polymer 
Action Type: Striker-Fired 
Safety: Manual and trigger, striker block, visual loaded chamber indicator 
Sights: Fixed white dot (front), drift adjustable serrated matte black (rear) 
Overall Length: 6.3 inches 
Overall Width: 1.2 inches 
Overall Height: 5.1 inches 
Barrel Length: 3.2 inches 
Weight: 22 ounces 
Magazines: 12-round (3) or 10-round (3)  
MSRP: $408.77


G3 TORO Features: 
Caliber: 9 mm 
Capacity: 10, 15, or 17 rounds 
Finish: Matte black/matte stainless 
Grip/frame: Polymer 
Firing System: Single action with restrike capability 
Action: Striker-fired 
Safety: Manual and trigger safety, striker block, visual loaded chamber indicator 
Overall Length: 7.3 inches 
Overall Width: 1.2 inches 
Overall Height: 5.2 inches 
Barrel Length: 4 inches 
Magazines included: 10 rounds (2) and 15 rounds (2), or 15 rounds (1) and 17 rounds (1) 
MSRP: $408.77