by
Shooting Illustrated Staff
posted on July 21, 2020
Support NRA Shooting Illustrated
DONATE
Swampfox Optics is rolling out its new Trihawk 3x prism scope,which features a wide angle, 10-degree field of view. That 10-degree field of view means you'll be able to see over 50 feet of area, left to right, at 100 yards, giving you the widest field of view of any 3x prism scope on the market. The Trihawk tops this off with more eye relief behind the scope than comparable 3x prism sights, giving you more of the "do it all" features you've come to expect from a 3x prism scope.
Trihawk 3x Prism Scope Features
MOA reticle features 40 MOA of vertical holdover

Green or red reticle illumination models available.

Shake 'N Wake motion sensing auto on/off illumination

Ten brightness settings via top mounted push buttons, 2 NV compatible

CR123a battery built into the mount for greater brightness and battery life

Swampfox Product Marketing Director Michael Branson said, "It's hard to really understand Trihawk until you look through one. When we first started talking about doing a 3x prism scope, I was skeptical. Why should we do a fixed 3x when we already make LPVOs that do everything from 1-8x or even 1-10x? And the answer was, it will have a true ten-degree FOV. Again I was skeptical. ACOGs have about a seven-degree FOV, what's three more degrees, will anyone care?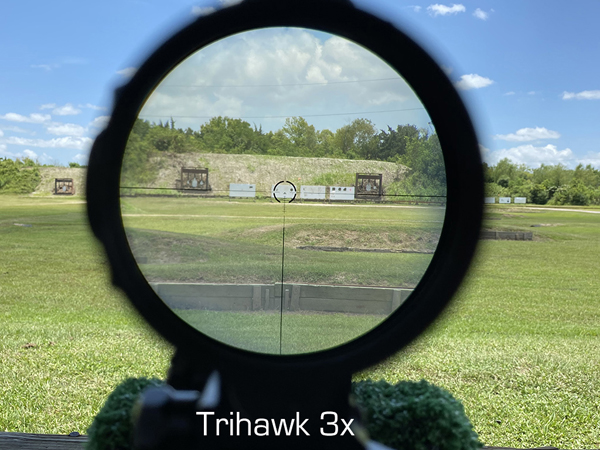 But the first time I looked through a prototype, I literally laughed out loud because I had never seen anything like it before. Ever used a scout scope, where you have great peripheral vision but the view through the scope itself is like looking through a drinking straw? This is the opposite of that. The amount of situational awareness you get looking through the scope at the target area is just phenomenal."
The Swampfox Trihawk is constructed from rugged 6061-T5 aluminum and has scratch-resistant, anti-fog, hydrophobic, fully multi-coated glass. The scope weighs 15.4 ounces and has an exit pupil diameter of 9.5 mm and 2.4 inches of eye relief. The Trihawk is built to withstand up to 800 Gs of shock, and is certified to the IPX7 waterproof standard.
MSRP for Swampfox Trihawk is $329, and more information on this scope and other Swampfox products is available at swampfoxoptics.com.