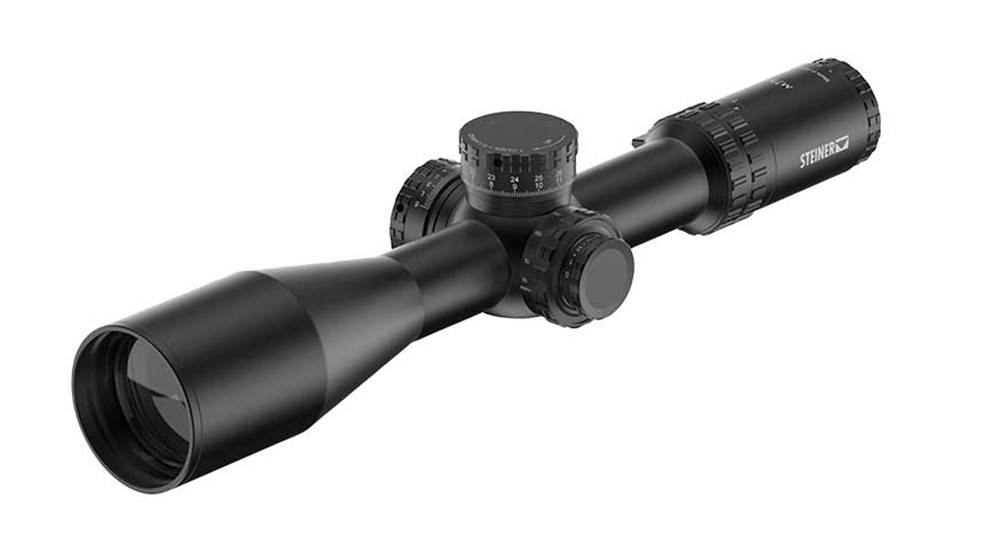 Following on the success and popularity of the
Steiner Optics
' M5Xi riflescope series, which saw application across the world in the hands of elite tactical units, the company launched its all-new Steiner M7Xi 4-28x56 riflescope. This brand-new optic is purpose-built to handle the intense abuse that comes with application in military, law-enforcement and competition circles.
Of course, the stand-out feature of the M7Xi is the impressive 7X magnification factor, enabling the optic to be employed quickly and accurately in a wide variety of medium-to-long-range target engagements. However, its heightened zoom factor isn't the only unique element behind this new optic. Steiner also shortened the overall length of the scope, which means the optic takes up less space on the top rail of a precision rifle, providing more room for add-on imaging devices like thermal or night-vision products.
Additionally, the Steiner M7Xi is built on a larger 34 mm main-body tube, adding strength to the overall design and providing extra room for expanded windage and elevation adjustments, which are made in 0.1 MIL increments. Adjustment turrets are low-profile, ensuring that the optic doesn't impede accessory attachment or interrupt an otherwise streamlined precision-rifle platform. One other benefit of the strengthened tube is that it contributes to the battle-ready toughness of the platform. The M7Xi is rated waterproof up to a depth of 66 feet and can operate in temperatures ranging from -40 to 147 degrees Fahrenheit. The optic is also tested to withstand impact and shocks of up to 900 Gs. 
Spec-wise, the optic measures in at 15.2 inches in overall length and weighs in at 33.5 ounces. Available reticle options include MSR, MSR2, G2B and TReMoR3, and illuminated reticles are powered by a single CR2032 battery. Scope finishes can be had in black or coyote brown. The suggested retail price on the Steiner M7Xi 4-28x56 riflescope start at $3,559.99.