Support NRA Shooting Illustrated
DONATE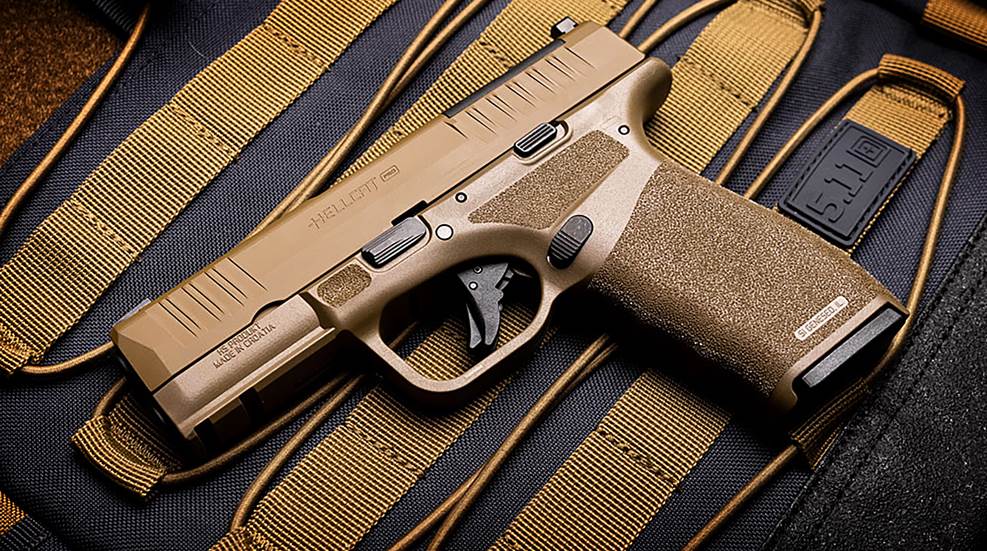 Springfield Armory is releasing a new model of the Hellcat Pro 9mm pistol in Desert Flat Dark Earth (FDE).
The Desert FDE Hellcat Pro holds the same 15+1 rounds of 9mm as the very popular original version of the Hellcat Pro. This impressive capacity combined with a ergonomic, slim profile makes the Hellcat Pro ideal for concealed carry.
"With the Hellcat Pro now available in Desert FDE, shooters have an appealing new option for their CCW firearm," says Steve Kramer, Springfield Armory's Vice President of Marketing. "This popular color further expands the Hellcat line of pistols, renowned for their performance and EDC-ready capabilities."
While the Hellcat Pro FDE is just 1 inch wide, the slim-line grip provides enough contact for recoil control and the additional mass in the longer slide and barrel of the Pro version translates into reduced muzzle flip and faster follow-up shots. The lightweight polymer frame features an Adaptive Grip Texture for an even more secure feel.
The Hellcat Pro was developed from the ground up and features an OSP (Optical Sight Pistol) configuration. The slide is milled with the Springfield Micro footprint, designed to direct mount the smallest, most popular micro red dots on the market for the lowest mount possible. There is also set of co-witnessing U-Dot sights, made up of a high visibility tritium front sight that is paired with a Tactical Rack rear sight to back up your red dot sight.
The performance of the Hellcat Pro helped it gain the respected and highest "gold" ranking in the "Member Tested and Recommended" (MTR) program of the National Tactical Officers Association (NTOA). The NTOA is a non-profit organization with tens of thousands of members dedicated to serving the law enforcement community by providing credible and proven training and information resources.
The Hellcat Pro FDE has an MSRP of $677 and comes with two 15 round magazines. For more information on this pistol or other products from Springfield Armory, please visit springfield-armory.com.