by
Shooting Illustrated Staff
posted on January 18, 2023
Support NRA Shooting Illustrated
DONATE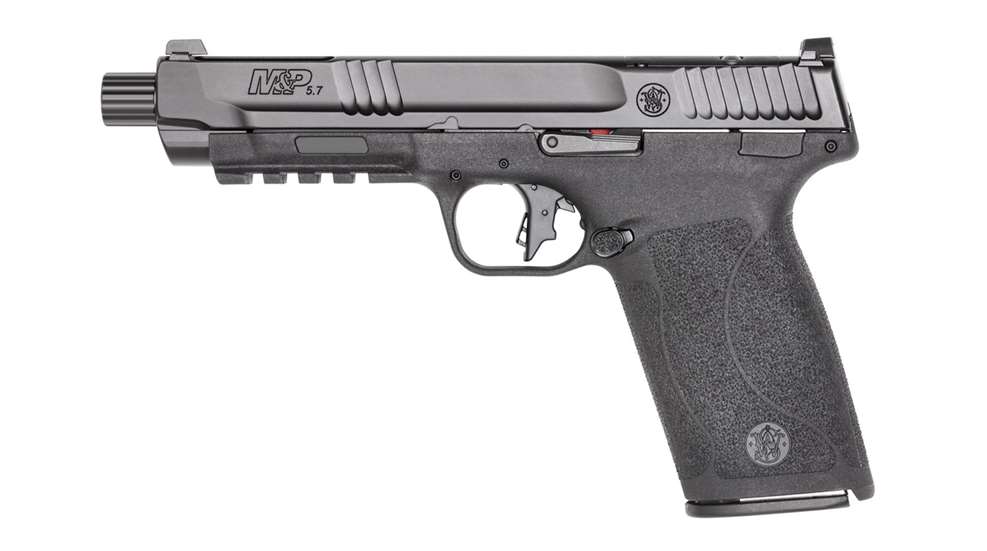 Smith & Wesson Brands, Inc. has unveiled a new M&P handgun chambered for the relatively modern 5.7x28 mm cartridge. The 5.7x28mm caliber keeps increasing in popularity across the market today and was first developed by FN during the 1980s for use in their PDW style firearms such as the P90.
This new M&P pistol has a magazine capacity of 22 rounds with a full-size 5-inch barrel and uses a gas-operated, locked-breech mechanism that supports the pressure and specifications of the 5.7mm cartridge. This system is somewhat different as opposed to the more traditional Browning inspired delayed blowback tilting mechanisms commonly seen used with standard handgun rounds that operate at lower pressures. Due to the alternative design considerations the M&P 5.7 is also slightly thinner than typical Smith and Wesson M&P Series handguns. 
The M&P 5.7 includes an optics-ready cut slide ideal for micro slide-mounted, red-dot electronic sights. The 5-inch barrel on these pistols also has a threaded muzzle cut for 1/2x28 inch threads. The extremely crisp single action trigger of the pistol is enhanced by the flat face of the trigger shoe. Two 22- round magazines ship with the pistol as well.
"The M&P5.7 is an exciting new pistol from Smith & Wesson that incorporates a gas-operated Tempo Barrel System to effectively harness the 5.7x28mm round, creating a lighter recoil for an overall better shooting experience. Like all Smith & Wesson firearms, the M&P5.7 is proudly made entirely in the USA and is backed by the Smith & Wesson Limited Lifetime Service Policy. Whatever your purpose, the M&P5.7 is versatile, fun, and a must-have," says Andrew Gore, Product Manager, Handguns.
The new M&P 5.7 has a retail price of $700. For more information on this new pistol and other firearms sold by Smith And Wesson, please visit their website at smith-wesson.com