by
Shooting Illustrated Staff
posted on January 13, 2022
Support NRA Shooting Illustrated
DONATE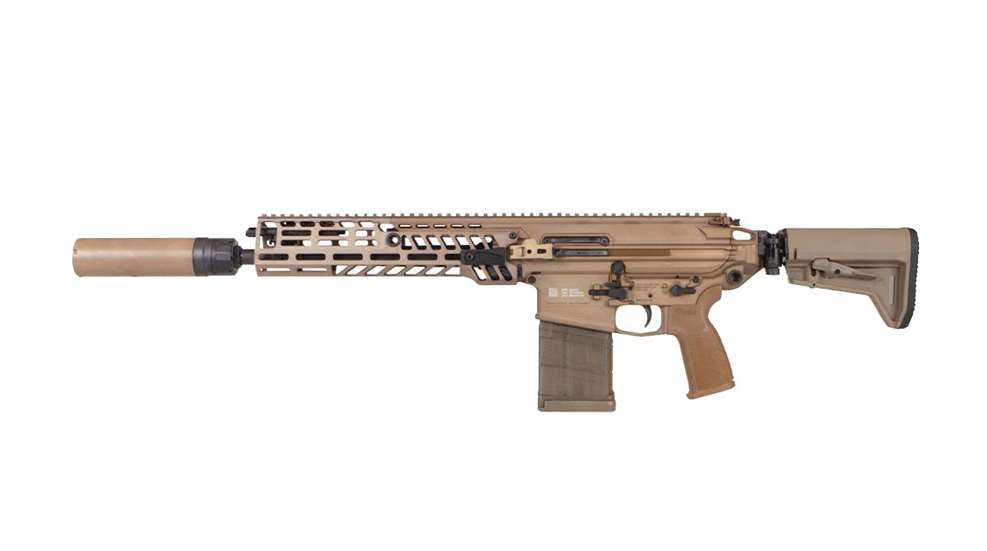 SIG Sauer recently introduced the MCX-Spear Rifle, which is an expansion of the MCX series of rifles and is chambered in .277 Fury. Developed with U.S. warfighters in mind, the MCX-Spear delivers improved power, accuracy, and long-range capability, thus making it a viable replacement for the M4 platform. 
The MCX-Spear is an adaptable multi-caliber rifle (available in .277 SIG Fury, 6.5 Creedmoor and 7.62 NATO, with barrel change) that features unique rear and side non-reciprocating charging handles, six-position folding stock, ambidextrous fire control, bolt-catch, and mag release, two-stage match trigger, two-position adjustable gas piston, a lightened free-float M-Lok handguard, a full-length Picatinny rail, and ships with two 20-round magazines.
"This is a rare opportunity for passionate consumers to own a piece of history," began Ron Cohen, President & CEO, SIG Sauer.  "This first production run MCX-Spear, and all of the revolutionary technology behind its development, is being offered to the commercial market in a configuration that is a near match to our NGSW-R submission.  Further, this is the only rifle submission to the program that is designed and engineered in the United States by a company with the manufacturing scale and proven adherence to military-grade quality requirements—which is a tremendous source of pride for everyone at SIG Sauer."
The .277 SIG Fury ammunition is the commercial variant of the 6.8x51 mm hybrid military round available in the hybrid case technology submitted to the U.S. Army NGSW program.  Also available is a .277 SIG FURY FMJ traditional cartridge round available.
"The final component of this special-edition offering includes the SLX Suppressor.  The design of the SLX suppressor is optimized to dramatically reduce harmful toxic backflow and features our patented QD attach/detach system making installation of the suppressor a game-changing level of ease," said Cohen. 
The SIG Sauer SLX Series of suppressors are designed to drastically reduce toxic fume inhalation by the end-user and sound reduction and are available commercially for 5.56, 7.62 NATO, and .277 SIG Fury calibers.  The SLX suppressors feature a monolithic core construction in Inconel, an internal multi-flow path to exhaust gases at a higher rate resulting in lower toxic fume inhalation, a sound reducing baffle design, a flash reducing end cap, and are available with either the new Clutch-LOK QD mounting system for easy install and removal that offers an intuitive tactile locking ring with infinite radial locking positions, or direct thread.