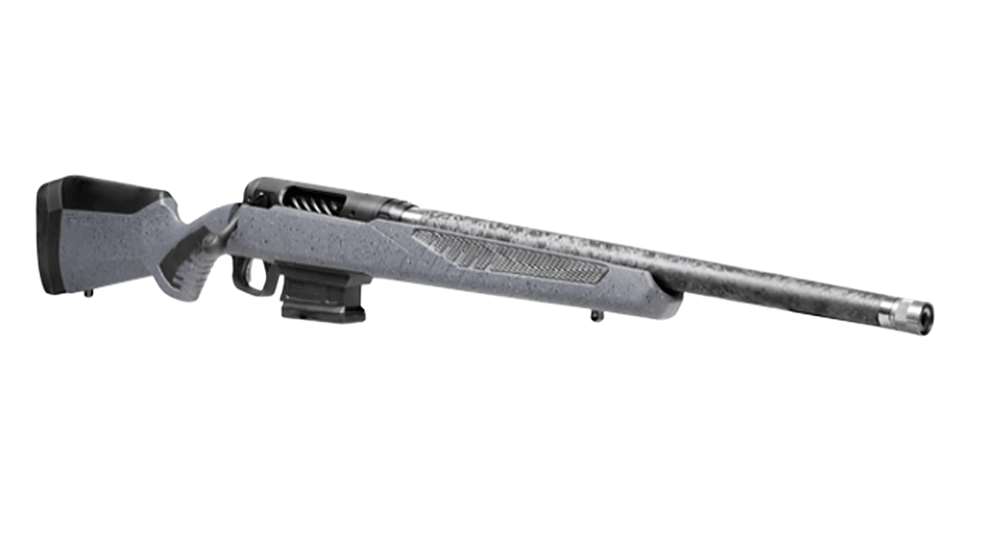 Savage Arms is introducing the newest member of the iconic Model 110 bolt action rifle family, the 110 Carbon Predator. The 110 Carbon Predator combines the adjustable AccuTrigger trigger and AccuFit stock with a Proof Research carbon-fiber wrapped barrel to create a lightweight, easy-to-carry rifle that can withstand the elements and still perform when it matters most, 
"As one of Savage Arms' impressive new guns, the 110 Carbon Predator offers unbeatable performance for the toughest hunts," said Beth Shimanski, Director of Marketing at Savage Arms. "We're committed to building the best, and this new model of the oldest continuously manufactured bolt action rifle in North America embodies all that and more. The modern predator hunter will love the Savage designed carbon fiber wrapped Proof Research barrel, AICS detachable box magazine and exclusively on this rifle, a granite textured stock featuring the AccuFit and Accustock technology."
Weighing in at just 6.5 pounds with a user adjustable AccuTrigger and a crisp, matte black carbon steel receiver, the 110 Carbon Predator ensures optimal performance for predator hunting.
Like many other rifles in Savage's 110 series, the Carbon Predator has a Savage AccuStock stock that uses their AccuFit technology for a custom fit without a custom price tag. The Proof Research carbon-fiber wrapped barrel has a stainless steel interior and is threaded for a suppressor or muzzle device. The rifle also has an AICS detachable box magazine (capacity varies by ammunition type), two sling swivel studs and a two-piece Weaver scope mount on the top of the receiver.
The 110 Carbon Predator has an MSRP of $1,695 and is available in 6mm ARC, .223 Rem., 22-250 Rem., .308 Win., 6.5 Creedmoor and 300 Blackout. For more information on this rifle or other products from Savage Arms, please visit savagearms.com.