by
Shooting Illustrated Staff
posted on January 23, 2023
Support NRA Shooting Illustrated
DONATE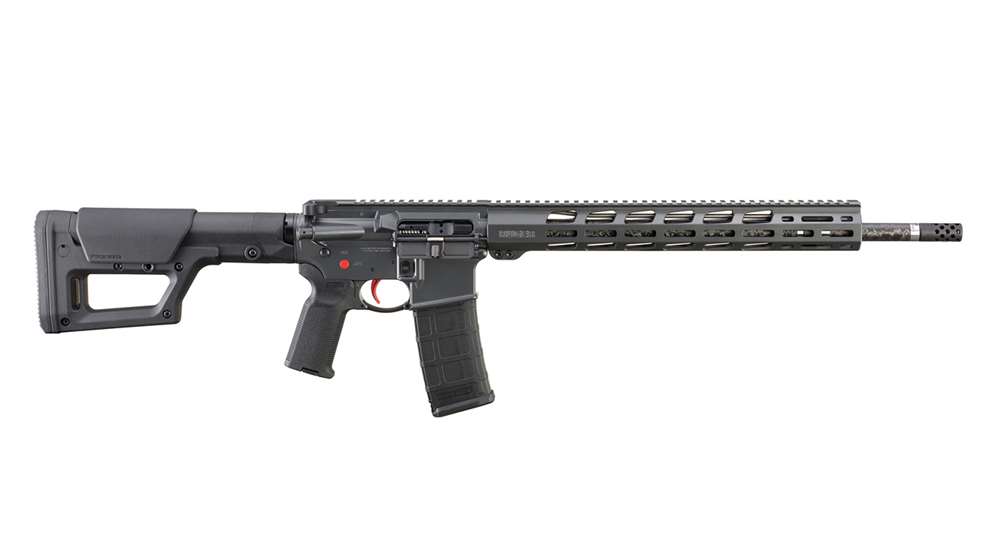 Sturm, Ruger & Co, Inc. is introducing a new AR-15 rifle variant, the AR-556 MPR, built for semi-automatic precision shooting. This new AR-15 pattern rifle ships with a factory installed 18-inch carbon fiber Proof Research barrel and comes with a .223 Wylde chamber.
Proof Research barrels differ from traditional barrels in that they have a "thin" inner metal barrel that is externally wrapped with carbon fiber strands to bolster them and make them extremely strong. The result is a barrel that is quite light and takes off a considerable amount of weight from a rifle. .223 Wylde chambers are used in many accuracy-oriented rifle builds due to the fact that their internal geometry helps to extract every last bit of accuracy inherent to either .223 Rem. or 5.56mm NATO rifle cartridges.
The Ruger AR-556 MPR is also outfitted with a full-size M-Lok free floating handguard, a Ruger 452 Elite 2-stage AR trigger, a Magpul K2 pistol grip and a Magpul PRS Lite stock—all of which are useful for out of the box precision shooting.
Rugger AR-556 MPR Features:
18-inch Proof Research carbon fiber wrapped barrel that is significantly lighter than standard barrels, while still offering excellent accuracy and repeatability
Rifle-length gas system paired with chambering in .223 Wylde
Lower receiver is fitted with Magpul PRS Lite stock that balances the rifle and has secure length of pull and comb height adjustments for the best fit. Magpul MOE-K2 grip provides ergonomic access to the trigger and safety controls.
Handguard is free-floated for accuracy and the slim, 15 inch length provides enhanced ergonomics.
The Ruger Elite 452 trigger is a two-stage trigger that offers a smooth, crisp, 4.5 pound trigger pull. It features a full-strength hammer spring for consistent primer ignition and a lightweight hammer that enables a faster lock time for improved accuracy.
Magpul M-Lok accessory attachment slots along the 3:00, 6:00 and 9:00 positions with additional slots on the angled faces near the muzzle.
Ruger muzzle brake with a radial port design that significantly reduces felt recoil and muzzle movement. The threaded barrel allows for standard muzzle accessories to be installed.
30-round Magpul PMag magazine included
The Ruger AR-556 MPR rifle has a starting retail price of $2,049. For more information on this AR-15 or other firearms offered by Sturm, Ruger & Co, Inc. please visit their website at ruger.com.