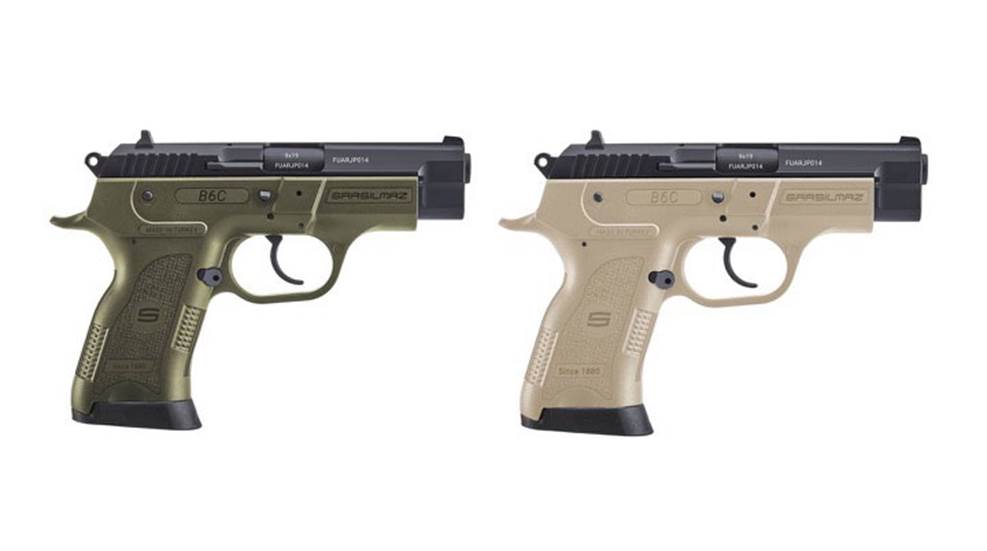 Sarsilmaz is one of the world's largest manufacturers of firearms, which are imported into this country by SAR USA. Now SAR USA is introducing its B6C compact pistol in two new frame colors, Flat Dark Earth and OD Green, in addition to their existing  black and stainless matte finishes.

"Due to an overwhelming demand from loyal B6C enthusiasts for new color variations, we are excited to be able to provide two new popular colors," said Todd Pearson, COO of SAR USA. "To us, here at SAR USA, the feedback from our loyal dealers, distributors and customers speaks volumes. We value them as partners and will always strive to fulfill their requests." 
The B6C Compact is a longtime favorite of NATO countries as well as security and law enforcement agencies around the world. The hammer-fired B6C compact is a lightweight, single action/double action semi-automatic 9 mm pistol designed and engineered with reliability in mind.

The SAR B6C features a 3.8-inch hammer-forged barrel, polymer frame, high-quality steel slide, stainless matte finish, fixed style three-dot combat sight, manual thumb safety and integrated spur hammer. The B6C comes standard with two 13+1 magazines or 10+1 for capacity restricted states.
According to SAR USA, the SAR B6C is extremely well balanced in hand and has a compact look and feel. The low-profile slide is just 7/10ths of an inch high, which makes the B6C quick-pointing and easy to shoot and also makes fast and accurate follow-up shots easier. The SAR B6C is an excellent choice for anyone who's looking for a dependable semi-automatic handgun for self-defense or everyday carry.
Specifications:
Caliber: 9mm

Capacity: 17+1

Barrel Length: 4.5 inches

Overall Length: 8.1 inches

Overall Height: 5.5 inches 

Overall Width: 1.1 inches

Weight 28.2 ounces

For more information on the SAR B6C and the rest of the SAR line, please visit sarusa.com.