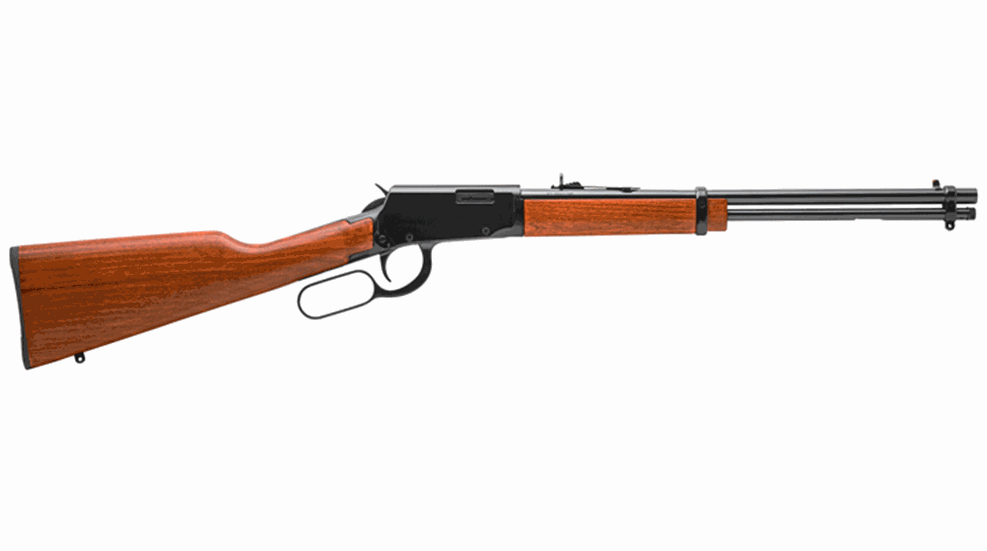 Rossi is known for its unique rimfire rifles, break-action shotguns and straight-wall cartridge lever-action and revolver rifles, and now it is introducing a new .22 LR long gun, the Rio Bravo. The Rio Bravo has all the features of some of America's most iconic rifles, but uses the inexpensive and easy-to-shoot .22 LR cartridge, combining all the fun and heritage of a traditional lever-action rifle with the low cost of .22 LR ammunition, making it a great gun for small-game hunting, target shooting or barnyard pest control and can be used for youth training. The Rio Bravo is based on Rossi's line of R92 lever-action firearms and features either a rich German beechwood or sturdy black polymer forearm and a stock with polished black metal finish.
Known for making smooth lever actions, Rossi's new hammer-fired rifle is no exception. Built with a smooth-sliding lever action, the rifle incorporates a cross-bolt safety system and up to 15 rounds of .22 LR can be fed into the magazine tube for more fun and more rounds downrange between reloading. The Rio Bravo uses a traditional buckhorn sighting system on the wood model, while the synthetic model has fiber-optic sights. The rear sight on the synthetic model can also be adjusted for an even more precise zero. The rifle includes a barrel-band sling stud mounted ahead of the front sight and a rear sling stud in the stock for easy carrying in the field.
Rossi Rio Bravo Specifications:
Caliber: .22 LR
Capacity: 15 rounds
Finish: Polished black
Furniture: German beechwood or black synthetic
Action: Lever
Safety: Cross-bolt
Barrel Length: 18 inches
Overall Length: 36 inches
Weight: 5.5 pounds
MSRP on the Rio Bravo is $346.97, and for more information on this rifle as well as Rossi's full lineup of specialty firearms, please visit rossiusa.com.