by
Shooting Illustrated Staff
posted on October 16, 2020
Support NRA Shooting Illustrated
DONATE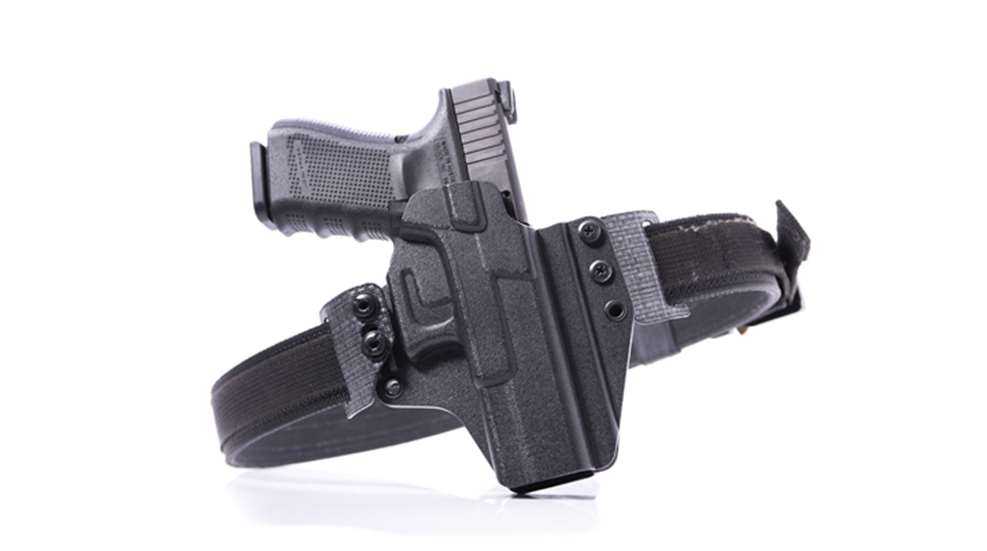 PHLSTER has taken the range of adjustment and the concealment options of their renowned line of appendix-carry holsters and incorporated them into a brand new outside-the-waistband concealment holster, the new Summit OWB holster. The Summit uses a unique belt attachment system that allows the end-user to fine-tune their holster in order to reduce printing and accommodate their specific needs .
Each Summit holster comes with a pair of trimmable wedges that control the interface between the holster and the belt. This allows you to angle the gun inward for maximum concealment or outward as needed.
Printing is minimized by grip rotation, which is set by an offset between the leading and trailing edges of the holster. Tightening the belt will pull the grip inward, minimizing how much it affects your cover garment. PHLSTER has also improved the belt loops for the OWB holster.

Many pancake-style OWB holsters fall short in terms of concealment because they can't accommodate a wide range of waist shapes. The new slim, composite polymer wings of the Summit are strong enough to survive any hard use or any violent physical encounter. They're also rigid enough to securely lock onto your gun belt effective concealment, while still being forgiving enough to fit your body shape like a custom holster would. The Summit will conform to your body like a quality leather holster would, without getting any weaker or softer in the process.
The Summit holster is based on an ambidextrous, compression formed, pancake holster shell that is meticulously designed to give you firm, crisp, and deliberate non-adjustable retention. The unobtrusive mid-ride body shield on both sides of the holster allows it to accommodate optics, suppressor sights, and muzzle devices
MSRP for the PHLSTER Summit is $119. The holster is currently available in two models, one for the Glock 19, 17 and 34, and the other for the Glock 43, 43x and 48 that is MOS compatible. Versions of the Summit that accommodate a weapon-mounted light and work with other pistols will be available soon.