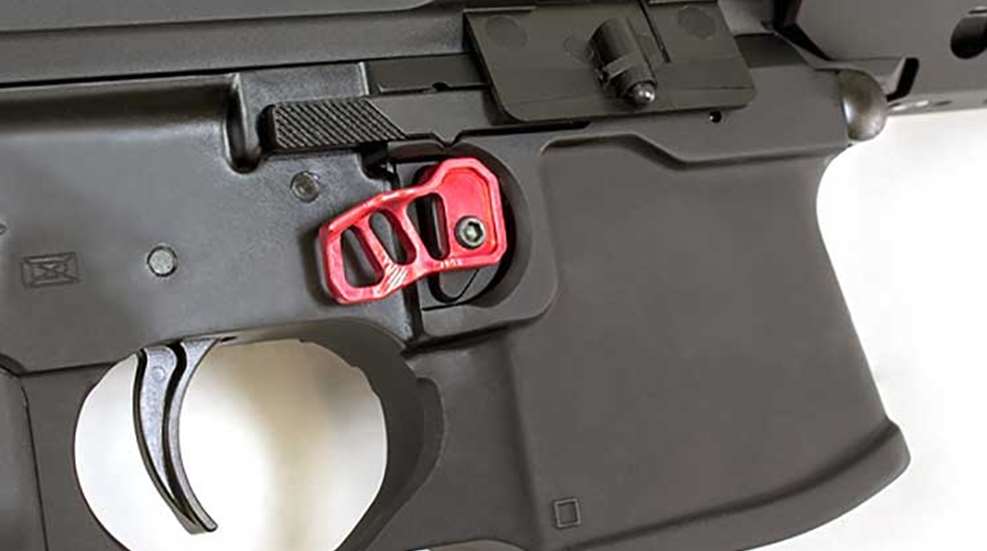 There are numerous benefits to the pistol-caliber design of the SIG Sauer MPX, giving shooters the ability to stay on target easily and have a fast-handling platform suited for personal-defense, competition and range use. Owners can enhance the handling of their pistol-caliber firearm by adding an
ODIN Works
MPX Extended Mag Release, giving them the ability to change out magazines faster and easier than ever.
Machined from aluminum and treated with either a black- or red-anodized finish, the enhanced design of the magazine release provides a lightweight, strengthened add-on that replaces the factory release with a quick drop-in installation. The redesigned lever provides a push panel that offers more engagement area for trigger fingers, giving shooters the ability to drop mags without having to shift their grip or position on the gun.
The design provides a natural pressure point that ensures reliable, trouble-free engagement of the release and prevents the finger from slipping off the lever, and the all-new shape of the push-actuated release provides an enhanced pad that extends to the forward area of the receiver just above the trigger guard. This is a natural touch point near the spot where trigger fingers naturally rest when not operating inside the trigger guard, ensuring that mag releases can be performed with a seamless, fluid motion.
Like the original factory release on the
SIG Sauer
MPX, the ODIN Works Extended Mag Release provides fully ambidextrous operation, ensuring that shooters can manipulate the controls in a range of different scenarios. Thanks to the lightweight, skeletonized design of the release, the total weight of the product is only 0.15 ounce, including the button, paddle and installation screws. All of the necessary components needed for installation are included, and the ergonomic, easy-to-install design ensures that users can reap the benefits of the enhanced lever immediately after assembly.
The suggested retail price on the ODIN Works MPX Extended Mag Release is $49.