by
Shooting Illustrated Staff
posted on April 13, 2022
Support NRA Shooting Illustrated
DONATE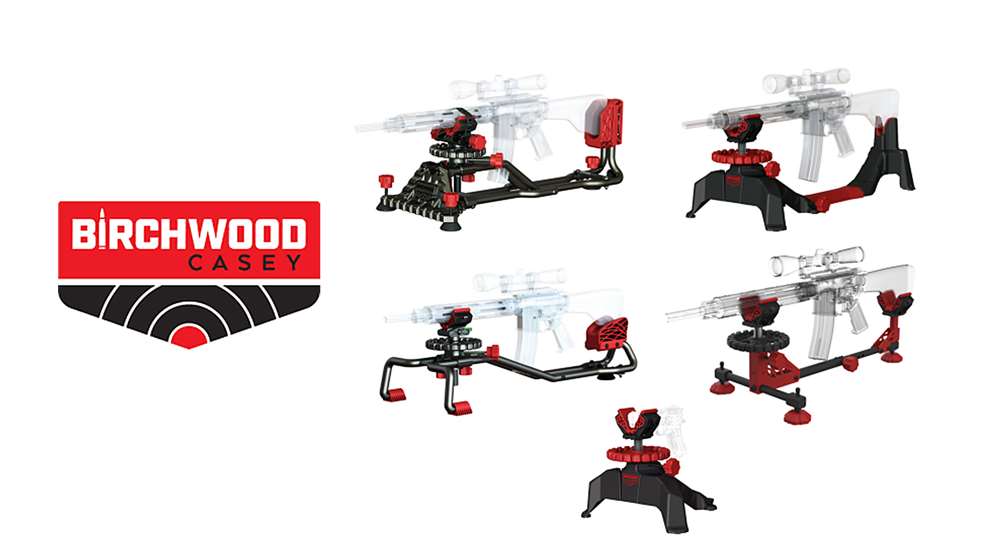 Five new shooting rests are now shipping from Birchwood Casey. Well known for their targets and shooting accessories, Birchwood Casey is now offering three dedicated rifle rests and a pair of new multi-function rifle and pistol rests to help you get maximum accuracy when at the range. The rests are named the Alpha, Bravo, Echo, Foxtrot and Tango respectively.
With a tubular steel frame, the Alpha Shooting Rest offers excellent strength for shooting high recoiling rifles and shotguns. Up front, Birchwood Casey builds in a 35-pound weight to make this portable rest feel rock solid. Other features include a leveling bubble, adjustable feet, non-slip rubber in the stock rest, and oversized knobs for easy adjustments. The package is designed to be low profile so that it can be used from a prone shooting position. The MSRP is $229.99.
Following the Alpha is the Bravo Shooting Rest. It offers similar performance to the Alpha but with a greatly-reduced price tag: only $129.99. This unit uses a rigid steel frame and has a total weight of 15 pounds. This means it still feels solid but will be easier to transport. As with the Alpha, it fits most shotguns and rifles including those with external magazines like the AR-15 and AK-47.
Also made with a steel frame is the Echo Shooting Rest. This unit is like the Alpha, with adjustable feet, oversized knobs and the rubber rest for the stock. However, it is designed to be lighter and easier to carry around. The Echo has a suggested retail price of $89.99.
The Foxtrot Rifle & Pistol Shooting Rest is a multi-piece design. To support a rifle, the parts are attached for maximum support. When using it with a pistol, the shooter removes all but the front section. No tools are needed. This disassembly process can also make it easier to transport. The MSRP for the unit is $49.99.
Rounding out the new Birchwood Casey products is the Tango Front Mount Rifle/Pistol Shooting Rest. This rest consists of molded polymer front rest section suitable for supporting a rifle or pistol. It is relatively lightweight and easy to carry. A large knob allows the shooter to easily adjust elevation. It is priced at $29.99.
For more information on these new gun rests, please visit birchwoodcasey.com.