by
Shooting Illustrated Staff
posted on January 11, 2022
Support NRA Shooting Illustrated
DONATE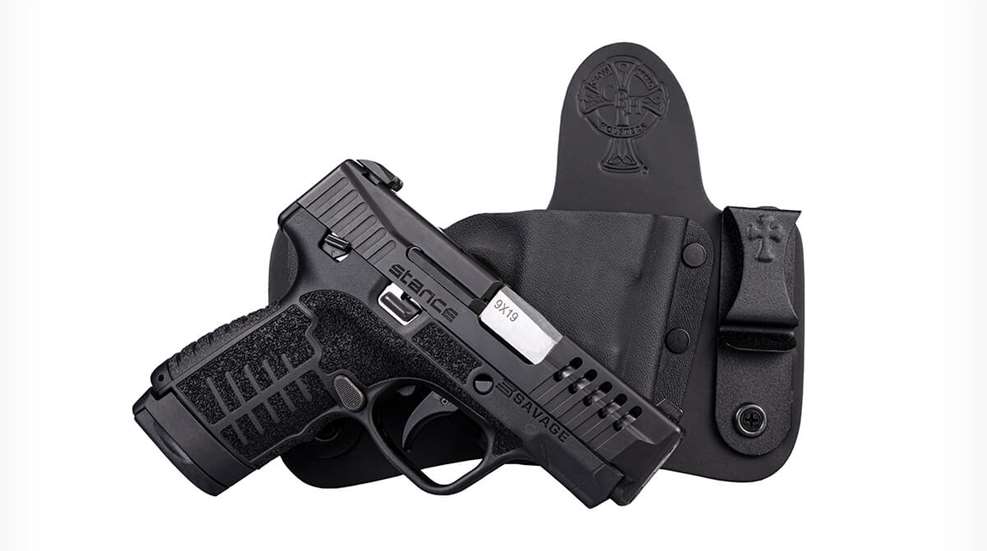 The new Stance pistol from Savage Arms is a micro-compact 9 mm that is right-sized for concealed carry. Successful concealed carry, however, requires a secure and comfortable holster that can be worn everyday, which is why several major holster manufacturers have new models out right now that are designed to fit the Stance 9 mm pistol.
Crossbreed offers several of their holster models which have Kydex pockets specifically molded for the new Stance. These include the best-selling SuperTuck and the MiniTuck IWB holsters. The SuperTuck and MiniTuck are designed for deep concealment and maximum comfort and stability while allowing the user to wear their shirt outside or tucked in, and come in versions that will fit the Stance.
DeSantis has a wide variety of holsters for the Savage Stance, including minimalist models such as the Slim-Tuk kydex ambidextrous IWB holster and Mini-Scabbard OWB holster. DeSantis also makes leather holsters for the Stance like the Mini Slide OWB holster and the Inside Heat IWB holster.
Galco offers outside the waistband (OWB) holsters such as its premium steerhide Concealable, as well as the leather-Kydex hybrid Quick Slide. Inside the waistband (IWB) options include the KingTuk series of holsters such as the hybrid Air, Classic, Deluxe and newest Cloud models. There are also models in the affordable Carry Lite for the Stance such as the Stow-N-Go and Tuck-N-Go 2.0 that are both well-suited for appendix carry.
The small size of the Stance makes it very viable for use in alternate carry positions, and all three manufacturers offer a solution for something other than waistband carry. For example, Galco has their UnderWraps 2.0 belly band holster, while Crossbreed has a model of the PacMat holster for the Stance that is designed for off-body carry. DeSantis is known for making excellent pocket holsters, and both the Super Fly and Nemesis holsters are available for the Stance.
To find out more about the Stance pistol from Savage Arms, please visit savagearms.com.