by
Shooting Illustrated Staff
posted on March 5, 2023
Support NRA Shooting Illustrated
DONATE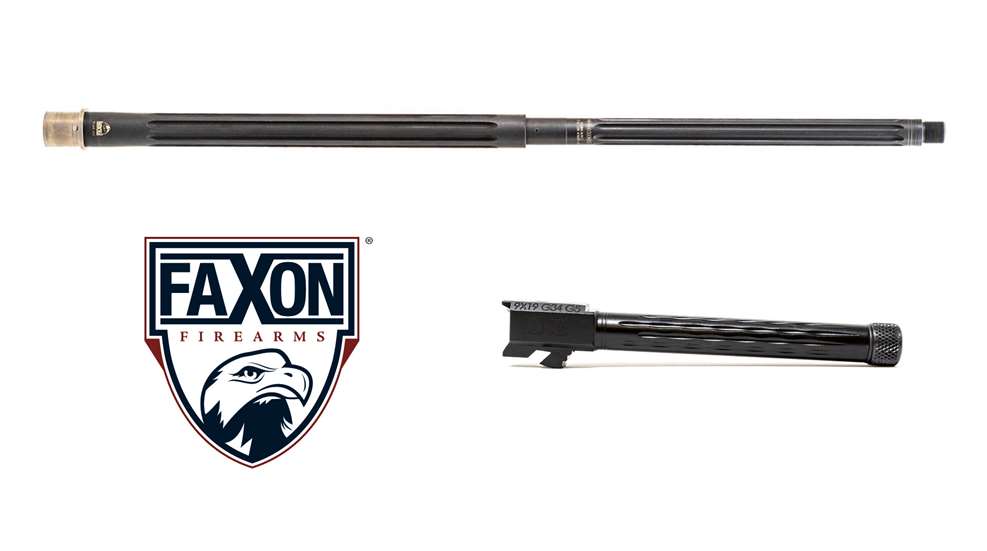 Faxon Firearms is a well-known, Cincinnati-based gun and gun parts company that sells all manner of aftermarket barrels for popular models of handguns from leading companies such as Glock, SIG Sauer and Smith & Wesson, as well as barrels and parts for AR-15 pattern firearms.
Faxon handgun barrels are typically made from either 416-R stainless steel or 4150 CMV (Chrome Moly Vanadium) steel. These barrels are also finished with a black nitride finish or a PVD coating to protect the metal from wear and corrosion. Furthermore, Faxon prefers to cut their rifling conventionally in order to make their barrels useful with the broadest range of ammunition projectiles, from cast lead to premium factory bullets. Finally, their barrels are designed to be easily installed and dropped in, with no gunsmithing or fitting required as they are drawn and built to the factory specifications of each respective firearm.
On the rifle barrel side of things, Faxon is releasing the new Match Series 24-inch-long 6mm ARC barrel. This fluted 416-R stainless steel barrel is cut with 5R rifling, which is slightly different from traditional conventional rifling. Most rifles have 6 grooves whose lands and shoulders are sharp and angular whereas 5R barrels have five grooves with more sloped, less angular shoulders and lands. This is meant to minimize jacket deformation and increase projectile velocity (and ease of cleaning as well). This barrel is MPI (Magnetic Particle) inspected and its muzzle has a recessed target crown.
Faxon Firearms Match Series 24-inch Barrel Specifications:
Caliber: 6mm ARC
Material: 416-R stainless steel
Profile: Heavy fluted for rifle length gas system
Length: 24 inches
Weight: 2.95 pounds
Internal/External Finish: Salt-bath nitride
Muzzle threads: 5/8 by 24 tpi
Twist Rate: 1 in 7 ½ inches
Rifling: 5R button rifling
Gas block diameter and journal: (.750-inch) and 1.9-inch
Extension: Nickel teflon
To learn more about Faxon Firearms and their barrels, please visit their website at faxonfirearms.com.