by
Shooting Illustrated Staff
posted on October 9, 2020
Support NRA Shooting Illustrated
DONATE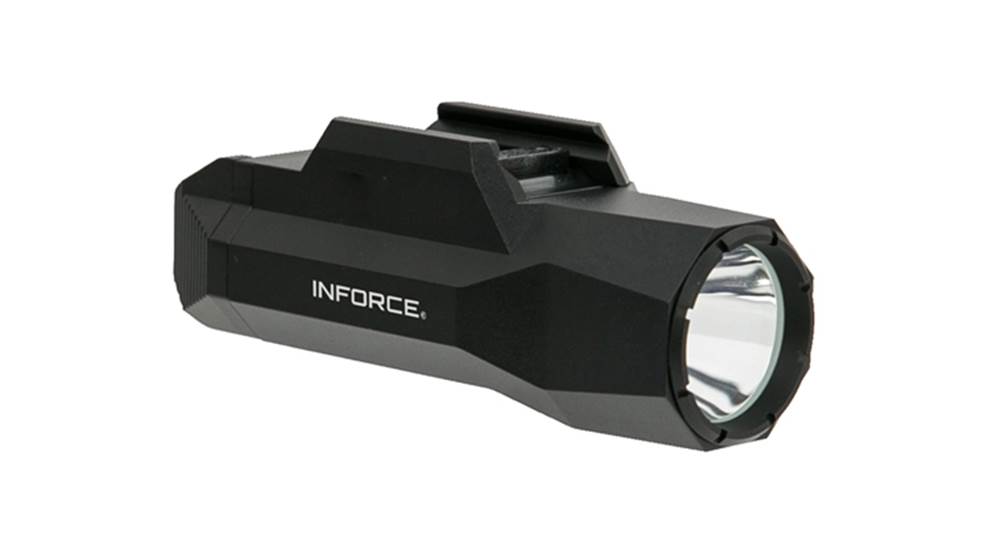 Inforce is introducing a new aluminum Weapon Integrated Lighting Device, called the Wild2. The first of Inforce's 2020 product releases, the Wild2 will be soon followed by Wild1, a single-battery model designed for compact handguns like the Glock 19. The lights retain Inforce's traditional styling, while the hard-anodized 6061 aluminum exterior of the sights represent a marked departure from Inforce's longstanding preference for glass-reinforced polymers. Inforce took its time to release this line of pistol lights, and that came with the opportunity to make the Wild series' battery door and activation switches out of aluminum.
Inforce's Vice President, Matthew Wolfe, had this to say about both lights: "Our Wild series has been a long time in the making, and we're very pleased with the result. In the series, Wild2 and Wild1 lights incorporate our corrective responses to various weaknesses of popular existing aluminum pistol lights. Accordingly, from aesthetic, structural, and performance standpoints, as well as regarding ease of activation by the full spectrum of conceivable users, we believe these are excellent products, and we're excited to get them into our customers' hands."
Other key features of the Wild series of weapon lights include a specialized parabolic reflector that shapes the 1000-lumen (500-lumen for Wild1) beam into a crisp hotspot, while still providing adequate spill around the edges so you can see the whole picture. The Wild2 has up to 1.5-hour run time using two included CR123A batteries. All three functions of the light, (constant, momentary, and strobe) are activated by pressing laterally on either the left or right paddle at the rear of the light. The Wild2 mounts in seconds to any gun equipped with either a 1913 Picatinny or Glock Universal (for example, Gen3 or Gen4 Glock) rail.
MSRP for the Wild2 is $179.99 For more information about the new Wild series of lights from Inforce, please visit inforce-mil.com.