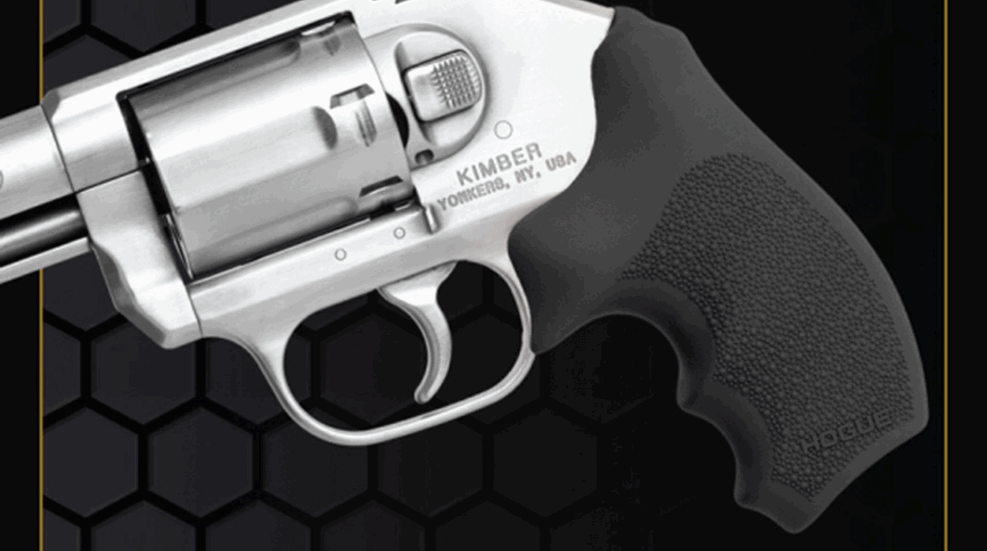 Hogue Incorporated is releasing a selection of its excellent rubber grips for Kimber's K6s DA/SA and DAO small frame revolvers. The K6s is the world's lightest production 6-shot, .357 Magnum revolver, featuring superior ergonomics, smooth match-grade trigger, and Hogue grips provide the cushioning, secure grip to carry them with confidence.
"Kimber's K6s offers a fine option for snub nose revolver fans—a perfect choice for concealed carry," said grip designer Pat Hogue. "Hogue is pleased to have created classic Hogue rubber Monogrips to offer shooters an ergonomic upgrade to the factory grips."
Hogue grips are manufactured in their family-owned and operated facilities under the direct supervision of the Hogue family. Its rubber grips are famous for their long lasting durability and comfort, and the K6s grip continues that legacy. The finger grooves lead into a gentle palm swell that has been carefully designed to fit naturally in the hand for instinctive handling. The grips are textured with Hogue's familiar Cobblestone pattern which provides an efficient non-slip, non-irritating grip for the user. Three finger grooves extend the grip surface further down the revolver, providing greater hand surface area and better control. The grip is also designed to have enough clearance for easy use with a speedloader.
Hogue's rubber K6s grips join their G10 offerings to provide revolver shooters more quality alternatives. The grips are available in black, aqua, purple and pink colors. MSRP for the Hogue K6s rubber grip is $29.95, and more information is available at hogueinc.com.