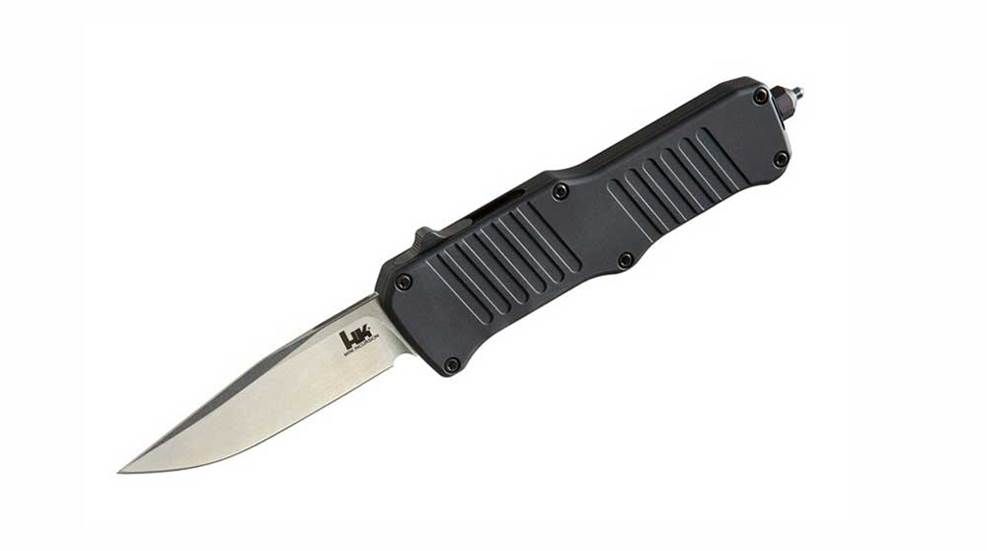 The new Mini Incursion from HK Knives brings the uncompromising dependability associated with the Heckler & Koch name to a compact automatic-opening knife. The 3-inch blade deploys through a steadfast thrust from the body of the knife, and the push-pull release lever on the knife scales has an ultra-smooth firing action. The stout blade and machined-aluminum handle enhance usability, providing confidence under pressure. The knife is finished with a carbide-tip glass breaker and a reversible deep pocket-carry clip for added concealment and convenience.

"The real highlight feature of the Mini Incursion is its blade, which is less than three inches in length. We've had substantial demand for a more compact out-the-front. Releasing the Mini Incursion into our HK branded knives is our direct response," Hogue Owner Jim Bruhns said.

HK Knives Mini Incursion Specifications
Blade Length: 2.95 inches

Overall Length: 7.825 inches

Closed Length: 4.875 inches

Weight: 3.7 ounces

0.125-inch blade thickness

Made from 154CM Stainless Steel

Hardness: 57-59 HRC

Cryogenically Heat Treated

Locking Mechanism: Double action out the front automatic locking mechanism

Ambidextrous deployment & retraction

6061-T6 hard anodized aluminum frame

Pocket Clip: Stainless Steel Ambidextrous - Right or Left Handed Carry

Carbide Glass Breaker
HK Knives are designed and manufactured by Hogue Knives, and every Hogue knife is made in the USA. Hogue's automatic knives are individually serialized and are for sale to legally permitted users only through authorized dealers. Check your state and local laws before attempting to purchase an automatic-opening knife.
The Mini Incursion is available with either a clip-point or Tanto blade style, and the anodized aluminum handle is available in either matte grey or matte black.
 The 
MSRP on the Mini Incursion knife starts at $289, and more information is available at
hkknives.com
.