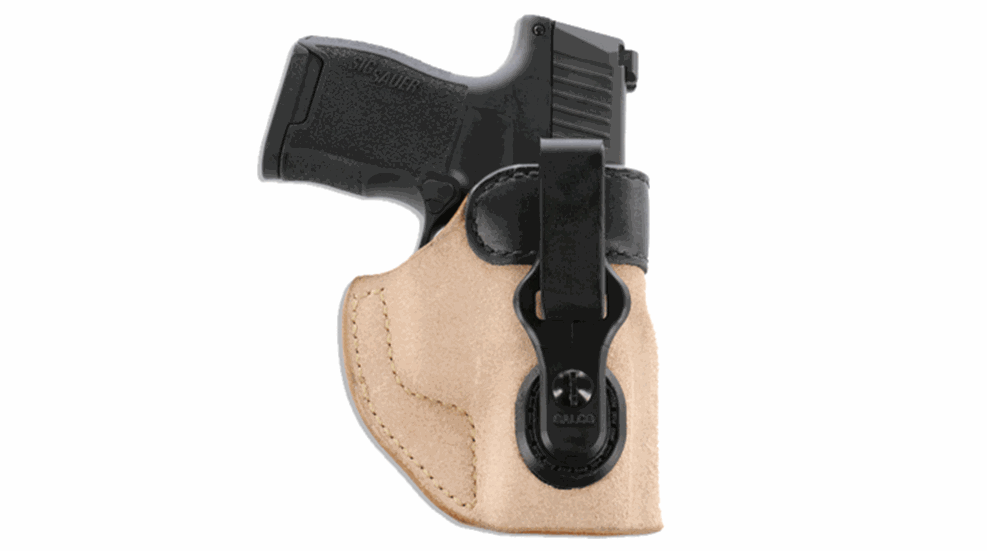 The SIG Sauer P365 revolutionized the compact concealed-carry pistol. Small and slim, yet still packing at least 10+1 rounds of 9 mm punch, it quickly became one of America's best-selling handguns. Now, Galco is rolling out its Scout 3.0 tuckable inside-the-waistband holster for the SIG Sauer P365. The highly versatile Scout 3.0 combines the quality, comfort and performance you've come to expect from Galco with one of the hottest selling handguns on the market today.
The Scout 3.0's open top and ability to get a full firing grip on your pistol combine for a fast and easy draw, something that is critically important in fast-moving self-defense situations. The reinforced holster mouth also provides a safe and easy return to the holster after everything is over.
It is constructed with the rough side of the leather out. This construction method provides additional stability in the waistband, as well as a smooth leather holster pocket for a faster, slicker feel on the draw.
The Scout 3.0 is a versatile holster that can be adjusted for cant and angle. If you like to carry your pistol appendix inside the waistband you can adjust the belt clip to a neutral, vertical cant. If you prefer a more traditional strong-side behind-the-hip position, you can angle the clip to accommodate that position, while if you like crossdraw carry you can adjust for the carry position as well.
The ambidextrous Scout 3.0 comes with two styles of interchangeable tuckable clips to attach the holster to your clothing. There is the UniClip, which is designed to go over the belt but also works well without a belt. The second is the Ultimate Stealth clip with hook, which fits on the waistband, under or behind a belt with just the clip showing, for the last word in stealthy concealment.
Available in natural finish with black mouth band, MSRP for the holster is $89, and more information is available at galcogunleather.com.