Support NRA Shooting Illustrated
DONATE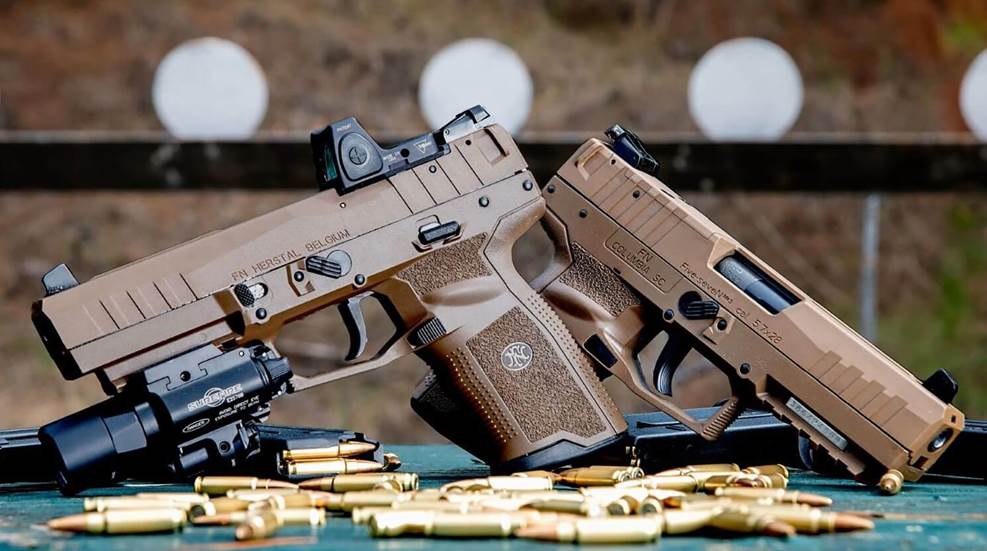 FN America, LLC is introducing the new FN Five-seveN MRD optics-ready pistol chambered in 5.7x28mm. The original FN Five-seveN has had decades of trusted service with global militaries, law enforcement and civilian sport shooters, and now it has a complete design update. The update includes features such as a factory-milled slide to accept most micro red dot optics, as well as major upgrades to the frame and slide.
"The FN Five-seveN pistol has been immensely popular since its introduction. Its original design capturing the performance of the FN-designed 5.7x28mm cartridge made it an instant success, and it's positioned to do it yet again with the dramatic redesign of the FN Five-seveN MRD," said Chris Cole, Vice President of Sales and Marketing for FN America, LLC. "With the addition of an integral optics mounting system on the slide, an already accurate pistol now redefines what handgun accuracy means. We're truly excited to bring this new pistol to market with features our customers want in their favorite FN caliber."
The FN Five-seveN MRD is a 5.7x28mm-chambered, delayed-blowback-operated pistol, just like its predecessor. The single-action-only hammer is internal and breaks at approximately 6 pounds, with little take-up and a short reset. The Five-seveN MRD's optic mount consists of a series of plates to mount your choice of optic to the slide. Just like FN's 509 optics-ready pistols, users are able to shoot with a miniature red dot sight on their guns within minutes by using the corresponding plates and screws provided with the pistol. This system is compatible with most common miniature red dot sights including the Leupold DeltaPoint Pro, Trijicon RMR, Vortex Optics, Burris FastFire series, Docter Optics and other brands. The are also three-dot photo luminescent sights that are adjustable for elevation and windage and can co-witness with certain brands of optics.
The new pistol also features enhanced slide serrations and extended cocking ridges at the rear of the slide as well as changes to the frame's backstrap allow for a more natural point of aim and better fit. A new stippled texturing on the grip frame and more extensive front strap serrations improve grip consistency for complete control. The magazine release has also been enlarged and reshaped for more control and faster reloads. Features left unchanged from the original design are the 20-round standard magazine, safety selector located directly above the trigger, serrated trigger shoe and trigger guard.
The FN Five-seveN MRD is available in either matte black or FN-signature flat dark earth (FDE) and ships in a zippered pistol case with two 20-round magazines or two 10 round magazines where required by law.
Both the black and FDE version of the FN Five-seveN MRD have an MSRP of $1,449. To learn more about this new pistol or other products from FN America, please visit fnamerica.com.