Support NRA Shooting Illustrated
DONATE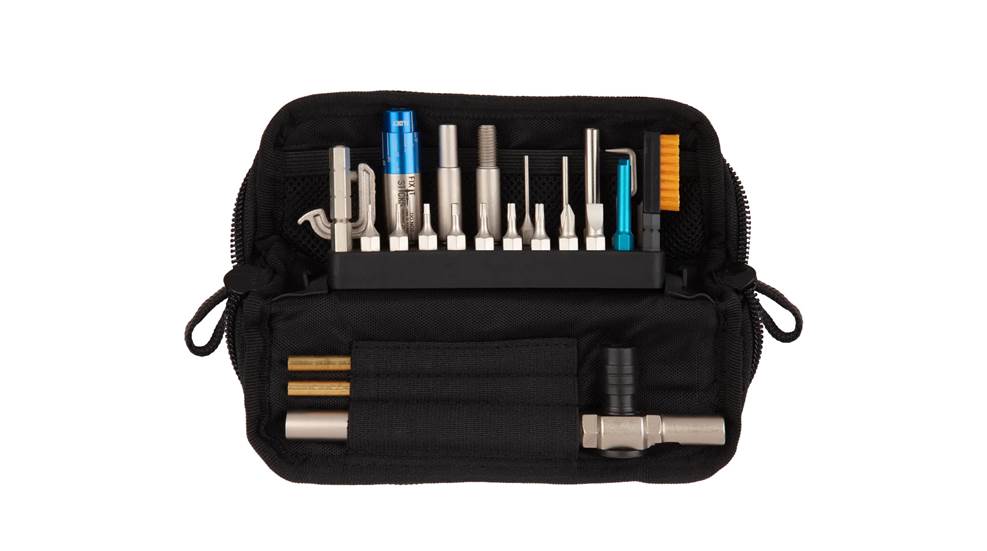 Fix It Sticks is known for its modular maintenance tools and torque limiters for firearms, and now they are releasing a new portable maintenance tool kit for Glock handguns. The entire array of tools and bits ships in a compact soft zippered case and, given its low profile, is ideal to keep in range bags, glove boxes, storage compartments, etc. After all, the case is only 6 ½ inches long, 2 5/8 inches wide, and 1 5/8 inches tall.
The actual tool kit contains every tool that is needed to work on any Glock pistol, whether specialized or part of any standard handgun maintenance kit. Specialized tools include the channel liner tool, the baseplate removal tool, and the front sight tool. A Fix It Sticks ratcheting T handle, a mini all-in-one torque driver, and universally common bits used to mount optics on handguns are also found in the Field Tool Kit For Glock pistols.
The following is a comprehensive list of all the parts, tools, and bits that ship with the Field Tool Kit For Glocks: 
Mini All-In-One torque driver
3/32 inch pin punch
1/8 inch pin punch
Steel pick
Cleaning brush bit
Channel liner installation and removal tools
Glock sight tool
Glock magazine baseplate removal tool
Battery cap tool
Two brass rods
Set of two 8-32 adapters
10 Electroless nickel-plated bits: T8, T10, T15, P1, H2.5mm,
050 inch, H1/16 inch;, H5/64 inch, 3/32 inch extended bit (for adjusting hard to reach screws on optics), SL6mm.
Compact carrying case
Fix It Stick's Field Tool Kit for Glock pistols retails with an MSRP of $184. For more information on the Field Tool Kit for Glocks and other maintenance and accessory tools for firearms sold by Fix It Sticks, please visit their website at fixitsticks.com.