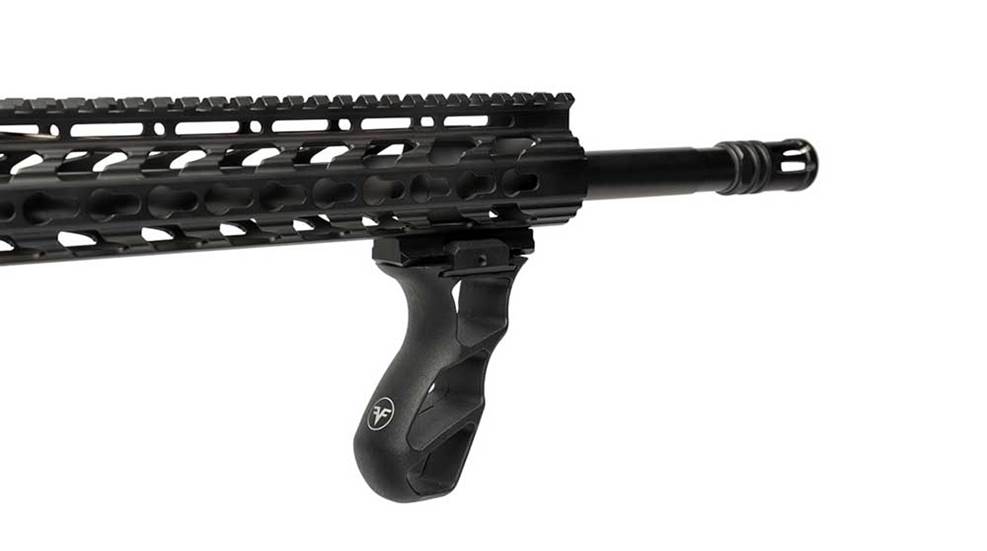 For owners of AR-15s interested in having more control and stability in their gun without weighing their platform down with bulky accessories,
Firefield
developed its Rival Foregrip. This all-new design is constructed to provide a second handling point on the fore-end of most modern sporting rifles with enhanced ergonomics and reduced weight.
Machined entirely from aluminum, the Firefield Rival Foregrip features a skeletonized design that shaves as much weight as possible without compromising the strength of the component. The resulting grip weighs in at a scant 4 ounces, yet is designed to handle the shocks and bumps that come with use on many of today's popular rifle options.
In addition to its lightweight design, the Rival grip is also contoured to fit the curves of a user's hand as naturally as possible. The leading edge of the grip incorporates two slight dips that offer a comfortable, intuitive resting point for the index and middle finger of a shooter's support hand. The rear of the grip features a comfortable rest point for the web of a support hand, and the contours of the grip are mirrored on either side of the design, making it usable for both left- and right-handed shooters.
Along with the enhanced ergonomics, the grip features a slanted, rearward rake that mimics the angle used on most AR-style pistol grips. The surface of the grip is also textured, ensuring a solid grip in all conditions, whether shooting in the rain or with sweat-soaked palms. Two models are offered in the Firefield Rival Foregrip lineup. One is equipped with a standard Picatinny-rail attachment point, while the other allows for direct attachment to KeyMod handguards.
Each Rival grip comes with a black-anodized finish designed to prevent wear and provide protection against the elements, and the suggested retail price on the foregrip is $24.97.