Support NRA Shooting Illustrated
DONATE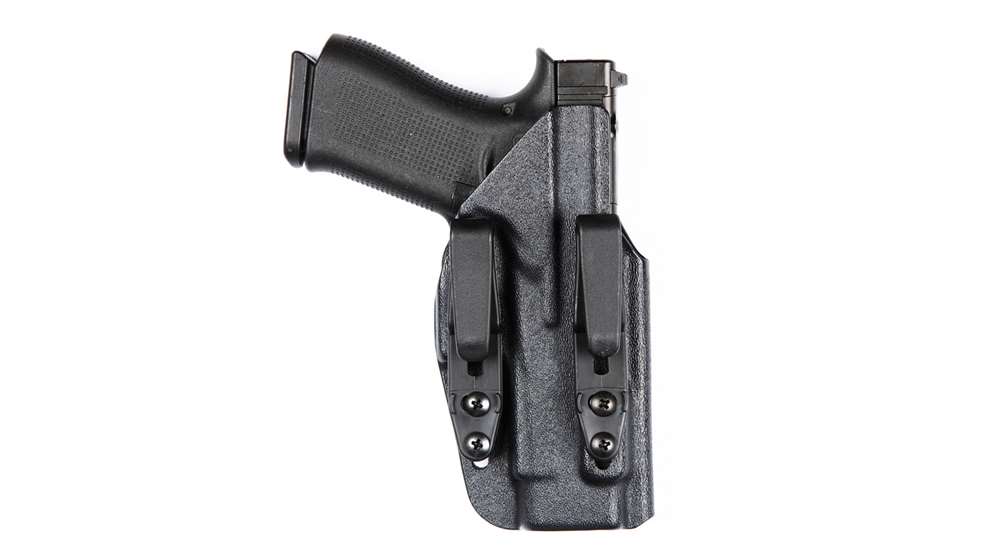 Dark Star Gear, a small Pennsylvania company known for its high-end concealment gear, is now revamping its Apollo holster line. Originally, the Apollo was only available for snubnose revolvers. Now, however, Dark Star Gear is offering the Apollo for four of the most popular carry pistols on the market: The Springfield Armory Hellcat family (including the longer RDP version), the SIG Sauer P365 family, the Smith & Wesson Shield 1.0/2.0/Plus and the slim-line Glock models (G43/G43X/G48). Currently, they are also developing a compatible Apollo holster shell for the Springfield Armory Hellcat Pro and other popular defensive carry models.
The Apollo's design comes from the company's experience with their popular flagship products, the Orion holster and its little brother, the Hitchhiker holster. The goal was to take the best features from both of those holsters and produce a no-nonsense holster with an a la carte option ready for service as soon as its taken out from the packaging. The Apollo is a perfectly symmetrical and fully ambidextrous holster whose hardware can be easily switched for either left- or right-hand use. Like other Dark Star Gear holsters, the Apollo serves both as a traditional IWB (inside the waistband) or an AIWB (appendix inside the waistband) holster. To configure it for appendix duty, all the wearer needs to do is to add a DSG Dark Wing attachment.
The Apollo ships with rugged and reliable 1.5-inch Raven Concealment polymer clips, and the Apollo shell is contoured to be work with slide mounted red dot optics. The layout of its holes and slots also makes it compatible with the popular PHLster Enigma system.
Dark Star Gear Apollo Specifications:
Material: Boltaron
Color: Black
Hardware: Dual1.5-inch Raven Concealment Gear Clips, ride height adjustable
Handedness: Fully reversible and ambidextrous
Position: IWB or AIWB
Retail pricing for the Dark Star Gear Apollo holster currently starts at $49. For more information, please visit their website at darkstargear.com.