Support NRA Shooting Illustrated
DONATE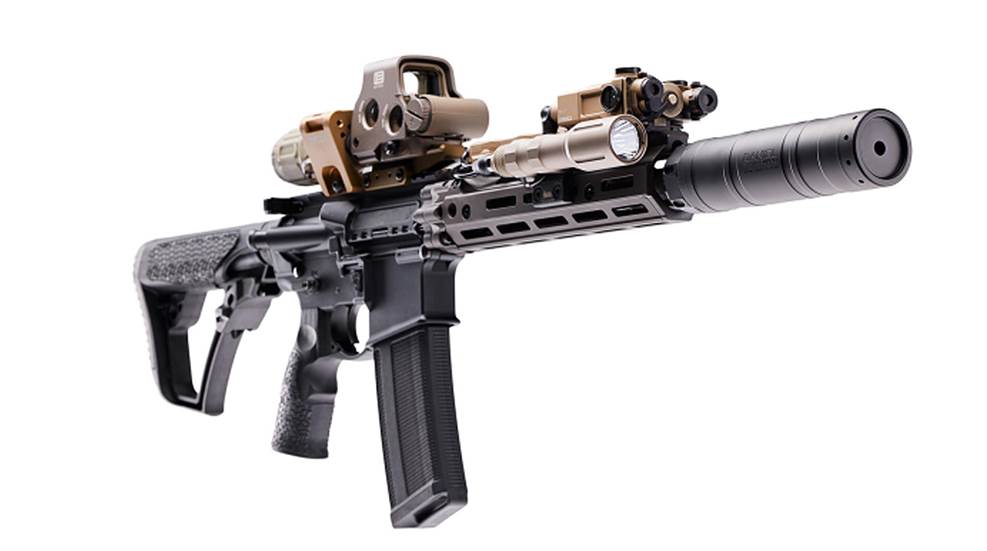 Daniel Defense is bringing to market a new line of rifle suppressors meant for hard use: the Daniel Defense Soundguard series.
This American-made product line has three different titanium suppressors for use with calibers ranging from .223 Rem. up to .300 PRC. The Daniel Defense Soundguard line uses KGM technology to muffle the report and reduce suppressor backpressure. The design also helps eliminate muzzle flash and signature. For security, convenience and commonality, the suppressors mount to firearms using the industry standard, direct thread HUB 1.375-24 UNS pitch thread. This allows for use with popular attachment options such as Keymo or ASR devices.
"Through years of working with multiple military/law enforcement agencies – as well as consumers – our team pinpointed specific criteria for this family of suppressors," said Marty Daniel, President and CEO. "In addition to the obvious, sound reduction, limiting the amount of toxic gasses, reducing muzzle flash and accuracy were all critical."
Currently, Daniel Defense has three different models in their Soundguard line up, the SG-556, the SG-30, and SG-30 Ti Titanium. All of the models are built with either with a stainless-steel baffle stack and tube or titanium baffle stack and tube. The SG-556 suppressor has a weight of 22 ounces and is 7 inches long and is compatible with calibers up to .223 Rem. The SG-30 suppressor is 7 inches long, has a weight of 22.5 ounces and can handle rounds up to 300 PRC. The SG-30 Ti weighs just 15 ounces, is 7 3/4 inches long and is also capable of shooting ammo as powerful as 300 PRC. All three suppressors have a 1 3/4-inch outside diameter and use 5/8 x 24 inch tpi for mounting.
Daniel Defense Soundguard Suppressors are fully American made and carry the same level of quality that Daniel Defense provides to its customers. For additional information on these suppressors and to find stocking dealers in your area, please visit Daniel Defense's website at danieldefense.com.