by
Shooting Illustrated Staff
posted on January 19, 2019
Support NRA Shooting Illustrated
DONATE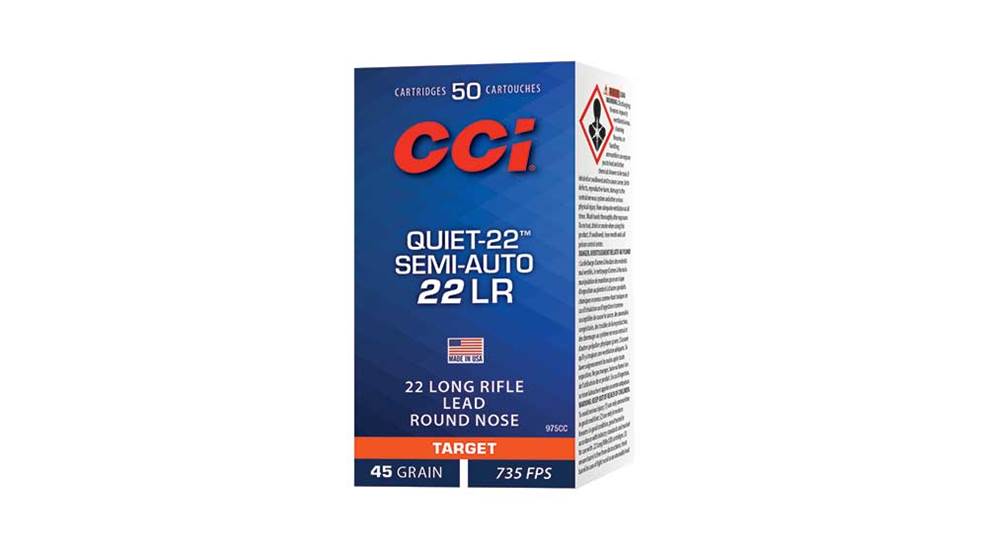 The quieter nature of suppressor-equipped guns is being appreciated by more American shooters today than ever before, but the NFA-regulated nature of sound suppressors makes their acquisition expensive and time-consuming. To bridge the gap, some rimfire ammunition manufacturers have worked to produce quieter .22 LR loads that don't produce the supersonic crack at the muzzle, which can damage hearing instantaneously without protection. However, reliability is often far from assured with these low-velocity loads, but
CCI Ammo
is solving the issue in 2019 with its new Quiet-22 Semi-Auto ammunition designed for today's .22 LR semi-automatic rifles.
Of course, one of the best aspects of .22 LR is the ability to rapidly fire rounds downrange, thanks to the inexpensive nature of the ammo itself and today's many popular semi-automatic rifles, like the Ruger 10/22 and the Marlin Model 60. In formulating its new Quiet-22 ammunition load, CCI aimed to produce a round that didn't push a .22 LR round faster than the speed of sound, avoiding the supersonic crack associated with a rifle report. The company also wanted ammunition that remained accurate and reliably cycled the blowback actions of today's popular rimfire guns. Therefore, shooters could have the benefits of quieter ammunition to protect their hearing without going through the cumbersome NFA-regulation process of owning a suppressor.
Each CCI Quiet-22 Semi-Auto load features a 45-grain Lead Round Nose bullet, which is pushed to a muzzle velocity of 735 fps, well below the speed of sound. However, the powder load in these rounds produces enough pressure to reliably cycle blowback actions on both semi-automatic rifle and handguns. In particular, these loads are perfect for use with new shooters, who won't be alarmed by the crack of a rifle report and won't have to deal with repeated malfunctions during their first outing. CCI also promises that this new load is held to stringent accuracy standards, ensuring that shooters can still hit targets accurately at a distance.
Each CCI Quiet-22 Semi-Auto pack holds 50 rounds, and the suggested retail price on the new ammunition is $5.95 per pack.