Support NRA Shooting Illustrated
DONATE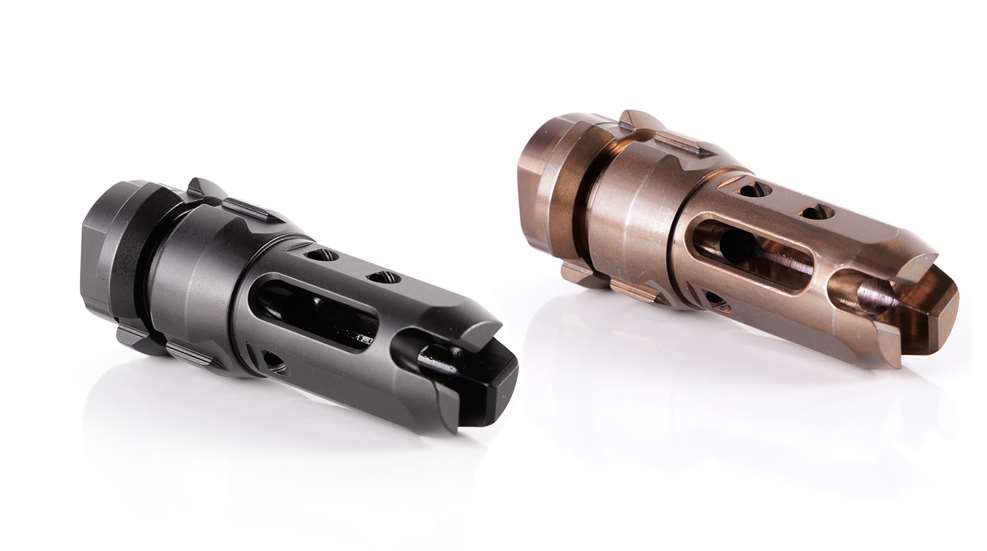 Arizona-based Blackout Defense has recently made a licensing arrangement with Dead Air Silencers, and now it is releasing its first line of KeyMo compatible muzzle devices. Blackout Defense has rolled out two new muzzle devices in this new category: A flash hider and a hybrid flash hider/compensator unit.
Both units are manufactured in-house at Blackout Defense and are produced with 17-4 stainless steel that is hardened to an H900 rating, which is similar to 45-47 HRC. Both units are precisely and carefully machined to allow for an optimal seal when used in conjunction with a suppressor, and are available in the dark copper color that is associated with the H900 treatment. Customers also have the option to purchase these devices with a black nitrided finish that affords very robust protection from corrosion and fouling. Integral to both the flash hider and hybrid compensator is a closed prong design that reduces the flash signature while also eliminating the "pinging" tuning fork sound that may show up with other muzzle devices on the market.
Given the nature of Blackout Defense's partnership with Dead Air and the compatibility of these products with Dead Air's suppressors, both of these muzzle devices is covered under Dead Air's lifetime suppressor warranty.
Features:
In-house heat treated to condition H900 for a through-hardness of 45-47 HRC
17-4 stainless steel that is heat treated to condition H900 exhibits 14-percent higher ultimate tensile strength over hardened 4140 steel
Every 90-degree corner is machined with undercut profiles to improve seal and engagement with the suppressor
(Hybrid) Four jet ports drilled at 51 degrees to direct gas forward and away from the shooter
(Hybrid) Two jet ports at 12 o'clock, 1 at 4 o'clock and 1 at 8 o'clock
(Hybrid) Recessed jet ports with a flat face to reduce carbon buildup on the device and improve ease of separation with a suppressor
(Hybrid) Forward-directed gas reduces muzzle rise, softens recoil, and pushes all explosive gasses away from the shooter
Closed-prong design reduces flash and eliminates tuning-fork "ping"
Shim kit included
MSRP for either the flash hider or the hybrid compensator/flash hider is $129. For more information on the Blackout Defense Hybrid or Flash Hider KeyMo compatible muzzle devices or to learn more about other Blackout Defense products, please visit their website at blackoutdefense.com.