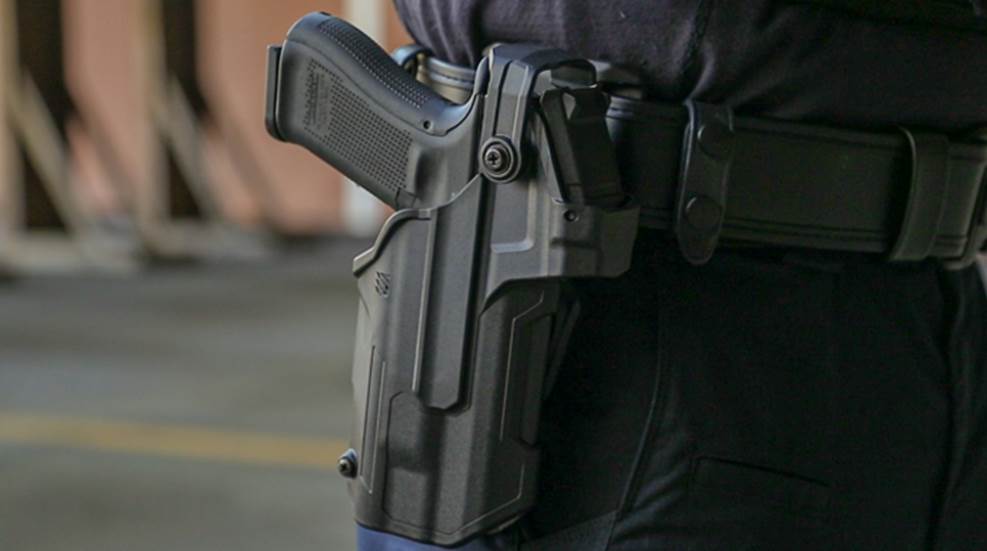 Blackhawk announced the company's popular T-Series line will be expanding to offer new Level 3 Duty Light Bearing holsters compatible with pistol-mounted red-dot optics. The new T-Series Red Dot Sight (RDS) Holsters are designed for use with the Trijicon RMR/SRO, Leupold DeltaPoint Pro, SIG Sauer Romeo1Pro, and other similar sized optics. 
Developed to support law enforcement officers authorized to use red-dot sights on patrol sidearms, the T-Series RDS Holsters provide maximum protection for both the firearm and optic. The dual-injected molded holster provides proven durability for the sidearm while an additional, removable, rotating dustcover further protects the optic from impacts and debris. This combination of features provides users with a sleek, ergonomic design without adding extra bulk to the holster. 
The T-Series RDS Holster will initially be available in a right-handed, light-bearing Level 3 Duty (L3D) model for the Glock G17. Next up for release will be models including both Level 2 Duty (L2D) and L3D in left and right-hand configurations for the Glock G17 and SIG Sauer P320 pistols. The holsters are compatible with the Streamlight TLR-1 and TLR-2 pistol lights. 
"As more law enforcement agencies authorize the use of red dot sights on patrol sidearms, the need for a duty rated holster that can accommodate these optics has never been greater," said Evan McNamara, Director of Product Development for Blackhawk. "With its streamlined thumb-activation retention, the T-Series RDS Holsters keep your firearm and rear optic at the ready while maintaining total security." 
The Blackhawk T-Series line is the world's first thumb actuated, dual-injected molded holster. It combines the company's proven outer-body strength made possible with glass reinforced nylon along with a soft-touch inner layer that both fosters a rapid draw and also dampens sound. This durable and efficient, low-friction design translates into a smooth, quiet draw or when re-holstering the sidearm. Designed to follow Blackhawk's Master Grip Principle, all T-Series holsters have been specifically developed to allow the user's hand to land naturally where it should in order to deploy the sidearm. 
MSRP on this new holster starts at $169.95. For more information on the new light-bearing T-Series L3D RDS Holsters for the Glock G17/19/22/23/31/32/45/47, or to view the complete line of T-Series holsters visit blackhawk.com.