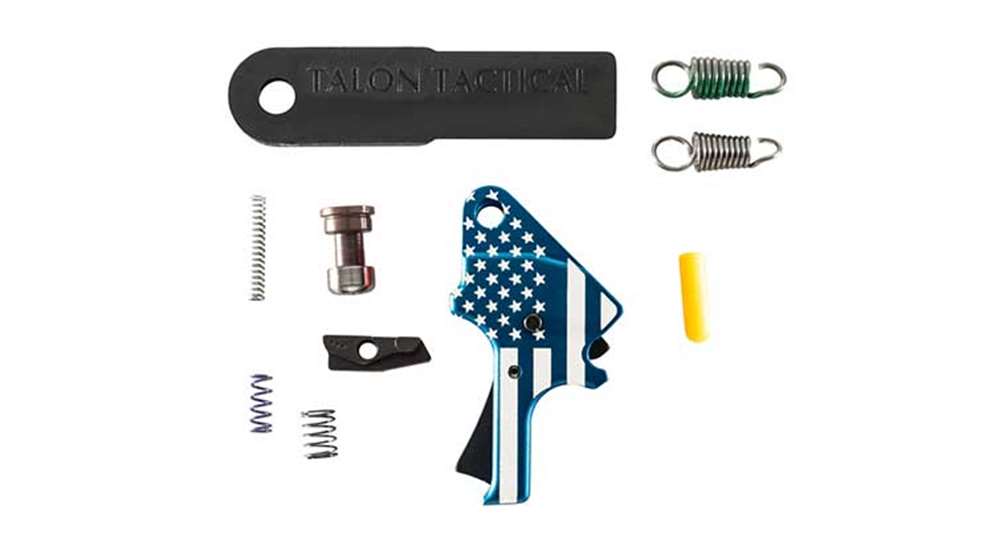 Apex Tactical
announced the expansion of its lineup of Freedom Edition triggers with the addition of blue-anodized models. These flat-faced trigger options are available for
Smith & Wesson
M&P, M&P Shield and
Glock
pistol models and features a laser-engraved American flag set within the anodized finish of the trigger body.
For the Smith & Wesson M&P, Apex offers its Flat-Faced Forward Set Sear and Trigger Kit, as well as the trigger alone. The kit will fit in any centerfire model of the S&W M&P lineup and is designed to limit pre-travel and over-travel of the trigger pull. In addition, the flat-faced design places the trigger finger in a spot that allows for greater leverage, ensuring that shooters can make the most of the improved trigger pull and perform better on the range.
The forward-set sear and trigger kit comes with several trigger-return springs, allowing users to choose between a 3-pound or a 4-pound trigger pull, depending on which spring is used. The kit also helps to smooth the reset of the gun and limits total trigger travel to about the same amount as that found on factory 1911-style handguns. The kit still ensures that all the safeties, including the pivoting trigger safety, are kept in the new kit.
Apex Tactical also offers the Freedom Edition Trigger in the company's Action Enhancement Trigger and Duty/Carry Kit for the Smith & Wesson Shield, which eliminates 20 percent of the pre-travel and over-travel of the standard Smith & Wesson trigger, while maintaining all of the safety system found in the pistol. The kit also provides a trigger pull that is approximately two pounds lighter than the standard trigger, as well as producing a reduced reset point. However, the kit also comes with an Ultimate Striker Block that the company strongly recommends be installed by an armorer or a gunsmith.
The company offers action enhancement kits for Glock handguns, too, including the following models: G17, G17L, G19, G22, G23, G24, G26, G27, G31, G32, G33, G34 and G35 pistols. The kit will not work with 10 mm, .45 ACP or .45 GAP Glock handguns.
The suggested retail price on the Apex Tactical Freedom Edition Action Enhancement kit starts at $139.95.