Support NRA Shooting Illustrated
DONATE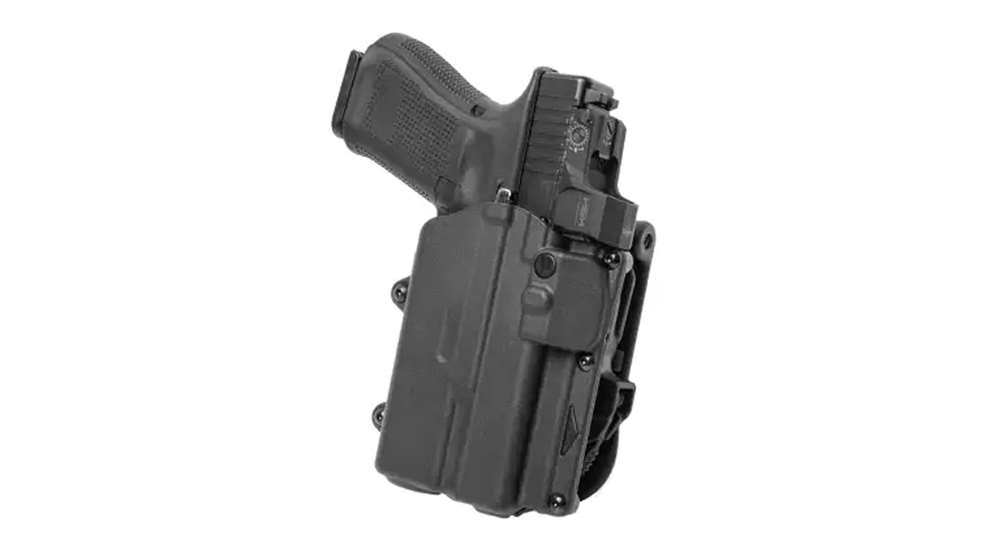 Alien Gear Holsters is now selling their new OWB (Outside the Waistband) Rapid Force Level 2 Slim Holster, which is meant both for duty and off duty use for police officers, security guards, law enforcement agents or any other person that carries pistols in plain clothes and needs a slimmer OWB holster.
"The new Alien Gear Rapid Force LVL 2 Slim Holster is designed with plainclothes officers in mind, whether on duty or off," Joe Lienemann, Director of LE Sales for Alien Gear Holsters, commented. "It provides the same maximum safety with no compromise on performance as our other Rapid Force Duty Holsters, but allows officers and security professionals to safely carry concealed."
The Level 2 Rapid Force holster is made from Alien Gear's proprietary polymer material blend, which Alien Gear claims is lighter, stronger, and more heat resistant than standard Kydex. The holster is up with a Level 2 thumb release mechanism that also keeps a draw consistent with the Level 3 OWB duty holsters in the Rapid Force line. This is due to the fact that these Level 2 holsters are fully compatible with all Alien Gear "quick detach" systems and the Rapid Force expansion accessories. Additionally, this holster can also quickly and easily substitute any Rapid Force Level 3 duty holster when necessary. This new duty holster will easily accommodate the majority of pistols affixed with slide mounted electronic red dot sights and suppressor-height iron sights of up to 0.475-inches tall.
Rapid Force Level 2 OWB holsters are currently available for popular duty-sized handgun models from Glock, Smith & Wesson and SIG Sauer. All Alien Gear products are fully American made at the company's northern Idaho facility and include a 30 day field test drive and three year full manufacturer warranty. Retail pricing for Alien Gear Rapid Force holsters begin at $74 and ranges through $115, depending on the choice of a pistol light and mounting systems. For more information on the Rapid Force duty holster line, please visit Alien Gear's website at aliengearholsters.com.