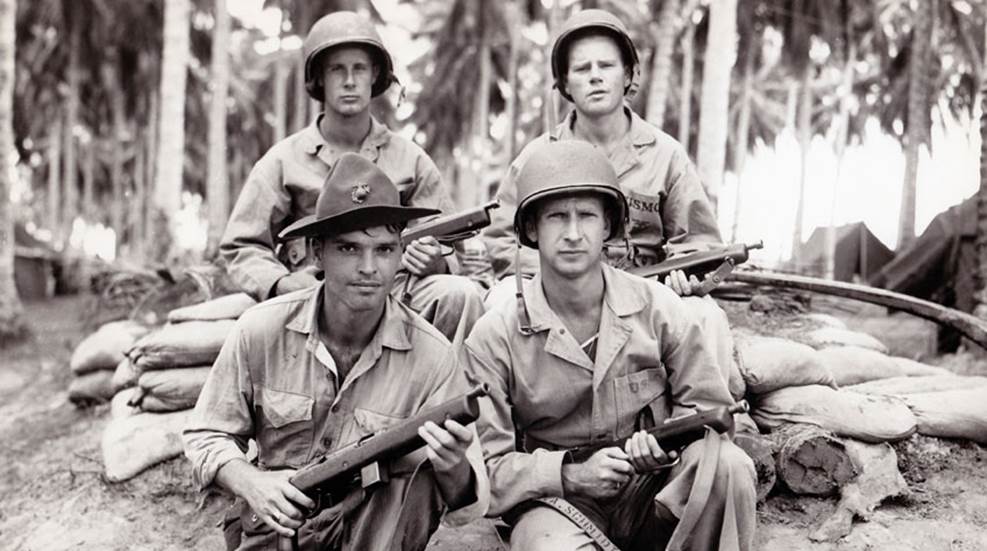 A group of Marine Raiders hailing from Texas were equipped with the ill-fated Reising Model 55 SMG during the vicious fighting on Guadalcanal.
As was my habit, I came back on the gun's trigger rather gently. After all, it was an unusual gun and I had no experience with it whatsoever. Oh, it went bang all right, but seemed to be very intent on doing it again. Before I could release the trigger, three more .45 ACP rounds were gone and the gun's muzzle was a good bit higher than where it started. Clearly, this was a gun that would take some time to master. I tried a few more shots and found that I could hold my bursts to just a couple of shots—with a great deal of effort. By the end of a box of 50, I was just beginning to get the hang of it. Thus was I introduced to one of the most enigmatic military firearms of all time: the U.S. Reising submachine gun, caliber .45.
The father of the arm was Eugene Reising, a firearm designer who had worked under the legendary
John M. Browning
. Reising began work on an advanced submachine gun in the late 1930s, when the possibility of a global war grew weekly. In a real sense, this class of full-automatic, pistol-caliber firearms was born in America. The first was
the classic Thompson
, which arrived just a trifle late for the World War I trenches it was designed to sweep clean with .45 ACP bullets. It did that well, but was quite heavy, not particularly accurate and ruinously expensive. Reising's design sought to resolve those problems. It seems to me he might also have been influenced by short-rifle considerations. 
The Reising had the look of a sort of chubby carbine in .45 ACP. With a conventional, one-piece walnut stock and 20-round box magazine forward of the trigger guard, it worked on the basis of a delayed-blowback system. This system had the bolt closed when the gun fired, and that was a contributing factor in the gun's respectable accuracy. A handy 35 inches long and weighing close to 7 pounds, many of the metal parts were stamped from heavy-gauge steel. The barrel was 11 inches long and had a Cutts compensator to help with muzzle rise. The iron sights were just rudimentary open ones. Although the cyclic rate of fire was quoted as 500-plus rpm for the original gun, independent testing produced a rate closer to 800. From a 7-pound gun with an 11-inch barrel, that's fast enough to empty a 20-round magazine in 2 seconds—it was uncontrollable.
Harrington & Richardson produced the gun in three versions, most of which were the first Model 50s. Model 55s were a slightly different gun in the sense that the buttstock was a folding-wire contraption intended for paratroopers, and the Model 60s were semi-automatic with 16-inch barrels to allow sale to civilians without going through the NFA process. In 1940, there were a number of good reasons why the gun deserved a place in the Republic's armory for the looming global conflict of World War II. The Reising delivered impressive close-range firepower and good accuracy to 100 yards, all at about a third of the cost of a Thompson. Yeah, there were plenty of reasons to adopt these little guns in quantity—and only one reason not to.
The damned things didn't work.
Probably the biggest single user of the Reising gun was the Marine Corps. When the 1st Marine Division crossed the beaches of Guadalcanal in August of 1942, a significant number of Marines were armed with Reisings. There were a greater number of them in the hands of Marine Raiders and Parachutists who were trained for assaults and raids more than conventional infantry operations. The campaign's first, intense fighting was on the offshore islands of Tulagi, Tanambogo and Gavutu. Almost immediately, the Reising's deficiencies came out. The 1st 'Chutes had their folding stocks fold in the middle of a burst. Almost all of the guns jammed in the mud and sand.
I have heard from veterans of these early Pacific Theater fights that the nature of the Reising's delayed-blowback system created incredibly complicated jams. Very hard to clear in a fight, they left a Marine with nothing to fight with but knives and knuckles. I was in the Marine Corps in the late 1950s and many Guadalcanal veterans were still on duty. Never have I heard a weapon so virulently condemned as the .45-caliber Reising. It was so bad that the Marines got rid of them as quickly as possible. Simplified Thompsons took its place in later battles. 
More than 100,000 were made in World War II, and virtually none ended the war in the hands of front-line troops. Most were relegated to security and guard functions where there's not a great probability of needing to use them. Surprisingly, when the government offered surplus weaponry of many types to post-war law enforcement agencies, they were able to give away quite a few of them. I knew one small police agency that put a free-from-the-Feds Reising—modified to semi-automatic-only—in every car. In other words, this early patrol rifle was an accurate, powerful, light, handy and easy-to-use-carbine. More than a few cops used the late-production Reisings to good effect, and I cannot find any reference to malfunctions.
One veteran Marine, though, who'd carried one in combat, when told a Reising had been recovered from a World War II battlefield, snarkily asked if it was still jammed.
This is one gun that did not make for good fightin' iron.