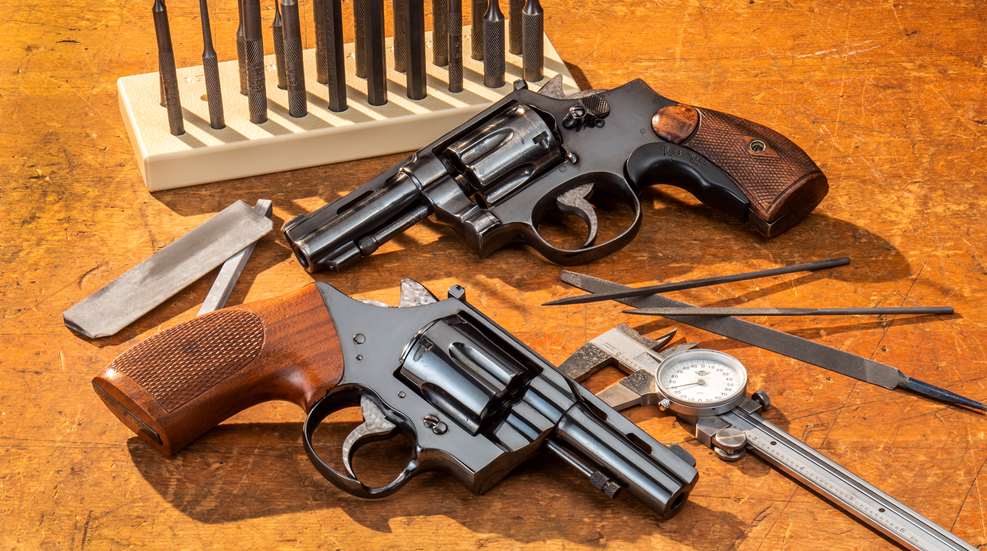 George Matthews' Combat Special is an example of customizing a police officer's sidearm to meet their needs.
"What's this?" The question came from a young man helping out on a long-ago Saturday afternoon. Jeff was assisting with an overall clean up and inventory of a big Browning safe. He had come up with a gun he had never seen before, and he just had to have the complete backstory. I was not surprised that he had never seen such a thing, because the custom revolversmith who designed and built the gun was not well known outside California. The gun was a Smith & Wesson .41 Mag., the Model 58 recently dropped by the police department of San Francisco. There were a lot of those guns floating around the used-gun market in Southern California in the early 1970s. This one got a Model 57 barrel (with traditional underlug) and other features associated almost exclusively with the craftsman who created it.
That man was George Mathews. He was an advanced tool-and-die maker who came out of the massive expansion of Southern California's World War II aerospace industry. When the intense pressure of wartime production began to lighten, so did Mathews' enthusiasm for creating one innovation after another—and receiving no credit. He began a gunsmithing operation in his garage, but quickly moved it to a commercial address and eventually to Downey, CA. In that immediate post-war era, his business was largely with officers of LAPD, who had no ready source for concealable revolvers since both Colt and Smith & Wesson were slow to return to commercial production after the war. Working with surplus guns like Smith's & Wesson's Victory Model, a K-frame .38 S&W or .38 Spl., he was able to create the so-called "Mathews Combat Special."
While a Mathews gun is easily identifiable to a practiced eye, they are not all alike. The customer was shown a sample and asked to jot down the features he wanted. Mathews would make pretty much what the customer asked, but the effect of the sample gun was strong enough to cause many cops of that time to say "... just like this!"  That was usually a 2- or 3-inch, medium-frame, .38 Spl. Colt or Smith & Wesson with ventilated-rib barrel, slimmed trigger guard and simple, but functional, checkered walnut grips. The Mathews ventilated barrel rib was inspired by the King's product, since the Mathews is wider, stronger and much racier. He would install a wide variety of different sights on the rib.
He also had a way of grinding away part of the front edge of the trigger guard to give the pistolero a bit more room to get his trigger finger onto the trigger. Several revolversmiths of his time would cut away the entire front of the trigger guard. This was a modification that certainly worked, but created safety issues. Also, it was very common to see Mathews guns with his version of the Smith & Wesson so-called "humpback" hammer. This was a welded-up standard hammer, shaped for easy cocking and less likely to snag on the draw.
While Mathews made hundreds of the fighting revolvers over the years, he also did other kinds of custom guns. I still own a Browning Model 92 lever gun converted to .41 Mag. A 16-incher, this handy little trapper was complimented by a Ruger Blackhawk with the full, ventilated-rib barrel, also in .41 Mag. There was also a custom .280 Rem. and a long-slide Colt in .38 Super. George Mathews was versatile.
I took my custom-handgun projects to his little storefront shop in Downey for close to 20 years and recall nothing but pleasure at the remarkable and trendsetting manner in which he conducted his business. As time passed, it occurred to me that people might one day recognize the custom work of George Mathews as deserving of wider attention. As I contemplated the possibility of writing a book on the subject of custom handguns, I began to look for examples of the Combat Special. I have been looking for almost 10 years—with no luck.
That is, until the last week of May, when I stumbled on an online listing for a Colt Mathews Combat Special. I called the business and bought the gun, which was accurately described and depicted. In the process of effecting the sale, I was advised that the business also had a similarly modified Smith & Wesson. I got that one, too.
The first one was a near-new Colt Army Special, an early medium-frame, six-shot DA/SA revolver, which evolved into the Official Police. It had clearly spent some time with Mathews, since it had his style of ventilated rib, slimmed trigger guard, humpback hammer and plain walnut grips. This one has a superbly polished-blue finish. The barrel had been cut to 3 inches, as befits a combat gun. The caliber was .32-20 Win., which doesn't.
The second revolver shows signs of wear in a holster. Fitted with an after-market Tyler-T grip adapter, the revolver is a Smith & Wesson Victory Model M&P in .38 Spl. Although this gun does not have the modified trigger guard, it does have the vent rib and modified hammer of a Mathews.
I was recently in the shop of another gifted pistolsmith, whose experience goes back to the era we've been talking about. He agreed that the late Mr. Mathews deserved more credit than he got. Mathews was an innovator, as well as a craftsman of epic skill. Over the many years he worked, he saw to it that those who needed it actually got better fightin' iron.