by
posted on October 25, 2010
Support NRA Shooting Illustrated
DONATE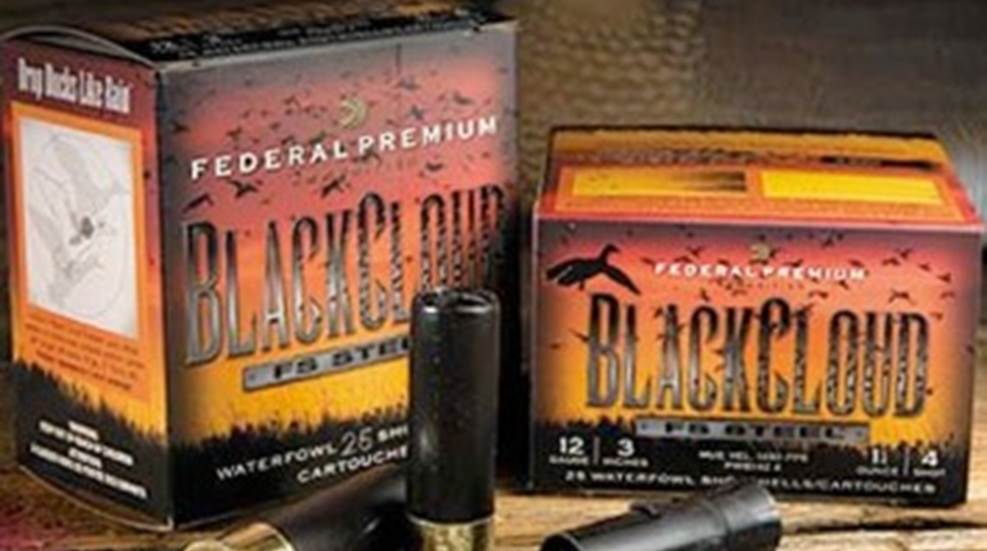 Firearms and ammunition companies continually reinvent the wheel, so to speak, in an effort to provide customers with the most up-to-date gear. Oftentimes a company modifies a current product—using technology that wasn't available in the past—to improve performance. Federal took this route when it developed Black Cloud shotshells.
Straying from traditional shotshell design, Federal replaces 40 percent of Black Cloud's shot charge with its radical Flightstopper (FS) pellets. These stamped, oblong projectiles have flat ends and a raised ring circumventing the center, and are designed to cut and tumble, rather than simply penetrate, for enhanced wound channels and energy dispersion. Whereas the standard No. 2 pellets measure .152 inch, FS No. 2 shot is .156-inch tall and .177-inch wide. The FS pellets are situated to the rear of the shotcup because Federal found this arrangement provided the best patterns.
Black Cloud has a modified version of Federal's tight-patterning Flitecontrol wad, popular in the company's turkey and buckshot loads. With the exception of three flaps designed to slow the wad for separation from the shot charge, the front half of the shot cup is solid, resulting in dense patterns at extended range. Six petals, formed from cuts in the wad's rear portion, expand to optimize the in-bore gas seal and also provide resistance to slow the wad after exiting the muzzle.
Recently I put Federal Black Cloud through the paces on the range and in the field. To provide a basis from which Black Cloud could be evaluated, I selected a currently available load identical in terms of velocity, shell length, shot size and charge weight. Factory specifications reported each 12-gauge, 3-inch shell would propel 11⁄4 ounces of No. 2 shot to 1,450 feet per second. For testing, I used a 26-inch-barreled Remington Model 870 Express Super Magnum with an extended Carlson improved-modified choke tube.
Through a Shooting Chrony Alpha Master chronograph, Black Cloud averaged 1,459 feet per second for five shots, while the competitor clocked 1,467 feet per second—a marginal difference between the two, and remarkably close to Federal's claims.
With 142 pellets per shotshell, Black Cloud averaged 123 pellets in a 30-inch circle and 32 in a 10-inch circle at 35 yards, which equates to 87 percent of the total pellets on target and 23 percent in the immediate kill area. At 45 yards the count was reduced to 86 pellets in the 30-inch target and 13 in the smaller
10-inch area. Of the 148-pellet average in a competitor's load, 133 found their way into the 30-inch circle at 35 yards, with 28 in the 10-inch circle. This equates to 90 percent on target, 19 percent in the 10-inch area. At 45 yards the count was 91 and 11. Although the competitor's load delivered more pellets to the target, which could simply be contributed to it beginning with more, the Flitecontrol wad put a higher percentage in the kill zone.
Waterfowl season had ended before I received the Black Cloud ammo, so I substituted ducks and geese with crows and packaged poultry. After an evening chasing troublesome crows around several farms, I finally managed to get some within range. Although I missed with the first shot, the second from 30 yards filled the breeze with feathers. Dissecting the crow revealed tremendous bone damage wherever FS pellets struck.
Since no additional crows offered to be test subjects, I wrapped a 3-pound chicken in clear plastic wrap and placed it at 35 yards. After I shot it, several pellets remained between the skin and the plastic wrap. Tracing the path of each revealed the FS pellet caused more damage when hitting cartilage and bone than the round pellet, perhaps due to yawing, but the difference in meat damage was minimal.
Federal Black Cloud ammunition will be available in 3 1⁄2-inch loads with1 1⁄2 ounces of BBB, BB, No. 2 and No. 4 shot at 1,500 feet per second and3-inch loads with 1 1⁄4 ounces of the same shot sizes at 1,450 feet per second. It will retail for $29.95 for 31⁄2-inch loads and $24.95 for 3-inch offerings and be available in July.