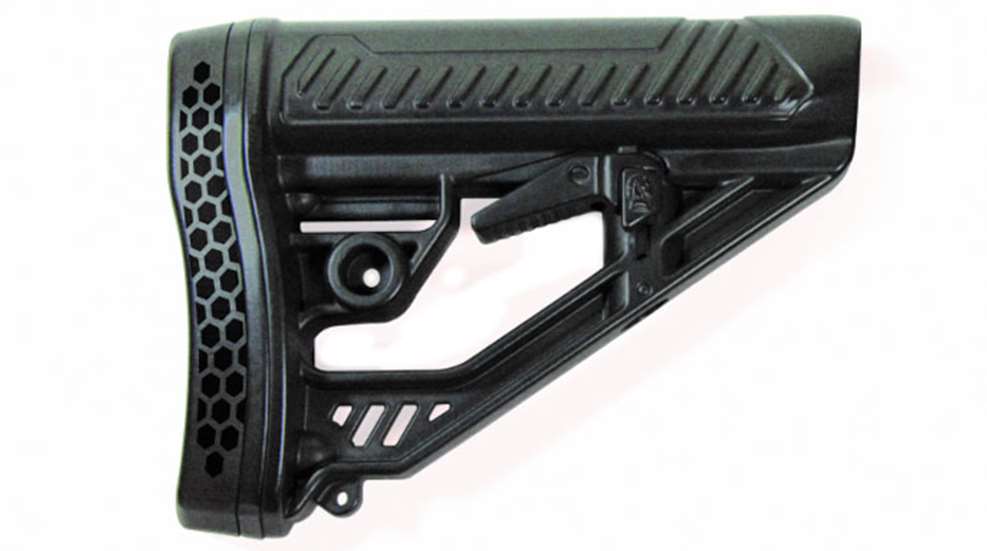 Adaptive Tactical, LLC, manufacturers of innovative firearm stocks, magazines, conversion kits, and accessories is proud to announce the release of its EX Performance Adjustable M4-Style Stock for the AR15/M4 Carbine Platforms.  
The EX Performance Adjustable M4-Style Stock is a high-impact polymer, collapsible, adjustable stock. The EX Performance M4-style Stock includes an easy-to-reach rapid adjust lever for custom length-of-pull, giving the user better trigger control and performance capabilities. It also includes an integrated QD swivel attachment and molded in non-rust sling swivel attachment for secure mounting to various sling systems. A durable polymer construction with non-slip vented rubber recoil pad allows for maximum recoil absorption. The oversize extra strength adjustment pin and sleek industrial design make this the perfect addition to your carbine.
Features
Designed for owner installation
M4-style stock with adjustable length-of-pull
Easy to reach rapid adjust lever
Integrated QD swivel attachment
Compatible with Mil-Spec sized extension tubes
Dimensions:  2 inches x 6 inches x 6 1/4 inches
Weight:  .8 pounds
MSRP:  $49.99

This rear stock is also available with the EX Performance Forend for Remington and Mossberg pump shotguns.
Adaptive Tactical knows what their customers want and is continually striving to provide innovative, unique products for the range and at home.  For more information, visit www.adaptivetactical.com or "Like" the company on Facebook and Instagram.