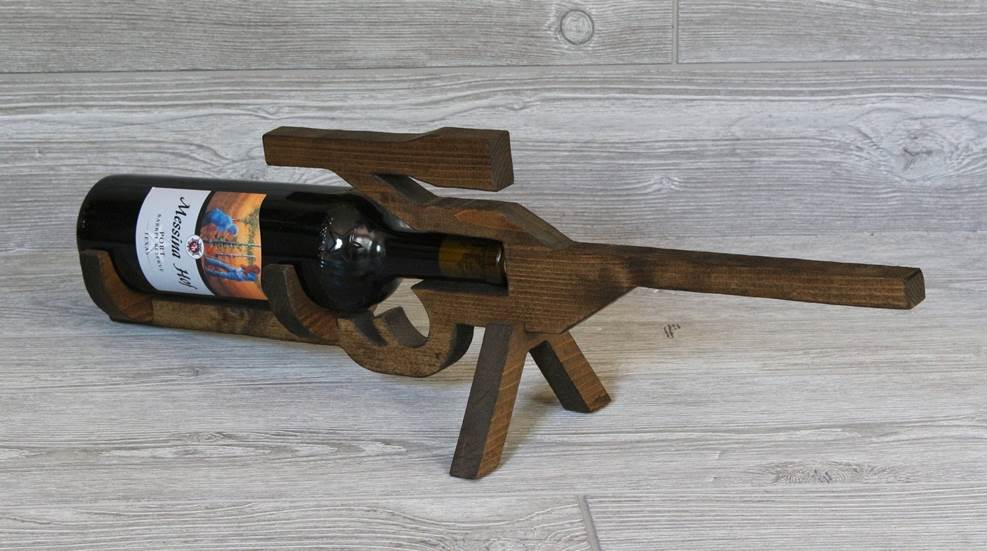 The old saying goes that a man's house is his castle. Lately, however, I'm sure to some it feels more like a prison. Most of us are working from home now, maybe stuck in a house with the kids, trying to be productive in some way. Postponed are the days of heading to the range with the gang, but that doesn't mean our love and pride for the Second Amendment should wither. There are other ways to represent that with which we all hold dear.
Home is a space where people can express themselves and their interests. If it's become your office, why not make it a sanctuary for something you care deeply about, if you haven't already? The following items are objects that are unique in the sense that they show your love for firearms and add a little pop to your everyday living—and now working—space.
As everyone struggles with the new normal, creating a space you love couldn't be more important. And what better way to do so than to buy small business at the same time? Each piece is handmade from a seller on Etsy, further helping those individuals who own small businesses.
Who knows, this might even give you a little inspiration for Mother's Day and/or Father's Day -- which are right around the corner. Don't say I didn't warn you.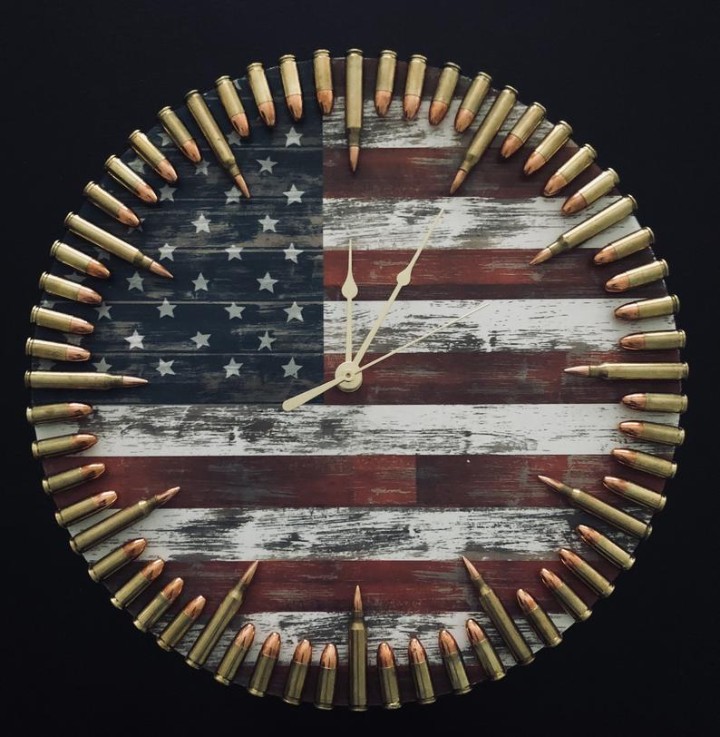 Patriotic Flag Bullet Clock
Working from home has its benefits, but it can be difficult to manage your time, especially if you've never worked from home before. What better way to keep track of the time than with your own Patriotic Bullet Clock? Not only does it show your love for guns, but it also displays your pride for this great country. Now you'll have no excuse for missing that conference call because you weren't keeping track of the time. Sold by ClocknLoad on Etsy, its products were also featured in the Shots Fired column of Shooting Illustrated magazine. With a range of themes including a Thin Blue Line Flag, MSRP for the Patriotic Flag Bullet Clock is $109 and personalization can be added for an extra fee.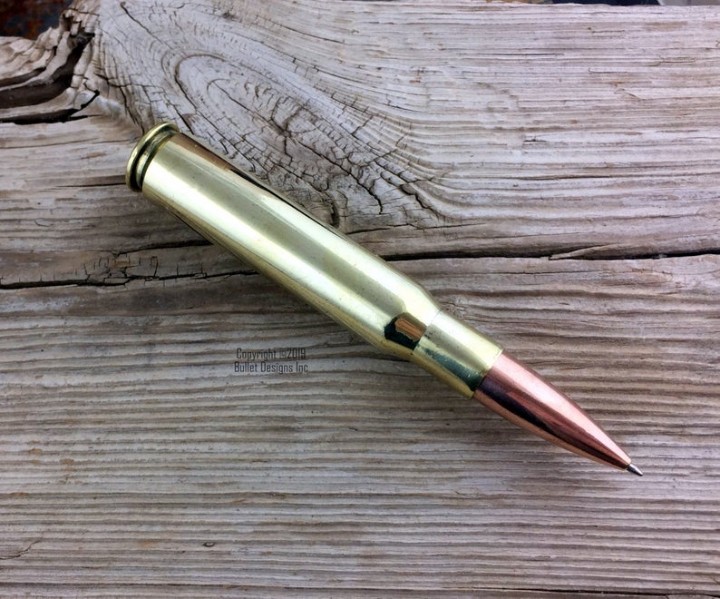 50 Caliber Bullet Ink Pen
Every person needs that special one-of-a-kind pen they use to sign or write anything, and this one is perfect to fill that position. Made out of a fired 50 caliber casing and a real unfired 50 caliber bullet, this bad boy will scribble anything you need it to, but with style. Whether signing your John Hancock or simply jotting down some notes, take pride in knowing that this heavy duty writing utensil will give you the power to tackle whatever task is given you—even the mundane ones. Made by BulletDesigns, the shop also sells bullet jewelry and other miscellaneous bullet items. MSRP is $19.95 and personalization can be added for an additional cost.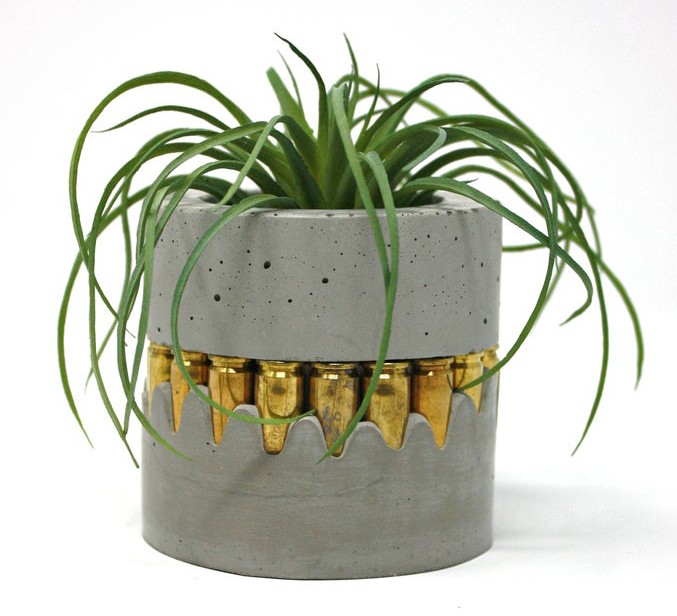 Concrete Bullet Cup Air Plant
Add a little green to your desk or living space with this Concrete Bullet Cup Air Plant. Made of industrial concrete encasing shiny brass 9 mm shell casings, this will bring a little bit of the outdoors to you as it houses a Tillandsia Lonantha air plant. Definitely unique, it encompasses the love of firearms as well as the outdoors, especially those who have a green thumb—something I've still yet to master. But having owned an air plant myself, I will say they aren't too difficult to take care of. Sold by FireflyRidgeDesigns, MSRP is $26 with the air plant or you can just buy the cup to use as a pen holder which sells for $23. Either way you can't go wrong with this truly singular piece.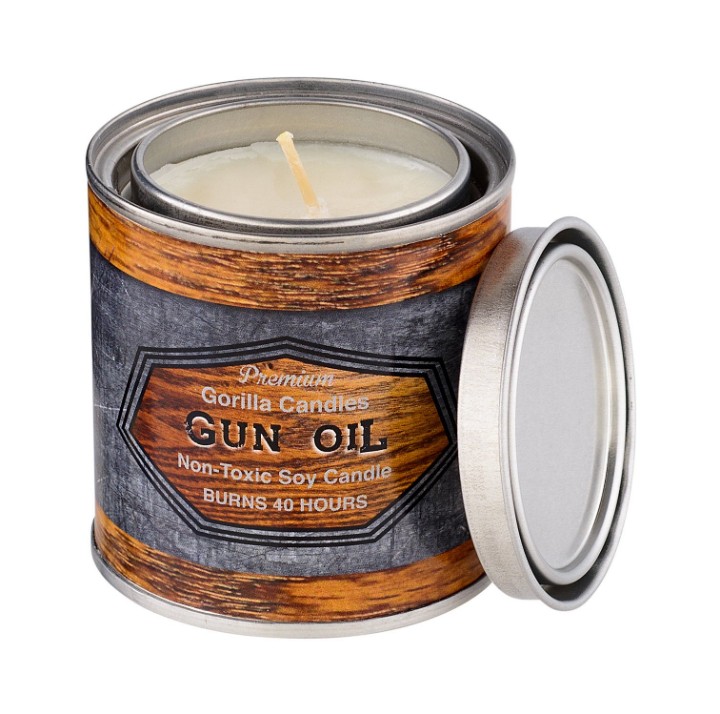 Gun Oil Scented Candle
If you're one of those people who loves to clean their guns or just loves the smell of gun oil in general, then you're going to be head over heels for this Gun Oil Scented Candle. Light it while working to give you a pleasant aroma as you crank out your tasks at hand or at the end of the day as a relaxing scent to de-stress you. Made of 100 percent non-toxic soy wax, this 8 ounce candle has a 40 hour burn time and will remind you of your favorite brand of gun oil. Additionally, the packaging is aesthetically pleasing as well since it is housed in a small paint can. (Make sure you have a paint can opener on hand.) Sold by GorillaCandles, MSRP is $16.95.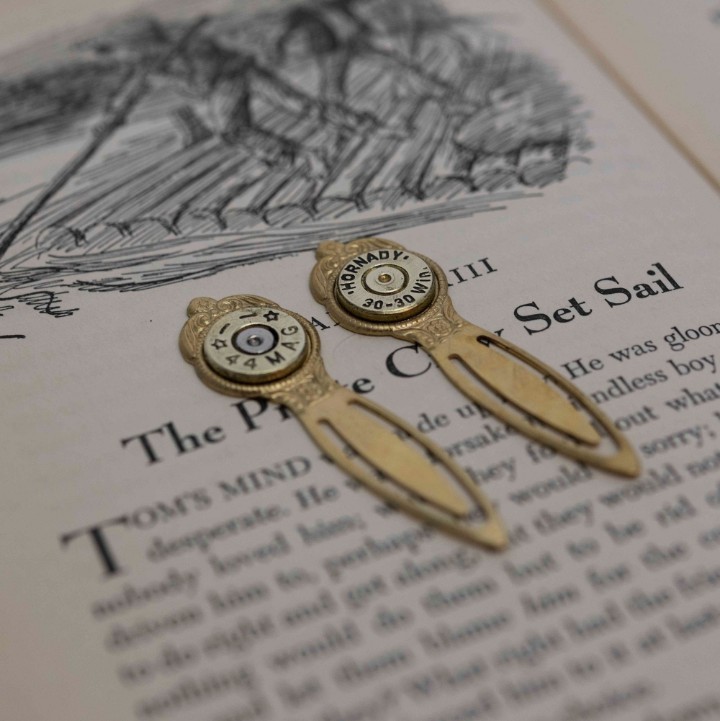 Bullet Bookmark
Are you an avid reader? Or do you read a lot for work? This handy Bullet Bookmark can be used for both business and pleasure. Add a little gun-loving flair to your work paperwork or that guilty-pleasure book you read in your spar time. Choose from a .44 Mag. bullet or a .30-30 Win. bullet for your reading time enjoyment. Made by the shop IrresistibleWorks, they also sell a variety of bullet-themed gifts including a business card holder which was featured in our Shots Fired section of our March 2019 print magazine. MSRP is $9.78 plus shipping.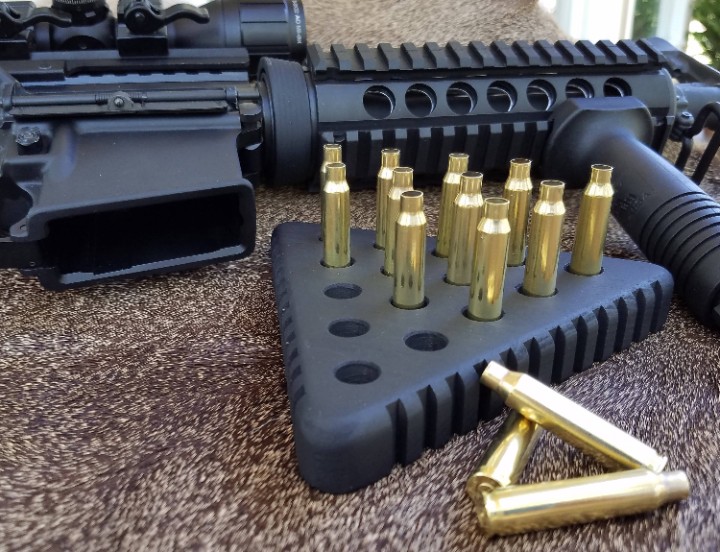 Tactical AR-15 Bullet Peg Game
If you're needing a break from work (and staring at the computer), then this Tactical AR-15 Bullet Peg game is a must. A tactical spin on the favorite Cracker Barrel peg game, instead of golf tees this version uses spent bullet casings. Place it at the corner of your desk for a needed distraction or take turns with your family in the evening to see who the real genius is. My Dad and I would always duel it out with this game whenever in a Cracker Barrel and I know he would love this gun-themed version, especially since he taught me how to shoot. A fan-favorite, it's perfect to challenge yourself or make it a family affair. Made by RusticTrailCrafts, MSRP is $31.95 plus shipping and personalization on the bottom of the game can be added for an additional fee. Other styles are available from the shop.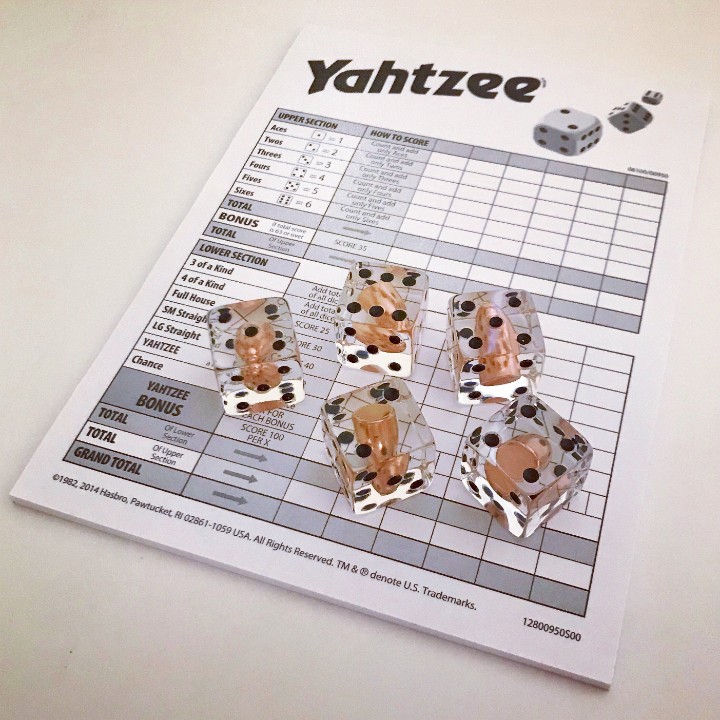 Set of Five 9 mm Loaded Dice
Once work is done for the day, have a fun game night with this set of five 9 mm loaded dice. Perfect for any game that needs five dice like Yahtzee, this is sure to be a hit with the family as it really takes the phrase "Loaded Dice!" to the next level. Each dice, made of resin, has a 9 mm FMJ bullet embedded inside and the pips can be colored in all the same color or a mix of colors of your choosing. Sold by BallisticImpressions, MSRP is $125 plus shipping and the shop also makes other unique bullet-themed products, which some have been included in our Shots Fired section as well as our yearly holiday gift guide in the print magazine.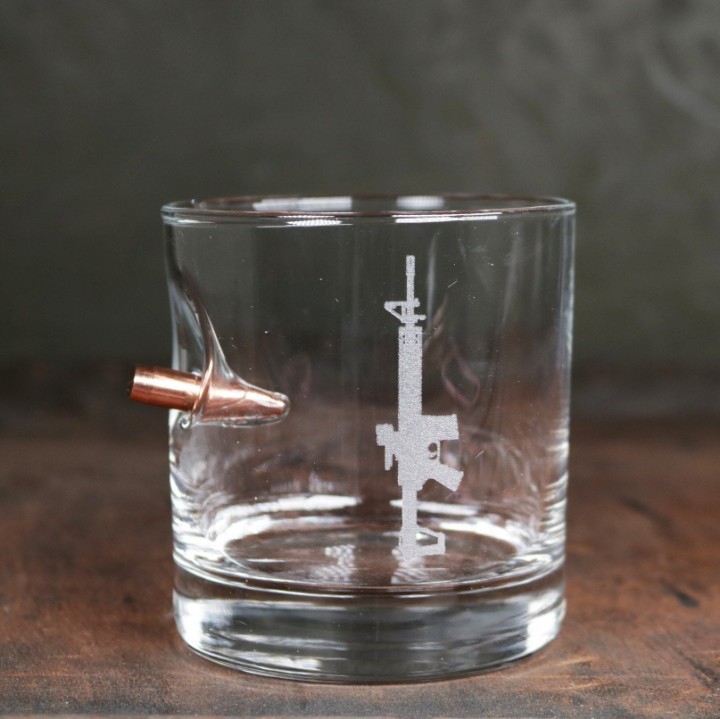 AR-15 Rocks Glass
We're not saying you might need it after a hectic day of work and teaching the kids, but if you do, this drink glass is like no other. Not only is it etched with an AR-15 on it, but it also includes an embedded .308 lead-free copper bullet. Crafted in the USA, sit down and relax with your choice of beverage and daydream about the day you can finally get back on the range. Sold by BenShot on Etsy, which also offers other style glassware with embedded bullets, MSRP is $24.99 and custom etching can be added for an additional cost. BenShot also has a separate website as well for additional products not offered on Etsy.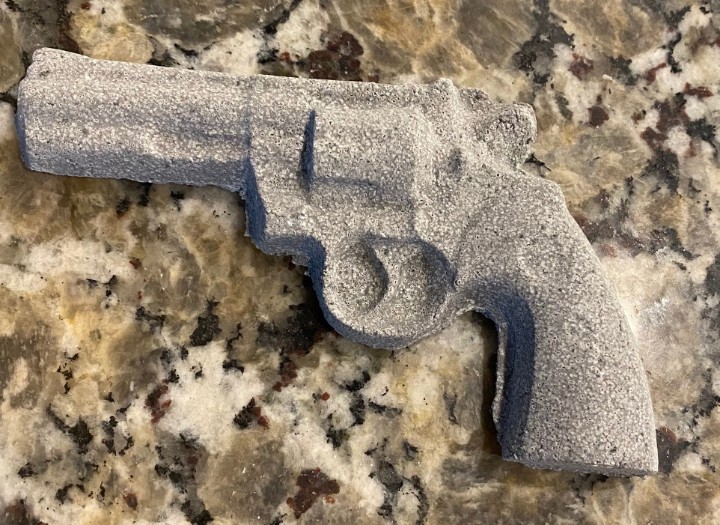 Gun Bath Bomb
A soak in the tub with this Gun Bath Bomb is just the remedy after a stressful day. Shaped like a revolver, this bath bomb is made from fresh ingredients from USA suppliers and comes in the color of your choosing. Fill your tub with water, drop the bath bomb in and sit back in your little bit of heaven (hopefully it allows you to escape from the kids, too). Made by LilPookieSoaps, MSRP is $4.99 plus shipping and ingredients are listed on the shop's page for verification.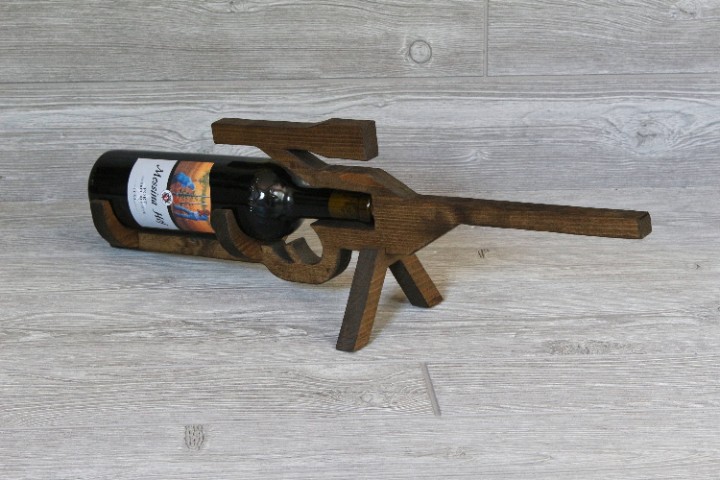 Wooden Rifle Wine Holder
If you have a favorite bottle of wine, then wine not display it with pride in this handmade wooden rifle wine holder? Make it the centerpiece of any room, and once this quarantine is over it is sure to be the topic of conversation the next time you have guests over. Made of whitewood, you can choose to keep it unstained or pick from nine different finishes. The holder will fit most normal-sized wine bottles and sizing dimensions are listed on the shop's page. Exhibit your love for guns as well as your love for wine, so every time you walk by it you grin. Sold by WorkOfOurHandsShop, MSRP is $52.