by
Evan Brune, Associate Editor, Shooting Illustrated
posted on October 26, 2017
Support NRA Shooting Illustrated
DONATE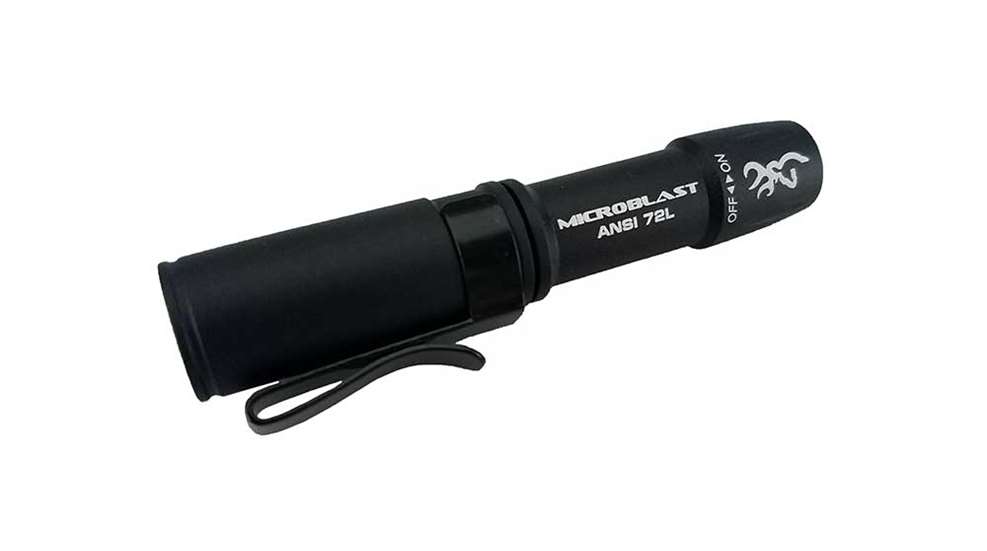 Many flashlights on the market belong to two extremes. On one side, there are high-lumen options that are often bulky and hard to carry easily in a pocket. At the other end of the spectrum, small, easily pocketable keychain lights fit in pockets without issue but are often lacking in lumens. The
Browning
Microblast AAA bridges both worlds, providing usable light in a compact package.
The Browning Microblast AAA is constructed with an all-aluminum body and bezel, which is finished in a black hard-coat anodizing. The light is built with a Nichia LED that produces 72 lumens of light, providing effective illumination out to 40 yards, more than enough for personal-defense distances.
The light, as the name implies, runs off a single, readily available AAA battery, which is sealed inside the aluminum housing with a rubber gasket, providing users with a submersible light that's waterproof up to a depth of 1 meter. With a fresh AAA battery, maximum run time is 1.5 hours.
Dimensionally, the Microblast is one of the smallest and most easily carried EDC lights on the market. At its widest point, the light measures in at a width of just .62 inch. Its overall length is just 2.875 inches long, barely longer and wider than the battery that powers it. Browning factory specs claim that the Microblast weighs in at 1.12 ounces with a battery installed. When weighed with a battery at NRA HQ, we found that the Microblast actually weighed in at less than an ounce.
The Browning Microblast AAA operates with simple controls and output, avoiding the complications (and added expense) of incorporating multiple modes and programmable controls. The light only has one high-output mode that disperses all of its 72 lumens in a center-focus hotspot beam that's surrounded by a gentle spill area that provides illumination of the surrounding area.
To activate the light, users must twist the body of the light clockwise with the light facing downrange. From a secure off position, a short quarter turn will provide instant, high-output illumination. To ensure a solid grasp on the light body, a number of small scallops are included that enable fingers to securely manipulate the light.
The Browning Microblast AAA is also equipped with a removable pocket clip that allows for bezel-up carry deep inside of a pocket. The clip also works well when attaching the light to the brim of a baseball cap to allow for hands-free illumination. Best of all, the Browning Microblast AAA is inexpensive, selling for just $19.99.