Certain shooters strongly prefer 1911-pattern handguns. Many of them revere the work of John Moses Browning, closely follow the teachings of Col. Jeff Cooper, and honor the Gunsite way. For such shooters, there are three ultimate truths of the 1911 pistol: One, the caliber is .45 ACP; Two, the barrel is 5 inches in length; Three, the pistol is constructed entirely of steel. Over time, certain heretics have altered this classic formula, with different chamberings and frame sizes, and even the use of aluminum alloys. Until now, 1911-pattern pistols that didn't fit the selected criteria were few and far between.
With the Witness Elite 1911 Polymer, EAA has introduced an innovative variation of a classic design at an attractive price.
Since 1990, the European American Armory Corporation (EAA) has been importing high-quality firearms from various European sources, including the CZ 75- inspired "Witness" line manufactured by Tanfoglio in Italy. Witness pistols have always been interesting, but perhaps none as potentially contentious as a polymer-frame 1911 pistol.
The Witness Elite 1911 Polymer—as the gun is formally known—is a not-so-unusual 1911-pattern pistol, except the frame is constructed primarily of polymer, with steel inserts where needed. EAA adds this single-stack, polymer 1911 pistol to a crowded market for John Moses Browning's famous design, although polymer-frame variants are few and far between. While it is true other manufactures have produced double-stack 1911 pistols in polymer (mostly for competition purposes), EAA has pushed this advancement in frame materials to the traditional 1911 size and capacity.
By incorporating a polymer frame, EAA cut substantial weight from the typical steel-frame, 5-inch-barreled 1911 pistol. Weighing only 32 ounces, the Witness shaves about 8 ounces off a typical steel-frame gun—significant for concealed carry. While there are certainly aluminum alloy-frame guns with similar weight, polymer has proven to be a very durable frame material that is also easier and cheaper to manufacture. Using a polymer frame allowed EAA to produce a light and inexpensive 1911 to compete in a crowded market.
Polymer in Frame Only
Polymer frame aside, the Witness Elite 1911 Polymer is constructed using typical 1911 parts. The slide contains a standard ramped barrel, along with a traditional recoil-spring guide and plug. The barrel bushing is steel, as is the grip safety, thumb safety, slide stop and trigger. The trigger system replicates the desirable Colt "Series 70" mechanism, a welcome feature for true 1911 enthusiasts. Given its configuration, upgrading the pistol with aftermarket parts will not be a problem.


The Witness clearly reflects modern 1911 design, with a skeletonized Commander hammer, slightly rounded mainspring housing and a full beavertail grip safety with oversize pad. The dustcover incorporates an equipment rail for mounting a light or laser. The sights are dovetailed and drift adjustable, with a setscrew on the front sight. Interestingly, the rear sight is tall and square—not remotely low profile. While the rear sight may not be ideal for concealed carry, it is highly visible and provides a flat surface to facilitate one-handed manipulation of the slide in an emergency.


Most traditional steel 1911s have interchangeable stocks, and the variations are nearly endless—whether wood, aluminum, rubber or something else. Polymer pistols, on the other hand, are often criticized for a lack of interchangeability. The Witness comes with nicely checkered, integral polymer grip panels with the appearance of traditional "double diamond" stocks. The polymer stocks look great, and work and feel like a traditional 1911 grip—but you are limited to the factory grip configuration. Despite having molded grip screws, the "stocks" are a permanent part of the polymer frame.
The overall appearance of the pistol is clean and simple, with black controls and a black frame. The slide is engraved with "Witness 1911 P" on the left side, but the effect is very subtle. The only non-black color on the gun is the stainless steel crown of the barrel, barely visible from the front. Cocking serrations are traditional vertical grooves at the rear of the slide only. It would be very easy to mistake this gun for a standard steel-frame 1911 with a matte-black finish.
The Witness Elite Polymer is nicely equipped as a modern 1911 pistol. The standard configuration should be adequate for most shooters, but there is certainly the option to upgrade parts as needed. Fit and finish is typical of a 1911 in this price category.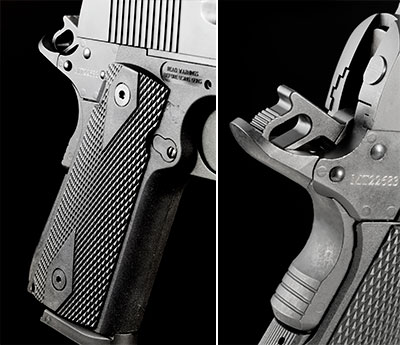 Proficient Plastic
Handling characteristics of the Witness are typically 1911, although maybe just a little bit stiff in all regards. The thumb safety has very firm retention, and definitely will not be disengaged by accident. In fact, the thumb safety can be difficult to activate with your thumb, at least without repositioning your grip a bit. This will lighten up over time as the pistol wears in. The magazine release is similarly stiff, but workable.
The trigger is solid with vertical grooves on its face. The trigger pull measures a hefty 5.5 pounds. Although the trigger breaks smoothly, without much overtravel, it is a bit heavy for a 1911. I would prefer something closer to a 4-pound pull, which is certainly possible on a gun in this price range. However, the weight is manageable and the trigger is otherwise pretty good.
The Witness was boringly predictable at the range. The gun digested four different types of ammunition without any problems, including three brands of premium jacketed hollowpoint loads. Average accuracy at 25 yards ranged from about 2.5 to 3 inches, which is certainly acceptable for a sub-$1,000 1911.


Recoil is very subjective, and difficult to quantify. Any lightweight .45 ACP pistol is going to have noticeable recoil. However, polymer frames have some tendency to dampen felt recoil as compared to fully metal frames because of their inherent ability to flex and compress. I attempted to compare an alloy-frame 1911 to the Witness Elite Polymer, and I believe the felt recoil to be a bit different. Again, such things are very subjective, and other shooters may feel differently. However, I certainly see no disadvantage to the handling characteristics of the polymer frame.
It should also be said that the 1911 manual-of-arms may not appeal to all shooters. By its design, a 1911 pattern pistol must be carried "cocked and locked," with the hammer cocked, the thumb safety engaged, and a round in the chamber. For those unaccustomed to carrying a single-action pistol, this can be disconcerting. However, with proper training and practice, the 1911 can be one of the fastest and most accurate handguns for defensive use. In my opinion, however, the 1911 is not the right pistol for anyone who is not truly dedicated to mastering the platform.


Carrying a 1911 concealed is also not for everyone. A full-size pistol requires a good belt, a quality holster, and a cover garment of some type. One advantage of the 1911 design, however, is relative thinness compared to the ubiquitous modern double-stack auto pistol. The Witness Elite Polymer also has the advantage of being relatively light for a full-size pistol; it is as easy to carry as any you will find.
The Witness works well both inside and outside the belt, and holster options are almost limitless. The 1911 continues to be an extremely popular platform for armed citizens, and nearly every holster-maker offers compatible designs. Since the Witness has an integrated equipment rail, you do need to ensure you find a holster compatible with a railed 1911.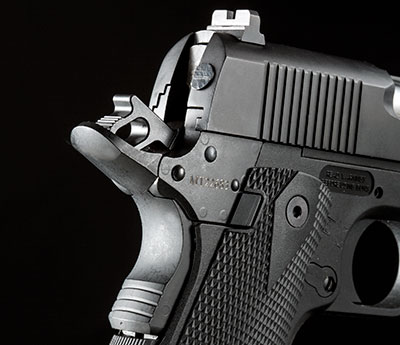 The Witness Elite 1911 Polymer comes with a single eight-round magazine, a trigger lock, a small plastic hard case, and a suggested retail price of $580. I expect actual street prices will be closer to $500, which puts this 1911 at the lower range of similar-quality guns.  Given how well the Witness performed in my tests, the pistol appears to offer a great value.
The question is—do you want a polymer 1911?  Some will say "no" just on general principle. However, the polymer frame does offer some advantages over lightweight aluminum-alloy pistols. While the primary advantage may be in price, polymer is also very durable, completely corrosion resistant, lightweight and has favorable recoil characteristics. More importantly, however, there appears to be little downside to polymer frames, other than the lack of grip-panel interchangeability.
Although the Witness 1911 Polymer is one of the first plastic single-stack 1911 pistols, it seems likely it will have more competition in the future. If for no other reason, competitors may have to resort to polymer frames to stay competitive on price. I predict we will see more polymer 1911 options in the near future. EAA already has plans to introduce this pistol in Commander and Officer sizes, as well as offering 9 mm versions.
EAA and Tanfoglio have a long record of importing quality pistols in its Witness line. With the Witness Elite 1911 Polymer, EAA has introduced an innovative variation of a classic design at an attractive price. I expect this pistol will be very interesting to 1911 shooters who are willing to accept this incorporation of modern materials into the age-old design. Perhaps polymer is not heresy—maybe it is progress.