The Thumb Break Scabbard allows the firearm to ride high and is presented at an optimum draw angle. Its thumb break and exact molding, together with a tension device, allows for a secure and highly concealable carry. This picture illustrates the three-slot model. Belt slots are 1.75 inches wide. Some models with two belt slots and without tension device. Available in black or tan unlined leather with 1.75-inch wide belt slots, style #001 retails for $68.99. Please allow 3-4 weeks for delivery.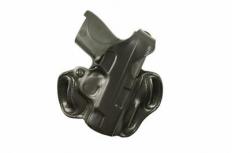 Reduced to the barest essentials, the Mini Scabbard is a minimal holster that offers maximum grip on your weapon. We reduced this holster's footprint without compromising handgun security by combining an extremely precise molding with an adjustable tension device. The Mini Scabbard will accommodate belts up to 1.5 inches wide and is available in black or tan unlined leather. Style #019 retails for $56.99. Please allow 3-4 weeks for delivery.
The Die Hard Ankle Rig was originally designed for Federal Law Enforcement with maximum durability and performance in mind. Top grain saddle leather construction and tough polyurethane hand-finish ensure this holster will live up to its name for years to come. Inside, a smooth leather lining protects your gun's finish and makes for a quick, silky draw. The neoprene leg band (outfitted with a conventional thumb break) is foam-padded and lined with sheepskin for long hours of wearable comfort. The Die Hard is available for most concealable handguns in both the right and left hand versions. A calf strap (C14) and boot extender (C15) are optional. Retail price for #014 is $76.99. Please allow 3-4 weeks for delivery.
Specially designed for all frame size semi-autos and small frame revolvers, the Apache Ankle Rig's wide, elasticized leg band largely eliminates the unwanted rocking motion typical of ankle holsters. All semi-auto models offer an adjustable Velcro® thumb break; while revolver and .32cal models offer an adjustable thumb strap (without snap, Velcro® closure). The Apache is constructed from sheepskin-lined elastic with a snap thumb break. Optional C14 strap accommodates semi-auto and revolver holster models only. The #062 is available for most concealable handguns and is available in right and left hand. Designs may vary. Available in black only. Retail price for #062 is $51.99. Please allow 3-4 weeks for delivery.
Thanks to precision molding and a custom tension device, the Cozy Partner offers superb weapon retention. A specially crafted memory band retains the holster's shape allowing for easy re-holstering; even one-handed re-holstering. 1.75-inch split belt loop is standard (Note: this holster must be worn with a belt.) Tension device, memory band or split belt loop not included in some models. Available in tan or black unlined leather. Optional black or tan leather belt loop (#Y20) available separately.
The Insider is specially designed with concealment and comfort in mind. This IWB holster is meticulously crafted with soft, un-molded leather to minimize bulk and weight. The durable, heavy-duty steel spring clip is positioned high for deep cover. The Insider is available in black finish for the right or left hand.
The Sof-Tuck Style #106 is a new IWB/Tuck-able holster. The adjustable cant allows versatile wear-ability: strong side, cross draw, or on the small of the back are all concealable options. The Sof-Tuck's body is constructed from soft no-slip suede for maximum comfort while the top adds premium saddle leather reinforcement for easy re-holstering. The #106 is available in right and left hand versions.
The Nemesis revolutionized pocket holsters with its incredibly viscous exterior material. As a result, this premium holster will absolutely not move out of position inside your pocket. The interior is crafted using an especially slick pack cloth for low friction draws and the core is lined with just the right amount of foam to break up any tell-take gun lines.
When the original Nemesis was designed, we thought it would reign forever as the world's best pocket holster! But then came Super Fly. The exclusive, sticky rubberized fabric coating the outside of this pocket holster is even more viscous than the Nemesis! And just like it's predecessor, Super Fly will never move out of position in your pocket. This superbly engineered pocket holster also offers a removable, reversible outer flap to further disguise the firearm. The slick pack cloth inner lining ensures low friction draws and is reinforced with added polymer in just the right places.